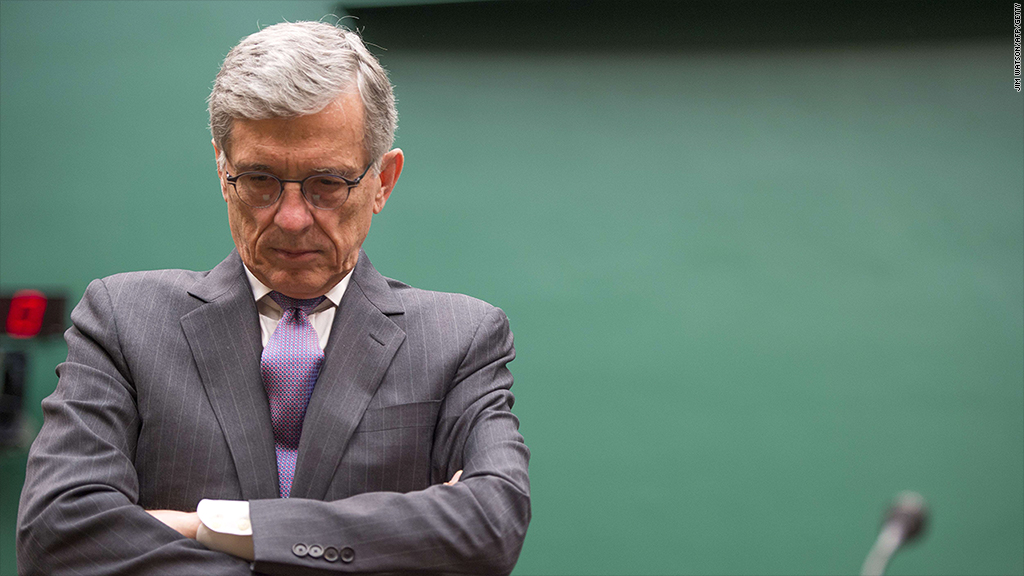 The telecom industry's top cop has put U.S. wireless carriers on notice.
Federal Communications Commission chairman Tom Wheeler said Tuesday that regulators would "continue to be skeptical" of merger proposals within the wireless industry. He also said carriers like AT&T (T) and Verizon (VZ) could face stricter regulations on their ability to control the kind of content customers access.
No on mergers: The merger possibility arose most recently with negotiations between T-Mobile (TMUS) and Sprint (S), the third- and fourth-largest U.S. carriers, whose tie-up would have created a new company with subscriber totals to match that of industry leaders AT&T and Verizon.
Sprint and T-Mobile abandoned merger talks last month after what Wheeler called "outspoken" opposition from regulators.
Regulators previously filed suit to block AT&T's proposed acquisition of T-Mobile in 2011.
"We will continue to be skeptical of efforts to achieve scale through the consolidation of major players," Wheeler said at a conference hosted by CTIA, the wireless industry association.
Net neutrality for mobile?: Wheeler also suggested that the FCC could issue new regulations on the ability of wireless carriers to control the kinds of apps, websites and services their customers can access.
The FCC is currently finalizing new regulations on this subject for broadband providers -- the companies that provide your home Internet service.
The mobile web -- think smartphones and tablets -- has been much more lightly regulated since the FCC issued its Open Internet regulations in 2010. But given the rapid adoption of mobile devices in recent years, Wheeler said the FCC could reconsider that approach.
The draft rules that the FCC released earlier this year maintained the distinction between mobile and broadband. Those rules are out for public comment for another week before the draft process moves forward, and Wheeler said the commission has received a slew of calls from both companies and consumers to reconsider its approach.
"One of the constant themes on the record is how consumers increasingly rely on mobile broadband as an important pathway to access the Internet," Wheeler said. Microsoft (MSFT), he noted, argued that there is "no question that mobile broadband access services must be subject to the same legal framework as fixed broadband access services."
Related: Net neutrality explained
So what does this mean in practice? Well, the worry of "net neutrality" activists is that the big companies that provide consumers Internet access may restrict the content that reaches their customers if they have a financial incentive to do so.
That means companies like Amazon (AMZN) and eBay (EBAY) could conceivably pay Internet service providers to ensure that their sites load faster than those of competitors, tipping the scales against new innovators.
Will the FCC rules go far enough? Concerns about traffic discrimination have already arisen in the mobile world. Earlier this year, AT&T announced a "sponsored data" plan for mobile customers in which content from paying businesses won't count against monthly data caps. Verizon and AT&T have also previously blocked use of the Google (GOOGL) Wallet app, which competes with their own offerings.
The lack of discussion of the mobile web has been a concern for many activists since the FCC circulated its draft proposal a few months ago. And despite Wheeler's tough talk, many believe that even the rules for broadband providers don't go far enough.
The FCC's current proposal requires ISPs to offer "a baseline level of service" to their subscribers, but also allows them to "enter into individual negotiations with content providers." That language opens the way for big web companies to pay for "fast lane" access.
Thousands of Americans have written into the FCC opposing the fast lane provision, and sites like Reddit and Netflix (NFLX) are planning a protest this week to urge action against the proposal.