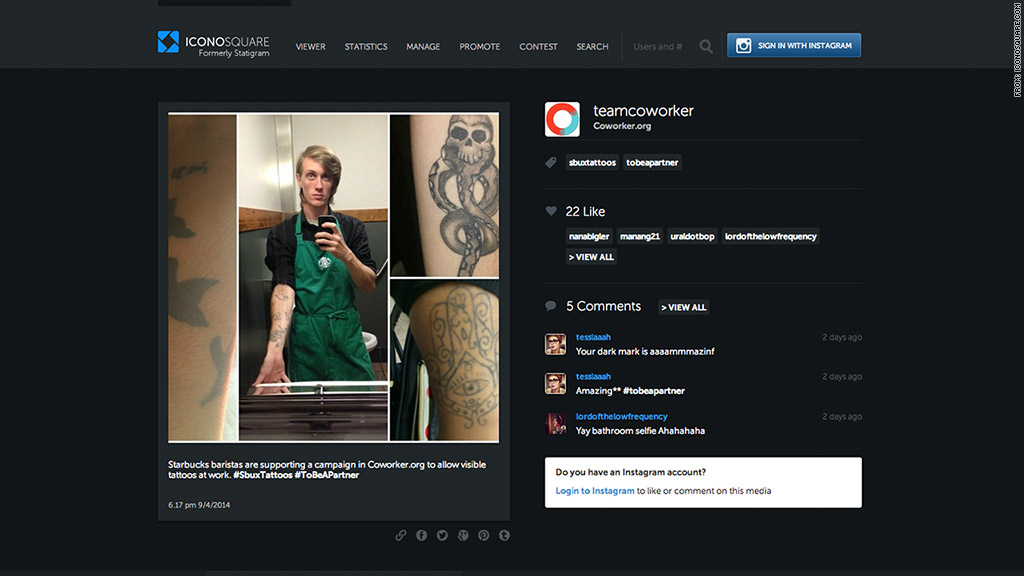 Starbucks might soon give baristas the right to bare ink.
The company currently has a no-tattoo policy for the men and women whipping up our Caramel Macchiatos, but its reconsidering it. Workers are now required to cover up tattoos while they're on the job - generally with long sleeves and long pants.
On Monday Starbucks posed the question "How do you suggest we strike the right balance between self-expression and professionalism?" on a Facebook page for employees.
Related: Starbucks improves scheduling system after outcry
The company says it's in the process of evaluating a variety of workplace issues, but an online petition asking Starbucks (SBUX) to change its tattoo policy has garnered 21,000 signatures since it was posted three weeks ago to coworker.org.
"I believe tattoos are a simple form of self-expression and as long as they aren't offensive or explicit, I think we should be able to show off our artwork proudly," says the petition, which was posted by Atlanta Starbucks worker Kristie Williams.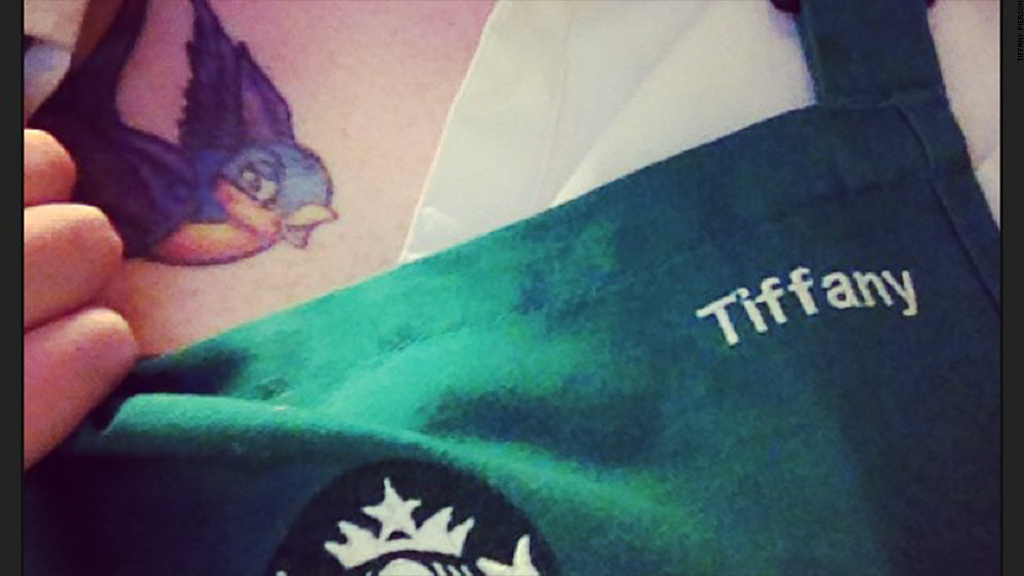 The tattoo petition is the biggest ever to hit coworker.org since it went live last year, said campaign director Tim Newman. He described the site as a platform where workers can collectively air grievances, similar to other petition sites like change.org.
Response to the Starbucks tattoo petition has eclipsed the site's record holder, a petition for better worker hours at Walmart (WMT) that garnered 20,000 signatures. Another petition asking Starbucks for better scheduling policies got 7,500 signatures.
Related: Starbucks among employers that pay tuition for hourly workers
The tattoo issue has been a hot one this summer for Starbucks. A Michigan employee saw her story go national in June after she told a local TV station about a manager who asked her to choose between her job and a small heart tattoo on her hand. The employee still works at Starbucks, but it's not clear whether she still has the tattoo.
Starbucks spokesperson Zack Hutson downplayed any one incident's role in its change of heart on body art.
"Earlier this summer -- before this petition was created -- we began work to elevate the partner experience at Starbucks, including a review of our dress code and tattoo policy among other transformative changes," he wrote in an email.
CNNMoney's Ben Rooney contributed to this report.