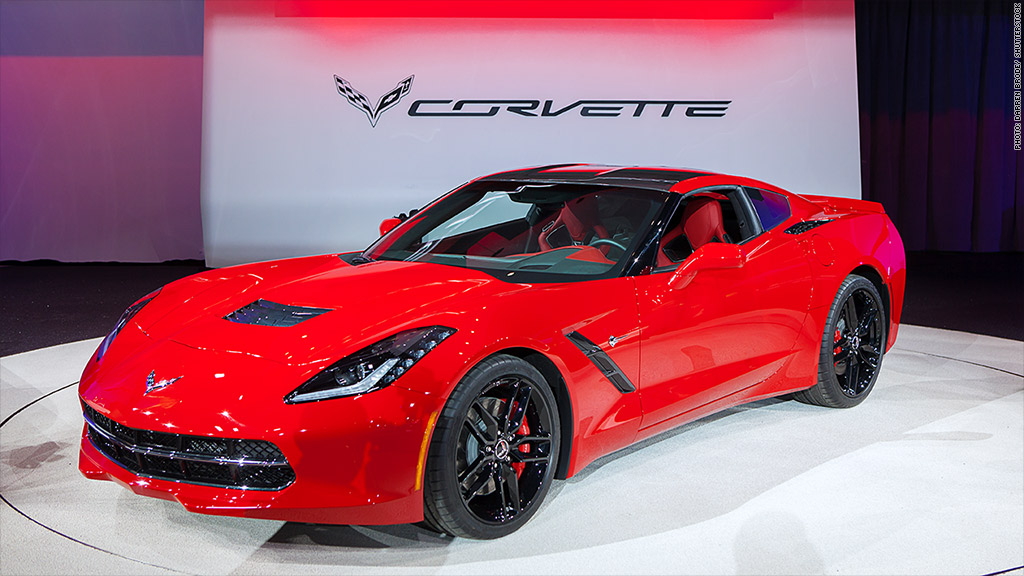 The new Corvette goes from 0 to 60 miles per hour in 3.8 seconds, but good luck getting your hands on one.
General Motors (GM) has told Chevrolet dealers to stop delivery of about 2,000 of 2015 Corvettes to fix the driver's airbag, the automaker said in a statement Friday.
The muscle cars are being inspected for a "suspect part" that attaches the air bag to the steering wheel. GM has also temporarily halted shipments from its plant in Bowling Green, KY, where Corvettes have been assembled for over 30 years.
Another 8,000 Corvettes are on hold at dealerships because a problem with the parking brake, which must be inspected to make sure it works on both rear tires.
Separately, GM said it is recalling about 270,000 cars for various mechanical and maintenance issues.
Related: New Corvette lets you spy on garage valets
The recall includes more than 200,000 Saturn VUEs from model years 2002-2004 for faulty ignition switches. GM said it is aware of two crashes related to this problem, including one that involved an injury.
GM is also recalling Cadillac ATS sedans and Chevrolet Impala sedans, as well as small numbers of Chevrolet Aveo, Pontiac G3 and Chevrolet Spark vehicles. The automaker said it is not aware of any crashes related to the issues behind these recalls.
Related: New Corvette comes with built-in dashcam
The latest development comes after a brief lull in GM's record-breaking recall crisis. It's been about a month since the last time the automaker announced a recall.
GM has recalled millions of cars this year for faulty ignition switches and other problems. The company is facing a raft of lawsuits and CEO Mary Barra has been grilled by Congress over GM's handling of the safety issues.
The fund GM created to provide compensation for victims has received 100 death claims 184 injury claims as of late last month.