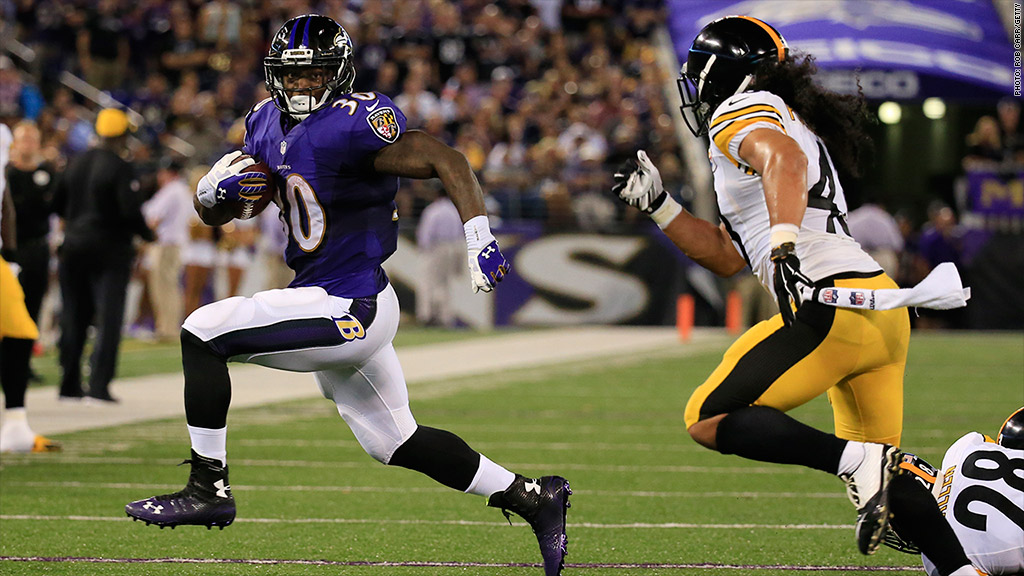 CBS scored huge ratings for its inaugural "Thursday Night Football" broadcast of the Baltimore Ravens versus the Pittsburgh Steelers amid the Ray Rice controversy.
The game attracted an average of 20.8 million viewers to CBS and the NFL Network, nearly double the audience the Thursday game had on the same week last year, when NFL Network was the only broadcaster.
CBS hasn't had such a highly-rated Thursday night since 2007.
The publicity surrounding the Ray Rice incident probably helped CBS's ratings by drawing attention to this week's game. With the Ravens taking center stage just days after the team's star running back was cut from the team and suspended indefinitely by the NFL, the broadcast became a must-watch event for both fans and non-fans alike.
Related: NFL is richer than ever, despite controversy
The network acknowledged the issue a couple of hours before the game kicked off by scrapping an opening segment featuring Rihanna, who has herself been a victim of domestic abuse.
"CBS Evening News" anchor Scott Pelley opened the broadcast with a rundown of the day's developments on the matter while "CBS This Morning" co-host Norah O'Donnell appeared on the sidelines, which made the program feel more like news coverage than a pre-game show for the NFL.
Related: Ray Rice likely to keep $25 million
CBS beat out other networks for the $275 million contract to air Thursday's game, and the strong ratings show that bet paid off.