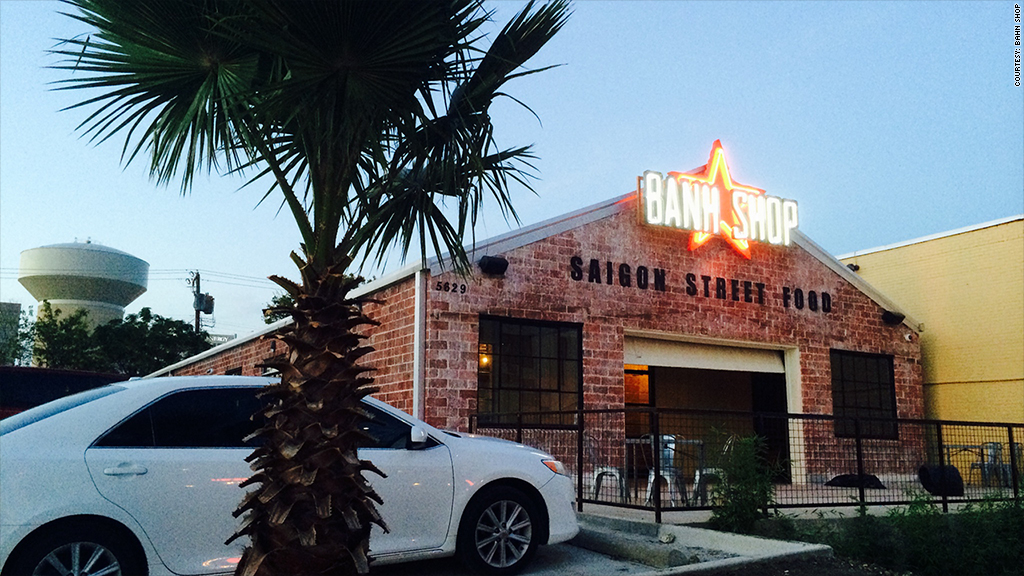 A perceived lack of cultural awareness has forced Yum brands to change the red star logo on its just-opened Vietnamese Banh Shop in Dallas.
Thanh Cung, President of the Vietnamese-American Community of Greater Dallas started an online petition Wednesday that called on the restaurant to make the change.
"While we are very pleased with the name of the restaurant, we are hurt and offended by your chosen logo, a red star, which is a symbol of communism and will offend thousands of South Vietnamese refugees in my community," Cung wrote. "The heavy majority of Vietnamese living in the Dallas area are political and religious refugees who fled Vietnam when North Vietnamese communist rule started in 1975."
Related: Air BnB runs into its own logo trouble
The restaurant, which serves banh mi sandwiches and other Vietnamese food, uses lots of Saigon-focused imagery and language in its branding. It opened Sept. 12, and the CultureMap Dallas blog began reporting on the controversy four days later.
"Effective immediately, we are changing the logo," wrote a Yum spokesperson in an email Thursday.
Jonathan Blum, who heads public affairs and nutrition for Yum! Brands (YUM), reached out to and apologized to Cung earlier today.
The old logo will come off the store and website by the end of the day and a new logo will be up soon, he said. The old logo was designed externally, and he said the same shop would likely handle the redesign -- with Cung's input.
"In hindsight, we should have known this could have been seen as offensive," Blum said.
Related: Taco Bell owner opens Asian fast food joint
Cung, who has lived in Dallas for 30 years, says he first heard about the logo as members of the community reached out after driving past it.
"They called me and they were very frustrated and angry," he said. Then he checked it out himself.
"When I saw it, I had the same feeling," he said.
He was pleased with Yum's quick response to his petition, and he said he looks forward to working on the restaurant's new logo.
"We're very, very appreciative and grateful," he said.
The Dallas area has the fourth-largest largest concentration of Vietnamese-Americans in the country behind Los Angeles, San Jose, California and Houston, Texas. The 2010 census put their numbers at nearly 72,000, or 5% of the country's total.
The concept behind Banh Shop was developed to compete with "fast-casual" restaurants like Chipotle (CMG) and Panera (PNRA) by the same team behind Super Chix, an Arlington, Texas restaurant focusing on fried chicken and U.S. Taco Co., an upscale taco restaurant in Huntington Beach, California.
"With Southeast Asian cuisine growing in popularity in the U.S., we saw an opportunity to design a unique fast casual concept that emulates delicious Saigon street food, with a focus on the Vietnamese banh mi sandwich," said Yum's emerging brands head Christophe Poirier in a statement announcing the restaurant's launch.
Poirier worked with Dallas restaurant consultant Mark Brezinski to develop the Bahn Shop concept.
In a July conference call, Yum CEO David Novak said the fast-casual restaurants like Banh Shop were mainly a learning experience that might be a launching pad for further expansion. There's a second Banh Shop location in the works at the Dallas/Fort Worth International Airport.