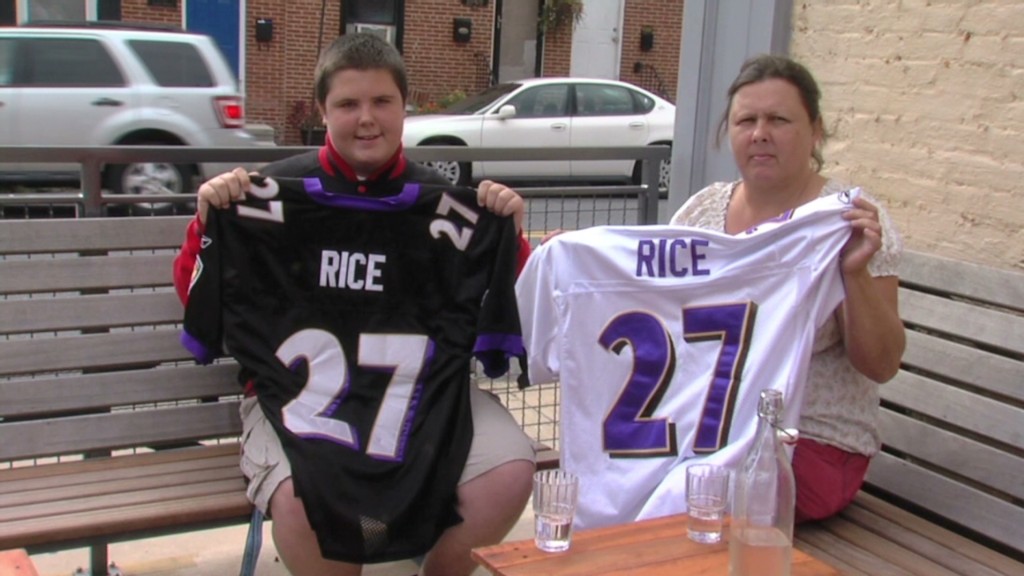 The Baltimore Ravens were overwhelmed this weekend by fans looking to exchange Ray Rice jerseys.
The Ravens said earlier this month that fans could trade in official jerseys with Rice's name and number after the running back was cut from the team and suspended indefinitely from the NFL for spousal abuse.
More than 7,000 people went to Baltimore's M&T Bank Stadium on Friday and Saturday to take part in the exchange, according to Ravens spokesman Kevin Byrne.
The team gave away 5,595 jerseys before running out of inventory. After that, the Ravens offered fans 2,400 vouchers for jerseys that can be picked up once the team gets more.
Byrne confirmed the team's costs for the exchange ran into "six figures," but he declined to be more precise.
Related: NFL's biggest sponsor backs Roger Goodell
The jerseys will be donated to a company that deals in scrap material, according to Byrne.
The Ravens cut Rice from its lineup on September 8 after video surfaced of him attacking his then-fiancee in an elevator. The NFL has also come under harsh criticism for its handling of the episode, which has sparked a national conversation about domestic abuse by professional athletes.
Rice has also been dropped by top sponsors and lost major endorsement deals, including contracts with Nike (NKE) and EA (EA). Some sports retailers have also pulled Rice jerseys from their shelves.
The backlash has been particularly strong in Baltimore, where local businesses have offered to exchange Rice jerseys for discounts.
Related: NFL scores huge ratings despite scandals
One local pizza parlor, for example, offered customers a free pizza in exchange for a Rice jersey, which the owners suggested could be used as toilet paper.