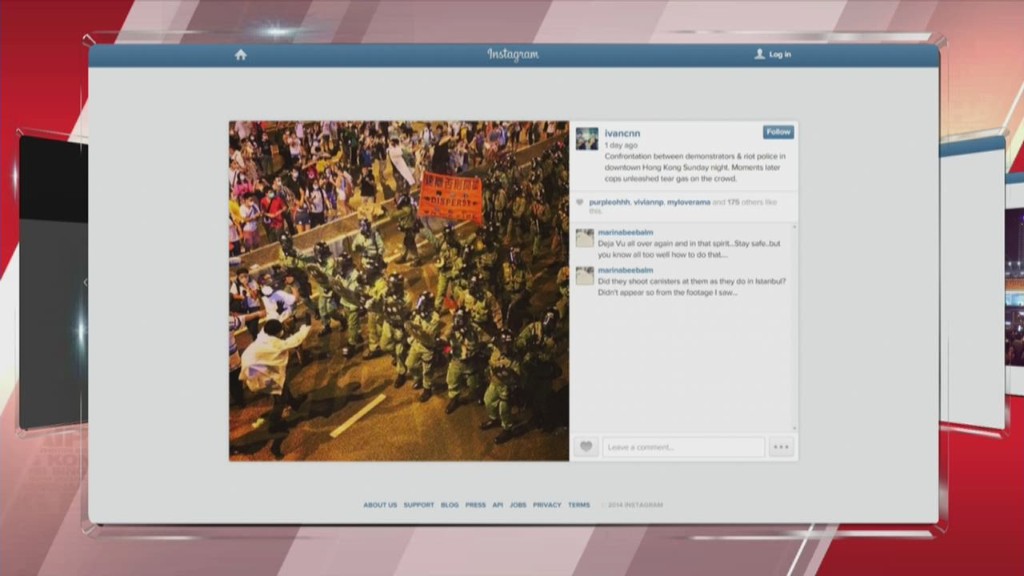 Chinese censors appear to have blocked access to Instagram after images of pro-democracy protesters in Hong Kong flooded the social media app.
Users in Hong Kong had been uploading images that showed massive pro-democracy protests, and a forceful response from police that included using tear gas and pepper spray on the crowds.
Talk of the protests had been blocked on other social media in China -- and censors widened their crackdown on Sunday to include the photo-sharing service owned by Facebook.
Instagram had been one of the few non-Chinese social media apps still accessible in the mainland, but observers had long speculated that the app's days were numbered in China.
Photos: Police use tear gas as 'Occupy' comes to Hong Kong
Facebook (FB), YouTube and Twitter (TWTR) are all blocked in China, and Google (GOOG) has fought a running battle with authorities over censorship for years.
Instagram representatives did not immediately respond for comment, but data from monitoring services blockedinchina.net and GreatFire.org showed the app is blocked.
Related: LinkedIn draws fire for China censorship
Even on Weibo, the Chinese equivalent of Twitter, a search for "Instagram" was not permitted. "In accordance with relevant laws, regulations and policies, search results of 'Instagram' could not be displayed," the service said.
Instagram will remain accessible in Hong Kong, which is beyond the reach of Beijing's censors.
-- CNN's Zhang Dayu contributed reporting.