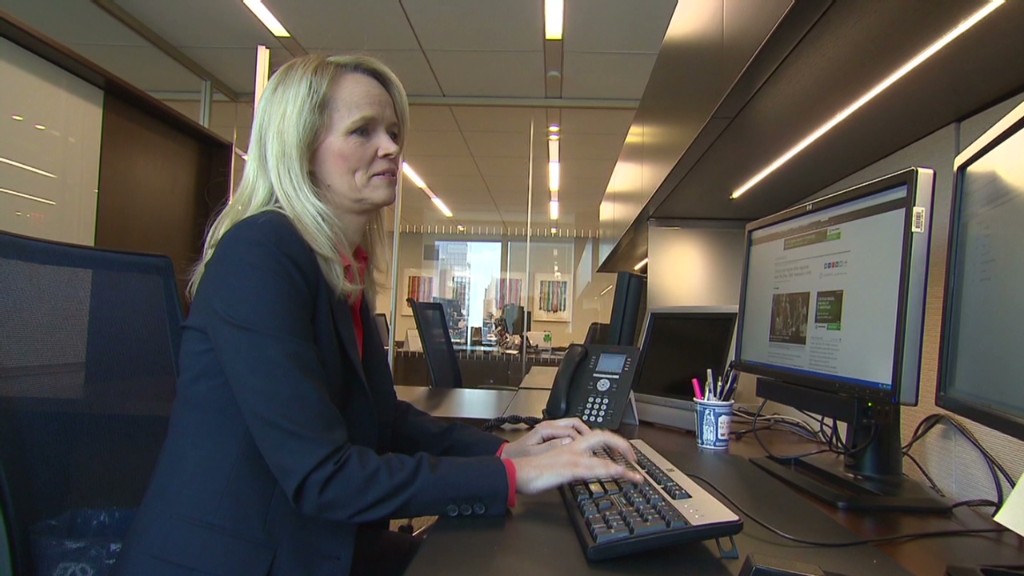 Perhaps it's no surprise, but first-year bankers at Wall Street's biggest firms are a very white and male bunch.
An analysis by the data-driven recruiting firm Vettery found that nearly two thirds of entry-level bankers hired this year are white.
Over three quarters -- 78% -- are male.
CNNMoney reached out to each of the big banks specifically mentioned in the report. Most did not comment, and none would provide their own diversity data.
The banks that did talk about the report disputed its accuracy and noted that the recruiting firm did not consult them or use their internal data.
Among the most recognizable firms, Deutsche Bank (DB)'s class was rated the most white -- 70% -- and least Hispanic and black -- 4%. A spokeswoman responded that the bank "is committed to recruiting diverse talent" and that the figures "are inaccurate and do not reflect the true diversity of our 2014 analyst class."
Related: How to break into the white male private equity club
The industry's overall numbers are largely unchanged from recent years, said Alex Orn, Vettery's chief financial officer and lead author of the report.
This year, about 29% of new hires are Asian and 7% as Hispanic or black, numbers identical to the class of 2013 hires.
Sallie Krawcheck, once dubbed Wall Street's leading lady, has pointed out that banks went into the financial crisis "white, male and middle aged" and came out "whiter, male-er and middle age-er."
The preponderance of men in the industry comes even as young women are enrolling in college in larger numbers than young men.
Diversity in the workplace has come into the spotlight this year in the technology sector as some of America's best-known companies -- among them, Apple (AAPL), Twitter (TWTR), Facebook (FB) and Google (GOOGL) have revealed largely white and male workforces.
Related: Fewer female engineers and execs at Google
Vettery said the data represents just over 1,700 hires to more than 30 investment banks. It was was gathered from publicly-available sources such as regulatory filings, social media profiles and website postings.
Orn said the reason for releasing the report was to "increase transparency rather than vilifying the banks."