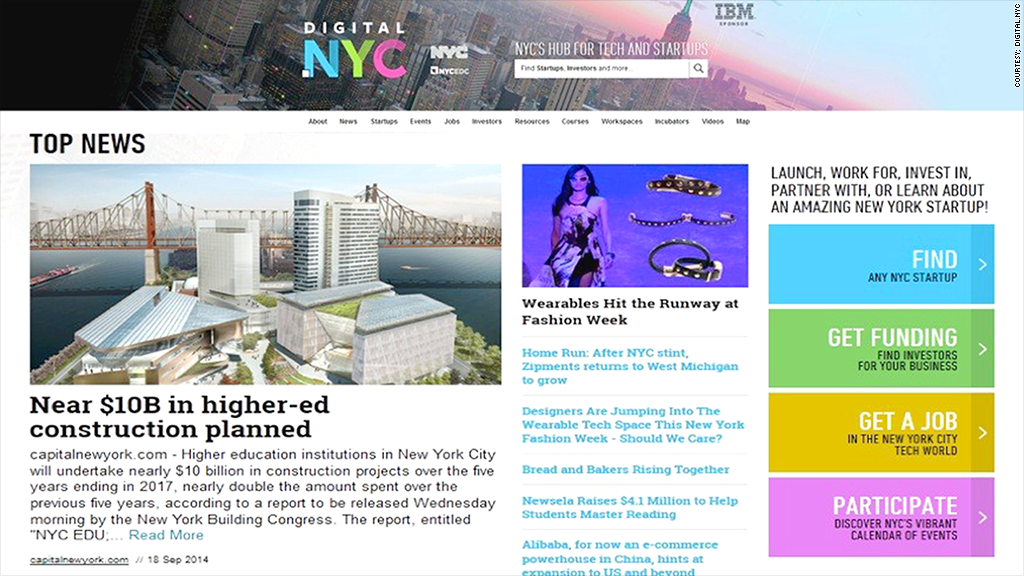 New York City is staking its claim as a leader in the startup space.
Though its startup scene is still second to Silicon Valley, New York is hoping to position itself as the most transparent digital tech community.
On Wednesday, Mayor Bill de Blasio announced the launch of Digital.NYC, a hub for all things related to the New York City digital ecosystem.
The site aims to be a resource for a wide audience: existing startups that want to connect with investors, aspiring entrepreneurs looking for developers and classes, techies searching for jobs -- and even for those who just want to stay up to speed on the latest tech news.
Right now, there are a variety of platforms and services catering to these different audiences -- but not a one-stop shop.
That's where Digital.NYC -- an initiative led by the NYC Economic Development Corporation, developed by Gust.com and powered by IBM's Bluemix -- hopes to make a niche for itself.
Related: Israeli startups flock to New York
"It's demystifying the tech ecosystem," said deputy mayor Alicia Glen. "It's no longer insider baseball, you no longer have to be a techie to participate in the tech ecosystem."
At launch, the site lists over 5,000 startups, 150 investors, 1,400 jobs and 350 events.
The site (which is one of the first to utilize the new .NYC domain, available for purchase Oct. 8) will pull content from a variety of New York firms.
Startups are able to register themselves (they must be founded in NYC or have an office there), and can post job openings to the site.
For its part, IBM (IBM) -- which is headquartered in Armonk, N.Y. -- will get its cloud-based solution in front of more startups, offering a free 30-day trial to those on Digital.NYC (so virtually the whole New York digital startup scene).
Related: Best cities to launch a startup
According to the NYCEDC, the hourly wage in the city's tech community is $39.50 (compared to $26.50 citywide). The New York tech ecosystem generates roughly $50.6 billion in annual compensation and $124.7 billion in annual output. Tax revenue from the city's digital industry represented over 12% of the city's total last year.
"I've been to 78 countries around the world and there's nothing else like this that has end-to-end what a entrepreneur needs to be successful," said Sandy Carter, general manager of IBM Ecosystems. "[The platform] can be replicated elsewhere. NYC is the first."