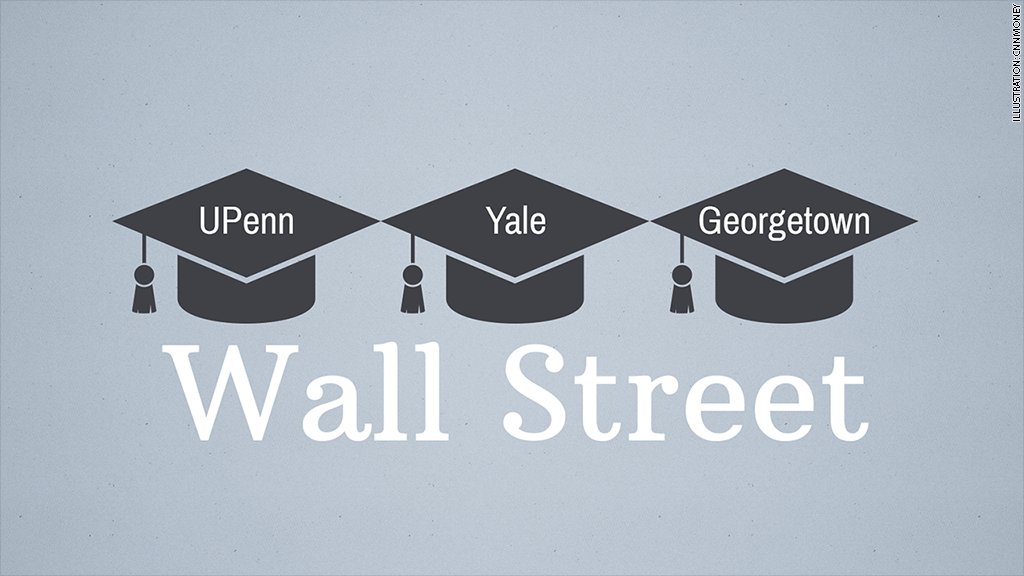 To get a job on Wall Street, you need tenacity, above average math skills and, it appears, a degree from the University of Pennsylvania, Georgetown or Yale.
Those three schools have the most undergraduate alumni working in finance and investment banking, according to new data from the online networking platform LinkedIn (LNKD).
It's perhaps not surprising that UPenn tops the list given its well known Wharton School. Established in 1881, Wharton was the world's first college program dedicated to the study of business. Today it has nearly 5,000 students, about half of which are enrolled in the undergraduate program.
Princeton, Columbia and Duke are also top talent pools for the financial industry, according to the LinkedIn survey.
Universities often promote the strength of their alumni networks in helping new graduates land jobs and internships. Alumni are more likely to return to their alma mater to recruit for their bank or give insider tips on the hiring process.
While many cite that Wall Street has a diversity problem, it's interesting to note that Wellesley College, an all women's institution, is in the top 10 for investment banking.
Related: The Talent War is on between Wall Street and Silicon Valley
LinkedIn crunched the data on its millions of members in the U.S., ranking the undergraduate universities with the most employees in different professions.
There is some bias in the survey since it only counts people with LinkedIn accounts who put down their work and education history. However, a recent study by recruiting firm Vettery found similar results for the top schools.
Related: Wall Street's latest hires are mostly white and male
According to Vettery, the 2014 analyst class on Wall Street has 102 University of Pennsylvania grads, 76 New York University alums and 62 former Georgetown students. Vettery compiled its data from publicly available sources such as regulatory filings.
Getting a foot in the door is key to making it in the world of finance, but getting to an executive suite takes more than just the right degree.
Consider that Jamie Dimon, the CEO of JPMorgan (JPM), attended Tufts University for his bachelor's degree, and John Stumpf, head of Wells Fargo (WFC), went to St. Cloud State University in Minnesota.
Among CEOs of America's top banks, Harvard is the most represented undergraduate school.