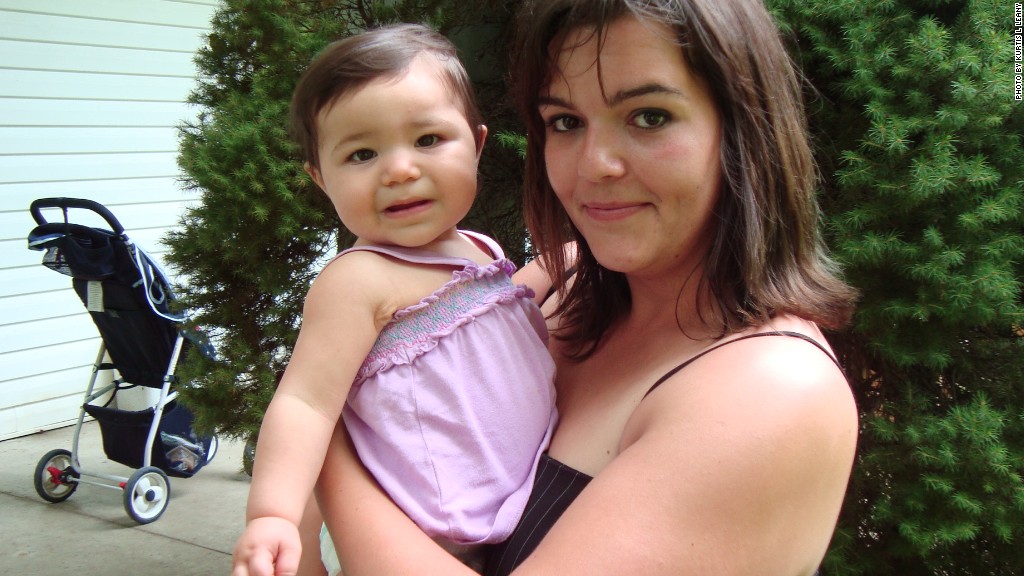 Linda Tirado knows what it's like to work two jobs, raise a family and attempt to go to school. Days start at 6am and end well past midnight. Junk food is one of the only "luxuries" you feel you have.
But there's one thing she misses about being poor in America: camaraderie.
"You have to entertain each other because you're just too broke to do anything else," Tirado, 32, said in an interview with CNNMoney. "You can have an awful lot of fun."
Tirado, whose new book "Hand to Mouth," comes out Thursday, says poor people tend to know each other in more intimate ways than folks in other tax brackets.
In the book, readers get to know Tirado's roller coaster journey from a being working class mother and blogger to having a lucky break that rocketed her into the middle class.
Related: U.S. poverty rate drops for the first time since 2006
Last October, Tirado wrote an online essay titled "Poverty Thoughts" about what her life was like. She was working at an IHOP and raising two young daughters. The post went viral, gaining millions of page views and, eventually, a book deal. Concerned readers donated over $60,000 to her.
"When I was pregnant the first time, I was living in a weekly motel for some time," she wrote. "I was on WIC. I ate peanut butter from the jar and frozen burritos because they were 12/$2."
(WIC is the Women, Infants and Children program the U.S. government runs that provides some money for food and parenting education).
The viral post also generated criticism from readers and journalists saying she was not entirely honest about her story. But Tirado did clarify early on that her essay was about her experience as well as her observations of others in poverty.
"I am just telling what I have seen," Tirado says. "I am indicative. I am not representative."
Raised by her grandparents in Michigan and Utah after her mother died when she was young and her father became estranged from the family, she dropped out of school at age 16. She has no regrets about not attending college. She does not see higher education as an imperative for all young adults.
"I think there should be better options than just universities," she said. "There's another entire group of human beings whose skill set is not in academia."
Related: Where the middle class is most unequal
Tirado, who is temporarily living in Washington D.C., with her two children and her husband, Tom, a former marine, hopes that Congress will listen more to their low-income constituents when making policy decisions, such as welfare appropriations.
Any drug testing for welfare recipients is humiliating, she says.
Tirado never set out to be a spokesperson for the poor but hopes her book will draw more attention to the difficulties impoverished people face.
From struggling to eat a healthy diet on a daily basis to finding time for long-term life planning, the dilemmas never end.
Related: Are you middle class?
Most of all, poverty deprives people of dignity.
"It is millions of us. You can't go through a day without seeing us and yet we somehow still don't exist," Tirado says. "All work has dignity."
Tirado is correct on the math: about 45 million Americans live in poverty, according to a report last month from the U.S. Census Bureau. That's defined as an annual income of $23,624 or less for a family for four.
Despite her personal struggles, Tirado gained some skills from her experience: "It makes you a creative cook."