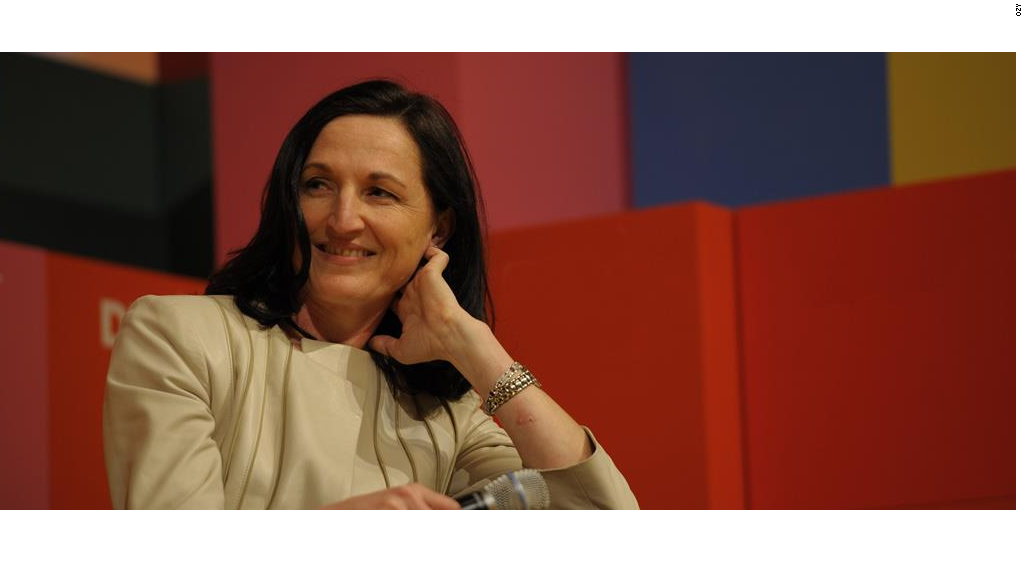 Just five years old, Andreessen Horowitz is already one of Silicon Valley's sexiest, most desirable technology venture capital firms, with a whopping $4.2 billion that it has invested in high-profile companies like Pinterest, Jawbone and Fab.com, along with a host of others. And it might all be because of dinner parties.
The dinner parties are the brainchild of Margit Wennmachers, an operating partner who could fairly be called the VC firm's secret weapon. The German immigrant, 49, invites reporters, investors and entrepreneurs to her San Francisco home to talk, drink and sup, all off the record. It may be the softest, smoothest marketing pitch in the Bay Area. Or maybe it's not a pitch at all. Reporters love discovering, says Wennmachers. "And discovery is best done breaking bread."
Read more from Ozy: What you never knew about Harvard
For the wonks and techies in Silicon Valley, marketing was once sneered at — that is, when it was thought about at all. But armed with Wennmachers, Andreessen Horwitz has changed all that. Now telling a story about products and companies is considered crucial, both for press and investors. "It's been fascinating to watch," Matt Marshall, founder and editor-in-chief of Venture Beat, says via email of Andreessen Horowitz's swift rise. "[W]hat it has done is nothing short of brilliant. Every single move it makes is orchestrated carefully, to push more PR spin."
Of Wennmachers, he writes, "Margit is about as good as you can get as a PR professional. She's managed to filter out the best players in the valley and put a vise grip on them."
Read more from Ozy: How to ace STEM
In person, Wennmachers is extraordinarily self-possessed, a lithe, fashionable woman who speaks four languages — German, English, Spanish and French — and favors Euro-chic designers like Erdem and Brunello Cucinelli. The daughter of a pig farmer in Bruexgen, Germany, she was the shy one in high school but was also considered a "quiet revolutionary." She studied humanities in college but was exposed to the American way of doing business in her first job out of school. She worked for an American tech company based in Germany and was impressed by its culture of transparency and optimism. She started out as the CEO's assistant, but by 25 she was running the European marketing division. It wasn't that young, she recently told the San Francisco Chronicle. "Here, they start coding at 8!"
Or even younger, apparently. She is the single mom of a seven-year-old daughter who is already studying programming at school. Wennmachers is an avid hiker and likes to cook, mostly German specialties.
Read more from Ozy: Stuck in traffic? Text your way out
But what she really loves is putting people in touch. In 1997, she cofounded OutCast, a prominent PR agency that focused on tech companies like Yahoo, Facebook and Amazon. (The company was sold in 2005 to British PR powerhouse Next Fifteen for a reported $10-$13 million.) Her OutCast clients included Ben Horowitz and Marc Andreessen, and in 2010, the two men managed to poach her for their own eponymous firm.
The firm didn't originally have marketing in mind, says Horowitz. But he and Andreessen were so impressed by Wennmachers that they convinced her to join. "She's one of the most important partners that we have," he said. "The thing that we are known for most is how differentiated our network is and how we built it so big and powerful so fast. She's been the architect for that."
In response to his firm's success with marketing, Horowitz says other VC firms have jumped to hire marketing execs, too. But that's "really silly" says Horowitz, comparing her influence on Andreessen Horowitz to Steve Jobs' on Apple. "It's like saying he's a designer; let's hire a designer. She's not a marketing person; she's Margit."
He continues, "The thing that gets lost on people about Margit is that she's more accurately described as an entrepreneur and as a CEO than a marketing person."
Read more from Ozy: Is Alzheimer's brain diabetes?
Her clients agree. "Far beyond the PR reputation she has, she's been a strategic advisor," says Kakul Srivastava, founder and CEO of Tomfoolery, one of Andreessen Horowitz's seed investments and one of three companies Wennmachers snagged for Andreessen Horowitz. Srivastava meets with Wennmachers monthly. "Her feedback ranges quite a bit from product feedback to strategy feedback. She's been an incredible connector for us," she says.
So, is Wennmachers everyone's darling with never a misstep? Of course not. Venture Beat's Marshall said that while he admires Wennmachers, he doesn't "particularly like everything she's done." He adds, "Sometimes her hardball tactics can backfire." He cites a story where Andreessen Horowitz missed out on an estimated $100 million by declining to invest more in Instagram, because of a conflict of interest with another company in its portfolio, PicPlz.
"We called them, and Margit declined to allow us to get comment from them," he says. "Then the story got bigger, and everyone else (other media) jumped in, and they eventually had to address it, but it just got worse because they had declined to talk."
Read more from Ozy: What millennials want in the workplace
Nevertheless, Wennmachers and Andreessen Horowitz ended up spinning the story into how loyal they are to companies they invest in, even if that might not benefit them monetarily.
Wennmachers compares her job to combining the TV shows The West Wing, Scandal and PBS's science series Nova. She's constantly balancing decision-making, putting out small fires, crafting stories and dealing with innovation and technology.
Her own secret weapon might be how she has adopted the United States as a second country. She refers to immigrants as "underrated," even while demurring that the notion might sound self-serving coming from her. For immigrants, she says, everything is an upside. "You're not entitled, you're not expecting anything and you have nothing to lose and everything to gain. This is what makes the United States special. When you come here, once you get your green card or citizenship, they really want you here. They do their vetting and then they say, welcome and go nuts. Go to town. No other country does that."
The United States has welcomed Margit Wennmachers, and in return she has spun quite a web of talent around Silicon Valley, cultivating strong ties and connecting power players in technology along the way. You can almost see the spin, spin, spin.