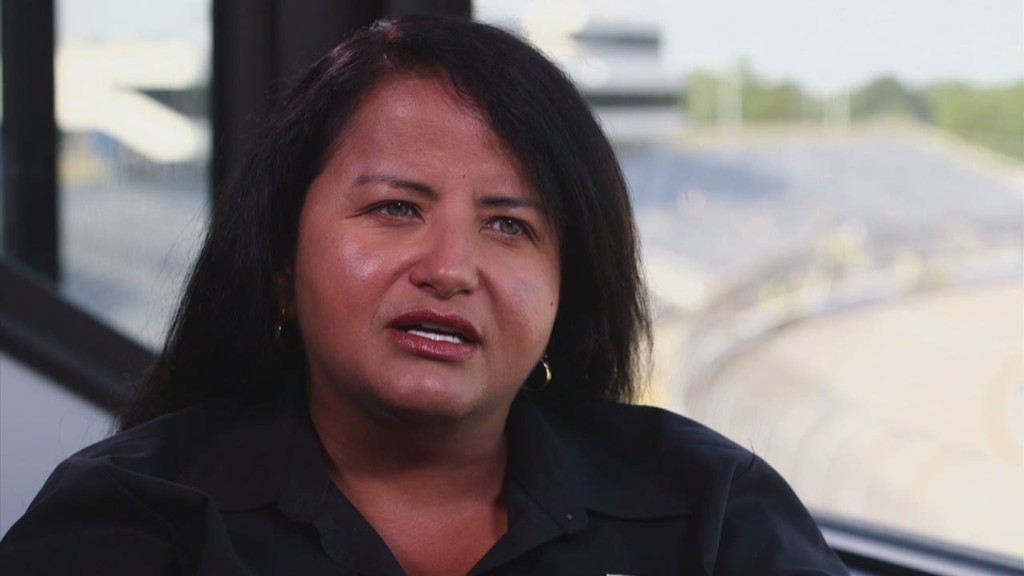 Jimmie Johnson has six NASCAR championships under his belt. Jeff Gordon has four championships to his name. Danica Patrick was the first woman to earn the pole at the Daytona 500, and NASCAR royal Dale Earnhardt Jr. claimed victory at the Daytona 500 twice.
These drivers come from varied backgrounds and have different styles behind the wheel, but they have one thing in common: They all share the same lead engineer.
Alba Colon, the daughter of a doctor and a teacher, grew up in Puerto Rico dreaming of becoming an astronaut.
"I was always interested in space," she said. "My model was Sally Ride. So I wanted to be like her. I used to have a poster of her in my room."
She pursued her dream and gained a degree in mechanical engineering, but somewhere along that path she hit what she calls a "happy detour." During college she became active in the Society of Automotive Engineers and realized that she enjoyed something else as much as she loved space.
"I started to fall in love with vehicles and with the racing side," she said.
Related: Preparing low-income youth for tech jobs
In 1994, she became a data acquisitions engineer for General Motors (GM). In the twenty years since, she's worked her way up the ranks within GM's NASCAR program. She is now the lead engineer for Chevy Racing -- one of the sport's most successful teams.
As lead engineer for the NASCAR Sprint Cup Series for Team Chevrolet, Colon manages the technical resources GM provides all of its NASCAR Sprint Cup Race Teams. Colon and her team are constantly striving to innovate and improve things like the design bodies, engine parts and software to give them an edge on the track. She also serves as the main liaison between the teams and NASCAR.
And it's fair to state the obvious -- she's a double minority -- a Hispanic woman in a world traditionally full of white men. But take a walk through the garages with her and it's clear that she's not only earned their respect and her place but she is truly beloved.
Colon is now a champion several times over but, more importantly, she is a leader, which she knows comes with responsibility. She uses the platform to share her story in hopes of inspiring others. Colon speaks often at universities, Hispanic initiative events at GM, diversity programs hosted by NASCAR and, less formally, at elementary schools. It's here she hopes she can do the most good by reaching children young.
"Many of these students, the examples they have at home is parents that didn't finish school," she said. "So I want to show them hey, I am a Hispanic kid and I worked hard to get where I am. You can be like me. You don't have to stop when you finish high school. You can keep going."
Related: 6 things you need to know about STEM
Colon also hopes to show these kids the value of hard work. It's a value she feels is all but lost on today's youth.
"This is the generation of 'I want everything now,'" she said. "And I will try to say so they understand that you have to work for what you want. You cannot go and get everything immediately. Hard work and study got me to have a fun job today."
She understands that there's a stigma that comes with careers under the STEM umbrella—science, technology, engineering and math. And ridding society of the stigma requires an early start too.
"When you are studying a lot and you're good in math and science, what do they call you? They call you a nerd right? So we as a society have to change that—hey, it's cool to be a nerd."
Colon hopes that by bringing students into her world, race cars can help make science cool. And she already sees the landscape starting to change.
Related: How immigrant entrepreneurs are making it
"When I started, there were not too many engineers," she said. "[Now] every team has engineers. Not one, many. Some of the crew chiefs are engineers, and we even have a driver that's an engineer."
The driver she's referring to is the highly decorated Ryan Newman who also holds an engineering degree from Purdue University. Newman has even joined Colon to help spread the message that jobs in scientific fields can be far cooler than the boring reputation they often get.
"My engineering degree has helped me," Newman said. "I know it's important for all of our teams to have that background of physics and understanding of the race car."
Colon's efforts to show children that the path of success is through dedication, hard work and education is a message she hopes their parents are listening to as well.
"I talk not only to the kids but to the parents because you know one thing that was key for me was to have my two parents to support me. All the time."
She credits her father specifically for her love of math and science.
"I remember spending a lot of time with my father studying," she said. "He said that math is beautiful. ... I am still trying to figure out the beauty of math completely, but with the numbers and science -- that's where everything gets started."