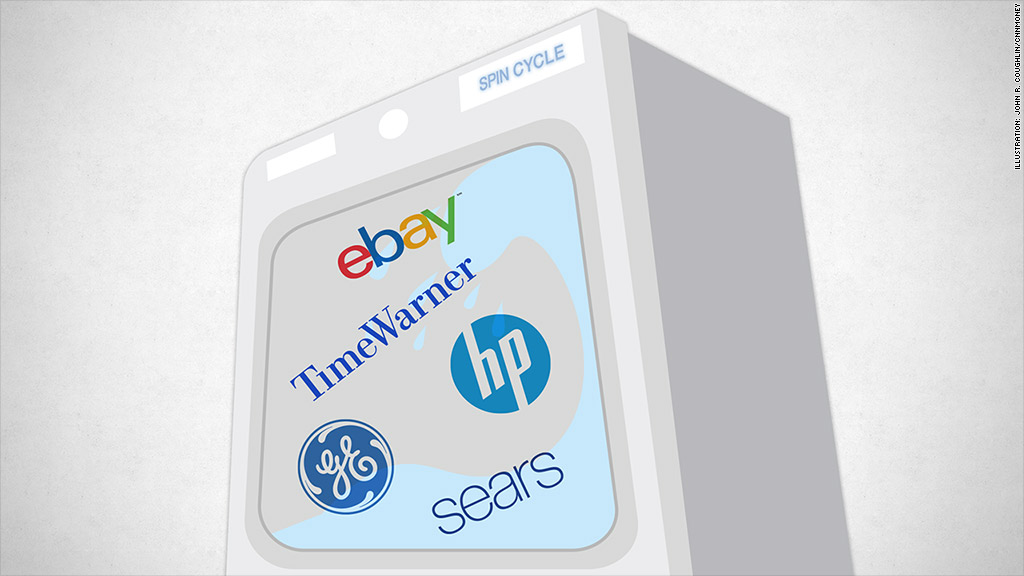 Before Steve Jobs and Steve Wozniak, there was Bill Hewlett and Dave Packard.
The HP founders met in the 1930s as students at Stanford University, back when the area was known for its farmland rather than its technology prowess.
In a tradition later carried on by founders of companies like Apple (AAPL), Amazon (AMZN) and Google (GOOGL), Hewlett and Packard started their business out of a garage and grew it into what was until just a few years ago the world's largest tech company by revenue.
That garage on Addison Avenue in Palo Alto has since been designated a historic landmark, marked with a plaque that designates it the "Birthplace of Silicon Valley."
Related: Breaking up is the latest Wall Street craze
Today, HP (HPQ) needs an epitaph. The company has already shed at least 45,000 jobs in the past few years as part of a turnaround effort, and on Monday, it announced plans to split its once-mighty PC and printer operations from its more promising enterprise software division.
HP is in the midst of a difficult stretch. The company has made a series of ill-fated acquisitions, most notably the disastrous $10 billion acquisition of software maker Autonomy, which was later found to have falsified its financial statements. There's also the fact that as screens have become ubiquitous in our lives, people aren't buying printers the way they used to.
More than anything, though, HP has been contending with the rapid shift among consumers to mobile devices, and the resulting plunge in PC sales.
That shift has been felt across the industry, with older tech companies that made their names on desktop computers struggling to respond.
IBM (IBM) got ahead of the problem by selling its PC unit to China's Lenovo in 2005. Dell went private last year after a dismal few years, while Intel (INTC) has been pushing tablets and "ultrabook" laptops.
New Microsoft (MSFT) CEO Satya Nadella, meanwhile, has been restructuring the company to emphasize mobile- and cloud-ready programs over services purely for desktops.
Current HP CEO Meg Whitman will take that role at the new HP Enterprise business, while executive vice president Dion Weisler will be CEO of the separate printer and PC business, with Whitman as chair.
The two new companies created by the HP split will be roughly equal in size, each with revenues of just over $57 billion and profits of more than $5 billion. But for growth-oriented investors, it's clear where the opportunity lies.
"The PC business is a mature industry. The printing business is a mature industry," said Brent Bracelin, an analyst with Pacific Crest Securities. "The next phase of the turnaround is to separate the mature businesses from those where they have a real opportunity to grow."
That means the end of an era for one of Silicon Valley's iconic companies.