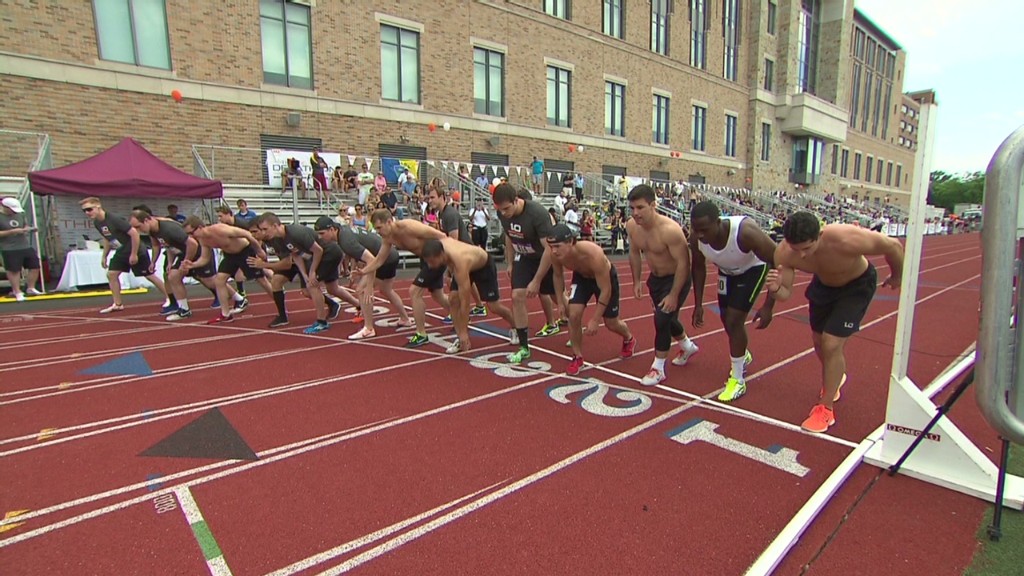 Wall Street is feeling a bit of Main Street's pain.
It's all relative, however.
The securities industry is still hauling in multi-billion dollar profits, its employees are impressively well-paid, and bonuses are growing again.
But "the good old days" aren't entirely back in the financial world. The industry isn't immune from the economic downturn it sparked. Profits aren't what they once were, jobs have been lost and financial regulators are bringing the heat.
The New York State Comptroller took the temperature of Wall Street and released a "check up" report on Tuesday. Here are five key takeaways:
Profits are down: The securities industry, the broker-dealer piece of big banks and trading firms, made $8.7 billion in the first half of 2014.
That's a big chunk of change -- bigger than the GDP of some countries -- but it's 13% less than last year. Last year was a down year, too: 30% less than the year before.
It's not entirely cause for alarm. Three out of the last five years are Wall Street's three most profitable years.
The profits show the industry is responding to the changing landscape. Trading is less profitable, but revenue has remained stable as the firms focus on their wealth management and brokerage businesses.
Related: Are stocks a trick or treat?
Regulatory costs are up: Why are profits down? One significant reason is the huge sums banks have agreed to pay out to financial regulators for misdeeds during and leading up to the financial crisis.
By one estimate, the six biggest banks have paid out about $130 billion.
The report notes significant settlements involving Bank of America (BAC) and Goldman Sachs (GS) will likely be reflected in earnings for the second half of this year.
10,500 people lost their jobs: The Great Recession triggered job losses across the economy, and Wall Street is down from the pre-crisis days.
About 10,500 securities jobs, or about 15%, have been lost, according to the report. Headcount in the broader banking industry is off about 4%.
Related: Three lessons investors can learn from Derek Jeter
Average salary is $355,000: For those who do have a Wall Street job, the securities industry still pays the best.
While the average salary of $355,000 hasn't grown much in the last three years, bonuses have, climbing 15% to $164,530. That's "the largest average bonus since the financial crisis," the report noted.
1 in 9 jobs in New York City: Wall Street is just as important to New York as ever. One in nine jobs in the city "are either directly or indirectly associated with the securities industry," according to the comptroller.