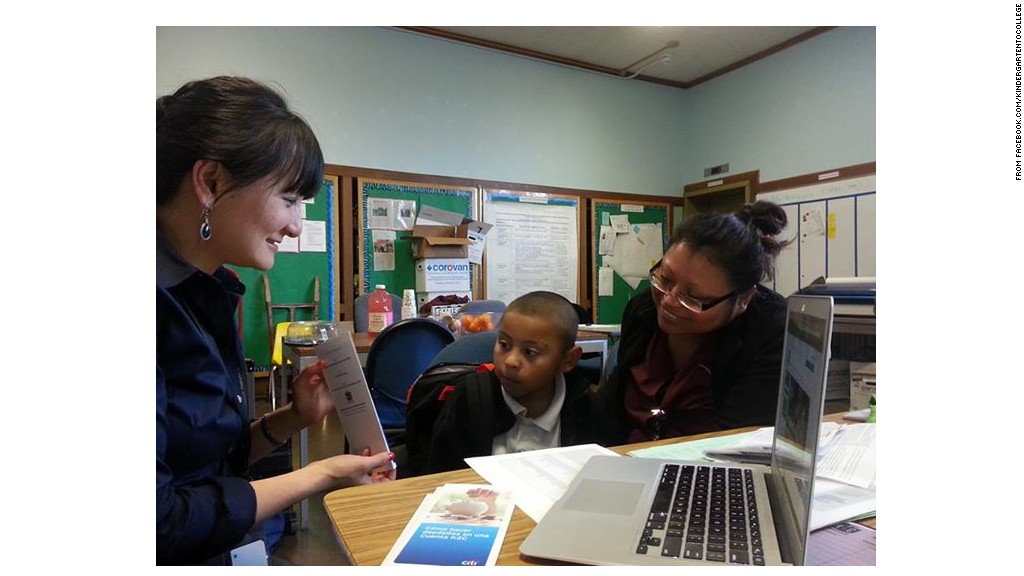 Silicon Valley has introduced an entirely new word into the story of San Francisco: "Super-gentrification."
The influx of wealthy tech-industry types has had a staggering affect on the city's affordability, and the disparity between the rich and poor hasn't gone unnoticed. Worse, that income gap is growing.
The median household income in San Francisco is about $90,000, and low-income families bring in half that. A recent report from Brookings Institution found that San Francisco had the largest increase in inequality between 2007 and 2012.
Families struggling to cover the bills aren't always able to save for a college education, and 18,000 San Francisco households (or just below 6%) don't even have bank accounts, according to the city's Office of Financial Empowerment.
To help combat the challenges, the city began a college savings program in 2011. Called Kindergarten to College, every kindergartener receives $50 in a college savings account on their first day of school.
CNNMoney's Most Innovative Cities
The city was inspired by the results of a 2009 Washington University study, which found that kids with money in college savings accounts were more likely to attend college, even if the amount wasn't that substantial. So far, the city has invested $2.6 million in the program (it pays out about $650,000 annually, while $275,000 comes from private donors).
"We all know $50 is not going to pay for college," said city treasurer José Cisneros, who spearheaded the program. "[But] just the existence of the account builds aspiration in the child's mind."
San Francisco was uniquely positioned to experiment with the Kindergarten to College program.
It has the smallest number of children per capita of any major U.S. city -- about 4,500 kids start school every year -- according to the San Francisco Board of Supervisors. This means there's only one school district, which cuts down on logistics and red tape.
Quiz: What innovative city is right for you?
Parents are incentivized to add to the accounts through cash matching. The city matches the first $100 worth of deposits, and if parents make a minimum deposit of $10 for at least six months in a row, an extra $100 is added to the account
In the program's four-year existence, 12% of parents have deposited additional money into the accounts. However, it isn't clear whether those parents are the low-income families the city is hoping to help.
Still, Cisneros said the rate is "a good solid start," and he's aiming for engagement of 50% or more.
Even 12% is better than the national rate, according to a 2012 study by the Government Accountability Office, which found that nationwide, less than 3% of families put away money for college.
Cisneros said he hopes the Kindergarten to College program helps to promote a habit of steady and regular savings for all families, even if it's only a small amount.
"In 10 to 12 years, it's definitely going to amount to something," Cisneros said.
He hopes for a future where every kid in the country has a college savings account.
"There's so much power in that...hopefully we'll learn to put a stake in the future for every kid that says, 'This is here for you. You deserve it as much as anybody else in this country.'"
What's innovative about your city? Let us know by posting your photo and description to #CNNCities on Instagram.