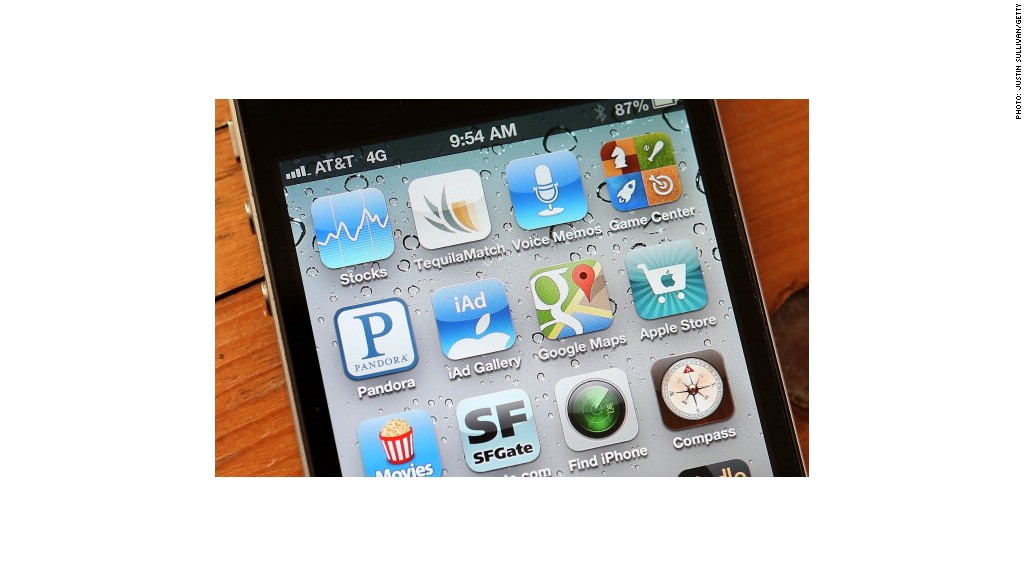 Have a look at your smartphone apps. Notice anything peculiar about the ads? In the majority of cases, the only things they're advertising are ... other apps.
Estimates vary, but analysts say a significant majority of ads in mobile apps simply promote other apps. Karsten Weide, an analyst with IDC, pegs the total at between 60% and 75%; mobile ad company Fiksu says it's between 50% and 85%, depending on the time of year.
What does all this mean for the future of the app business? If most of the advertising dollars are coming from within the industry, is this a bubble about to burst?
Quite the opposite, industry experts say -- the numbers show app makers and advertisers simply haven't yet figured out how to tap this promising business.
Mobile apps overtook desktop browsers earlier this year as the dominant means by which Americans access the Internet.
Related: Apple planning Oct. 16 iPad event - report
But the ad dollars haven't caught up. Research firm eMarketer says U.S. spending on desktop ads will reach $37.5 billion in 2014; for ads in mobile apps, the total will be just $2.8 billion worldwide, according to Gartner.
That tide will turn eventually. Facebook (FB) and Twitter (TWTR) struggled for years to make money from mobile ads; now, that's where they get the vast majority of their revenue. EMarketer says mobile ad spending will overtake desktop by 2018.
But mobile ads aren't yet as lucrative as those on desktops. Google (GOOGL), for instance, has seen its revenue per ad dropping steadily in recent quarters as Internet usage switches to smartphones.
Part of the way Google is addressing this issue is through the "enhanced campaign" strategy it introduced last year, which requires advertisers to buy across multiple platforms. But that's just a temporary fix.
"Right now we can lead the horse to water, but we can't make it drink," said Google's former chief business officer Nikesh Arora earlier this year.
App makers, even those with massive user bases like Snapchat, are also still trying to figure the business out.
Part of the challenge is that app makers don't have the tools to track their users and offer detailed profiles to advertisers the way they can with desktop browsing. They also can't draw the clear lines between ad views and purchases that desktop ads offer.
"While app developers struggle with meager ad revenue, advertisers have difficulty establishing the value of in-app ad investments," Gartner said in a report earlier this year.
There's also the fact that mobile devices simply offer less space to work with.
"With brand advertising, you want to tell a story, and the canvas on smartphones is so limited," IDC's Weide said. Advertising another app, by contrast, is a simple matter of text and a "download" button.
Related: Angry Birds maker cuts 16% of workforce
But video ads within apps are becoming more common, and mobile tracking technology is improving. Facebook, for instance, recently introduced a new reporting service for marketers to track the activity of ad viewers across devices; on Tuesday, the company announced that it was expanding the availability of its "Audience Network" tool for campaigns in other apps.
There's also the fact that smartphone screens are getting bigger, a trend that suggests users will spend even more time with smartphone apps going forward. People whose phone screens are larger than 5 inches spend 34% more time using their devices than average, according to research firm Localytics, including over double the average time in music and gaming apps.
The biggest challenge for app makers may simply be the slow-moving ad industry.
"The ad industry is very conservative. It just takes time," Weide said. "There's a lot of potential that has not yet been realized."