Business schools are trying to solve their own problem of supply and demand: finding enough professors.
Schools are on a hiring spree. There were 15,000 more business professors in 2013 than in 2008, according to the most recent U.S. Labor Department data. That's a 22% increase in faculty nationwide since the financial crisis.
This is particularly interesting after an economic downturn. Despite many businesses and workers taking a hit, students are still eager to study marketing, finance and entrepreneurship.
Business schools are catering to today's students by creating more specialized degree programs, driving demand for professors with specific skill sets.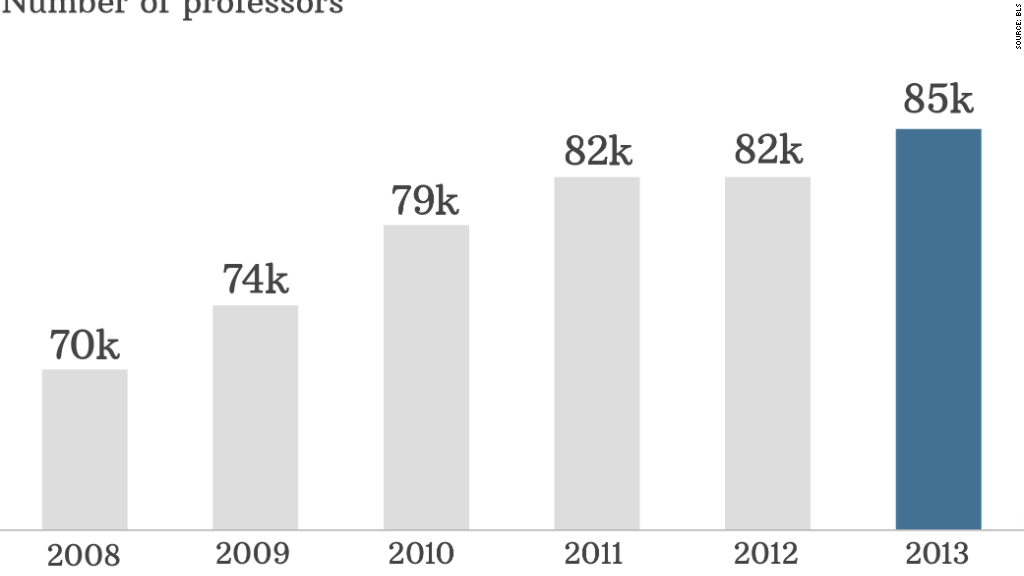 New York University's Stern School of Business started a Masters in Risk Management in 2009 because of the financial crisis, a spokesperson said.
The University of North Carolina's Kenan-Flagler Business School began its online MBA program in 2011. Cornell University opened a tech-focused MBA in Google's New York City headquarters this year.
Related: The 15 top MBA employers
Even after the 15,000 faculty gain, the "we're hiring" sign is still up at many business schools.
"The number of these programs, the complexity of those programs — all of that is creating tremendous demand for faculty," said Robert Swieringa, former dean and current accounting professor at the Johnson School of Management at Cornell University. He added: "That's happening all over the country."
Cornell's full-time faculty on its flagship campus has increased 10% since 2008, Swieringa says.
Adjunct faculty rise: The biggest jump in faculty at business schools is for adjunct professors, who only teach one or two classes. While the share of full, associate and assistant professors has stayed flat or declined since 2008, adjuncts are taking a larger chunk of the employment pie, according to data from the business school accreditor AACSB.
UNC's Kenan-Flagler School is a good example of the trend. Its adjunct faculty has grown by half its size from five years ago, estimates Jennifer Conrad, the school's senior associate dean.
"Business schools are experimenting to see what people might be interested in," Conrad said.
Related: Colleges with the highest-paid grads
Business educators react to the changes on Wall Street, in Silicon Valley and in factories around the world. Many of these professors also work as consultants to banks, investment firms and other finance groups.
"We expect our business school faculty also to be active consultants, to be engaging with companies," Swieringa says. "There's a closer relationship between academe and Wall Street today."
Applications to business school are turning around too. The majority of full-time, two-year MBA programs in the U.S. reported declines in applications in 2011. But this year most programs said applications picked up, according to an annual survey by Graduate Management Admission Council, which administers the standardized test for business school applicants known as the GMAT.
One business specialization gaining popularity: entrepreneurship. The number of professors teaching entrepreneurial business classes at accredited schools has grown substantially since 2000, according to AACSB.
"The specialized Masters [programs] are growing," said Joe Mondello, who manages the survey data for AACSB. "There's certainly more demand for more faculty."