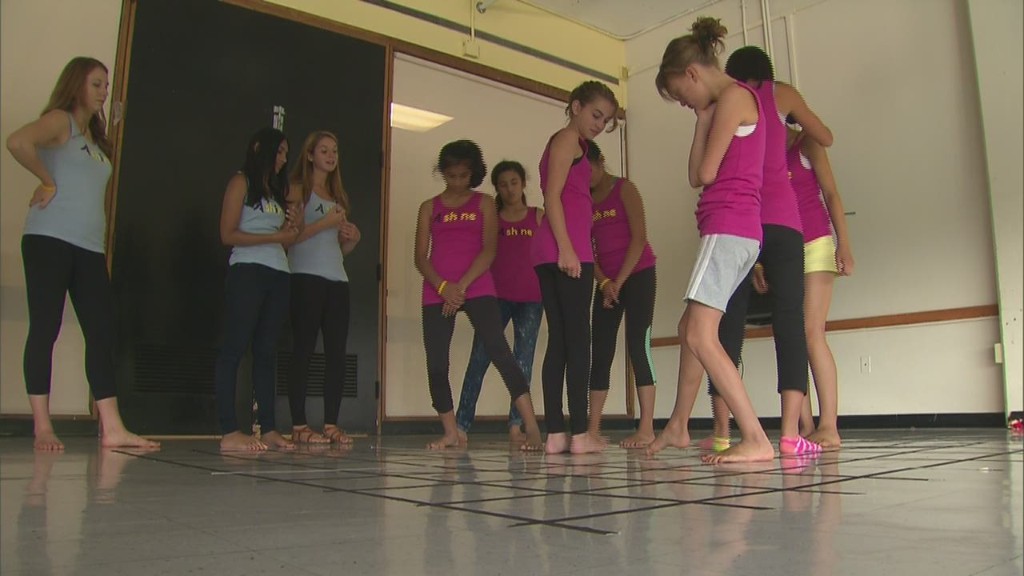 There were many reasons why I gave up math at age 16. It was hard, number one -- big point against math. It was a little boring, and it most definitely did not come naturally to me. Or so I believed.
Parental encouragement; "It may be challenging now, but you'll thank me when you run a bank/ build a city/ cure cancer/ go into space," fell on deaf ears. When you're 16, you figure you'll be a huge success with or without geometry. Or without trying that hard in general. And that you'll be rich, and famous, and married to a movie star.
Oh to be 16 again.
A 2011 by the Department of Commerce found just 24% of those pursuing a career in science, technology, engineering or math (frequently known as "STEM") were women. A major missed opportunity for us ladies, particularly given that according to the same report, women in STEM earned on average 33% more than those in other fields.
Related: 6 things you need to know about STEM
A troubled relationship between girls and math, which forms the cornerstone of STEM, was evident to MIT graduate Kirin Sinha from a young age.
"In middle school, I was in a calculus class where I was one of the only girls," she recalls. "Even at MIT where everyone on some level is involved in STEM, I found I was the only girl in a lot of my math classes. That's something that always bothered me."
Numerous studies have been done to try and identify why girls struggle with math, starting in middle school. There are various theories, including waning confidence at that age, gender stereotypes suggesting math is "for boys," and a difference in how boys and girls react to teaching methods.
Sinha formed her own opinions.
"When I was tutoring girls and guys, the big difference I would see is boys would say, 'I don't understand geometry, I don't understand fractions,' and girls would say 'I can't understand this.'"
In addition to the self-perception problem, Sinha suspects it's also due to falling self confidence among girls wanting desperately to "fit in."
Related: Few female engineers and execs at Google
Struggling to understand why she felt comfortable in math where other girls did not, Sinha identified one standout factor: her love of dance, an activity she's taken part in from a young age.
"A lot of times in math classrooms you don't want to be the girl who stands out. [But] what I had gotten from dance was the exact opposite mentality," she explains. "You WANT to be the girl in the spotlight, you want to work as hard as you can and practice as much as you can so you are noticed."
Sinha realized that not only did dance boost confidence, but that movement in general had been integral to her ability to learn.
That Eureka moment became the birth of SHINE, a tutoring program Sinha began while at MIT. It incorporates dance, movement and math in a new approach designed to boost girls' confidence and performance.
The basis for SHINE is the concept of "Kinesthetic learning," which essentially means moving your body in order to better retain information.
Interested middle school girls come to the program after school, and work with mentors on activities that put math concepts into action. They might, for example, hold hands to create a shape on a grid, then move to reflect the shape across an axis drawn on the floor. Playing games using corners and instructions helps show how probability works, and choreographed dance moves illustrate the principles behind trigonometry.
Later, they work out math problems on the board based on what they learned, and frequently finish with a break-out dance session just for fun. When I was there, they learned a routine to Taylor Swift's "Shake It Off," then tweeted a video of the results to the singer.
"Before we had this it was more like, 'Only the nerds do math,'" said Molly Calkins. "But now it's like even if you are a nerd you can still have fun doing the dance and then you're less in that stereotype."
Complete coverage: The science of work
Sinha says the results speak for themselves.
"We saw an almost 300% improvement in their math scores, we saw over 100% improvement in confidence," she says. In fact, the program is so successful it's expanded beyond the Boston area to DC, with plans for branches in Florida and other major cities.
For Sinha, a key goal is to make the program available to students from all backgrounds -- giving girls from low income families another stepping stone to a potentially high paying STEM career.
Finding ways to keep girls interested in math is something the White House has its' eye on also. Concerned with falling behind other countries like Russia and China in technology and innovation, the Obama administration has invested billions to boost the number of students in STEM, with particular emphasis on girls, in their 'Educate to Innovate' campaign.
Sinha says she hasn't talked to the president yet, but she hopes he'll give her a call.
In the meantime, the positive results go way beyond statistics for Sinha.
"If you actually talk to these girls, you see how much they changed," she says. "You see a girl who wouldn't say anything at the start, who was very shy, very reserved. At the end, [they're] raising their hands not just to ask a question but to address the group and take leadership. Those are the kinds of changes that are actually going to move the trajectory of someone's life."