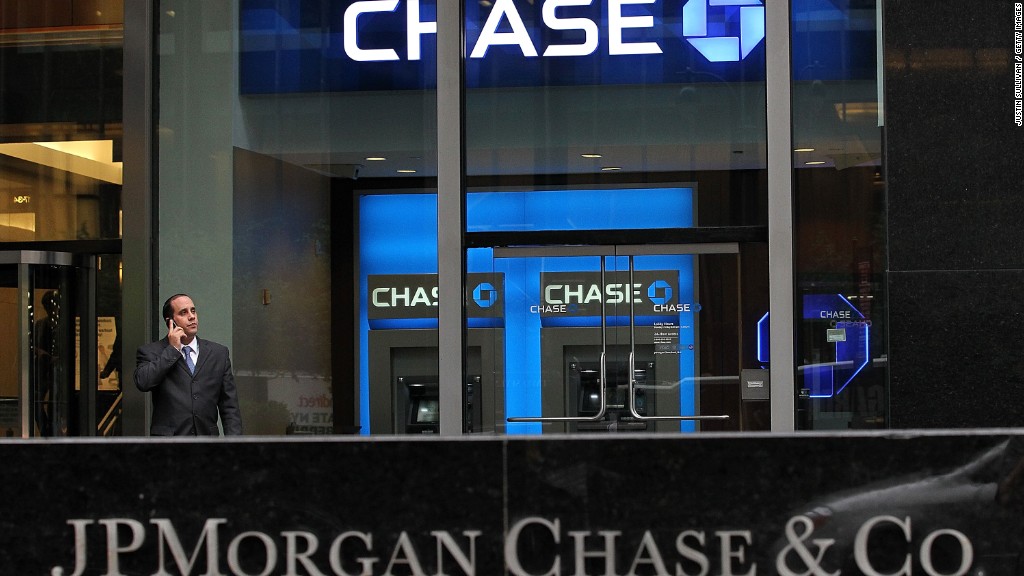 JPMorgan Chase is back to doing what it does best: making money.
The nation's largest bank by assets bank reported a $5.6 billion profit in the three months that ended in September. It's notable considering the bank has been dogged in recent months by a cyber attack on its accounts, a CEO undergoing cancer treatment and ongoing legal costs related to the financial crisis.
This time last year the bank reported a rare loss due to $9.3 billion it set aside for legal expenses at that time. JPMorgan (JPM) eventually finalized a $13 billion settlement for selling mortgages ahead of the financial crisis.
Related: Elizabeth Warren wants to probe if Fed is too close to big banks
Despite the better news this autumn, the bank's earnings came in slightly below Wall Street forecasts and shares of JPMorgan fell 1% in morning trading.
The bank's earnings were posted on a website hours before they were meant to be released. A JPMorgan spokesman blamed shareholder.com, a third-party vendor that posts earnings to the site, for the snafu.
"While challenges remain in the global economic recovery, the U.S. economy is an exception, showing signs of steady improvement," said Chairman and CEO Jamie Dimon in the earnings release. "Corporate America is in good shape with strong balance sheets and employment trends continue to be positive."
Jamie Dimon is full steam ahead: Dimon himself has been a key focus on the bank's shareholders. He underwent treatment for throat cancer this summer, and just last week he made his first public appearance since finishing his regime.
" I never stopped working, though I did take care of myself, get a lot of rest," Dimon said on a conference call with media Tuesday. " I'm starting to build back my schedule. But I feel good and I'm happy the treatments are over."
Related: Want a job on Wall Street? Go to UPenn or Georgetown
Some bright spots in JPMorgan's earnings may have more to do with Main Street than Wall Street. Deposits in its Consumer and Business Banking division rose 9%, and credit card sales volume jumped 12%.
Mortgage originations jumped 26% from last quarter, a sign that the housing market remained hot this summer despite concerns that it's cooling off.
Revenue from investment banking fees, derived from such activities as advising on mergers and acquisitions and helping take companies public, ticked up slightly last quarter.
Cyber attack fears: In a call with Wall Street analysts, the JPMorgan's management acknowledged concerns about the bank's cyber attack this summer, in which 76 million customers were hacked. They reiterated that hackers didn't get any account information such as account numbers, user IDs, dates of birth or Social Security numbers, and that they haven't seen "elevated levels fraud related to this matter."
Still, Dimon was rather blunt about the challenges of keeping the nation's financial institutions safe.
"This is a huge effort, we've been good at it until this recent breach, which we're not going to make excuses for," he said. "But it's going to be a battle...we don't want to sit here and say you're absolutely going to be protected, because that would be a false sense of security.