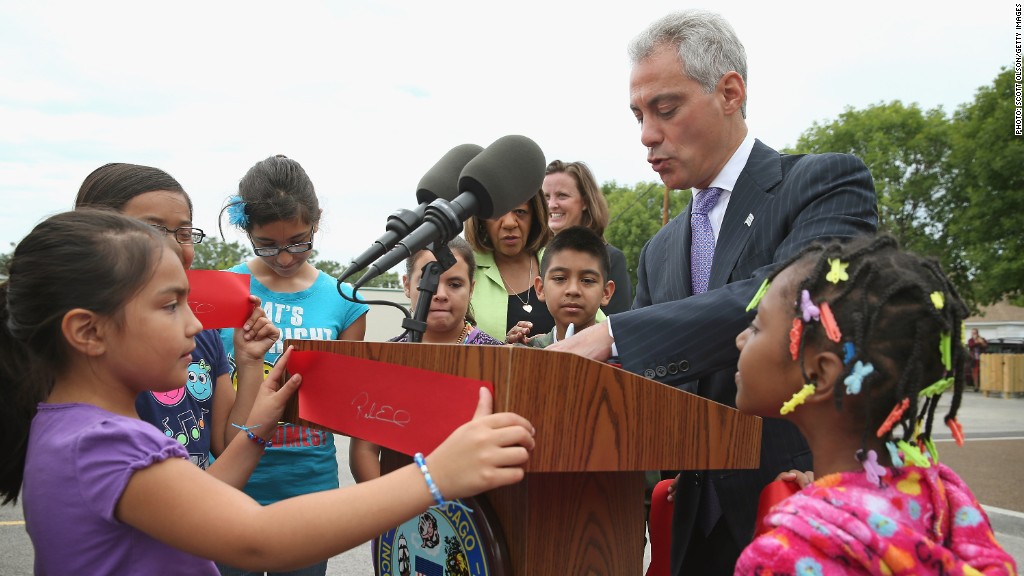 Parlez-vous "code"?
Chicago Mayor Rahm Emanuel believes the language of the future is code writing -- and he wants every kid in Chicago to be prepared.
In a room full of techies at the Internet of Things World Forum last week, he didn't talk about Chicago's chief data officer or the city's smart parking and LED street lights. Instead, he emphasized the Windy City's commitment to computer science and coding education.
"In three years time, you can't graduate from high school in the city of Chicago if you didn't take code writing and computer science," said Mayor Emanuel in conversation with Cisco CEO John Chambers. "We're making it mandatory."
Emanuel first announced the city's five-year plan for computer science education last December. In three years, Chicago public high schools will require a foundational computer science course in order to graduate. In five years, at least 50% of its high schools will offer AP computer science courses.
Related: 6 things to know about STEM
Computer science is one of the top paying college degrees -- and yet only 2.4% of college students graduate with degrees in the field (a number that's declining). Moreover, out of 3.6 million AP exams taken in 2012, only 3,000 computer science exams were taken by African American and Hispanic students, according to Code.org.
Chicago has roughly 600 public schools that educate 400,000 kids -- the majority of whom are African-American (39.7%) and Hispanic (45.2%).
Improving access to coding and computer science classes could open doors for low-income students, and Chicago officials believe it's not limited to high school education.
While roughly 25 states allow advanced computer science to count as math or science credits, Code.org says Chicago's plan is the most comprehensive.
This year, the city partnered with Code.org to incorporate computer science lessons into the curriculum of 25 elementary schools.
Related: The future of tech: your local library
"I believe kids start dropping out of college in third grade. They don't drop out freshman year. They don't quit junior year. Our responsibility is to make sure they're ready for third grade at three years old," Emanuel said.
This summer, 150 K-12 teachers (from roughly 30 Chicago high schools, 20 middle schools and 20 elementary schools) took professional development courses to learn how to incorporate computer science into their teachings.
At the elementary school level, kids can be introduced to the fundamentals of computer science through activities.
"Just having kids jump into computer science at the high school level, they don't have a good context for it," said Cameron Wilson of Code.org. "Having them exposed early and building on concepts year after year is really important."