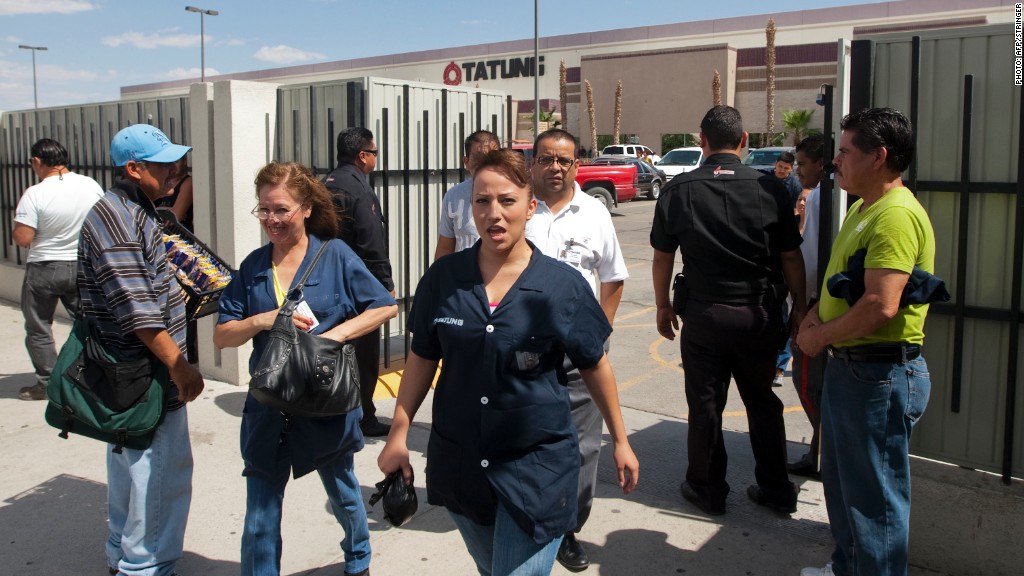 For years, the only industry Juarez was famous for was murder.
But now American companies are betting on a comeback that once seemed highly unlikely.
Delphi, Honeywell (HON), Flextronics (FLEX), and Lear (LEA) are among those ramping up hiring and investing in Juarez, which is across the border from El Paso.
As a result, the city is on track to break its all-time employment record this year of 250,000 manufacturing jobs created, according to the Borderplex Alliance, a privately funded economic development group.
That hiring would have been hard to imagine four years ago.
Juarez was racked by drug murders and the global economic meltdown. Companies employing hundreds of thousands of workers left town, along with thousands of terrified residents.
In September 2010 -- the most violent month ever -- 359 murders were reported. The violence led to a feeling of lawlessness. Seemingly everyone was touched by the carjackings, extortion and kidnapping that ran rampant.
But Juarez didn't give up.
Crime dropped sharply, partly due to the creation of a more functional police force, said Ian Brownlee, the U.S. consul general based in Juarez. That improved safety "is giving people a sense of security in other areas of their life."
As fear ebbed, factories kicked back into high gear. Everything from automobile headlights to refrigerators to Blackberries, mostly destined for stores in the U.S., are made here.
Delphi (DLPH), a large auto parts supplier, invested $71 million and hired 1,402 workers between October 2012 and September 2013 in Juarez. It currently employs 15,000 people, said spokeswoman Claudia Tapia.
Tapia stressed that Delphi's Mexico Technical Center, located in Juarez, is not dedicated solely to manufacturing. It's also an innovation center, she said, creating the most intellectual property patents in Mexico.
Even Chinese-owned tech products maker Foxconn has a large manufacturing facility here.
"Companies that once overlooked Juarez because of security fears are now seeing a much more favorable and attractive landscape," said Rolando Pablos, CEO of the Borderplex alliance. "Over the past couple of years, Juarez has quickly become highly appealing to those US companies rethinking their overall global offshore strategies."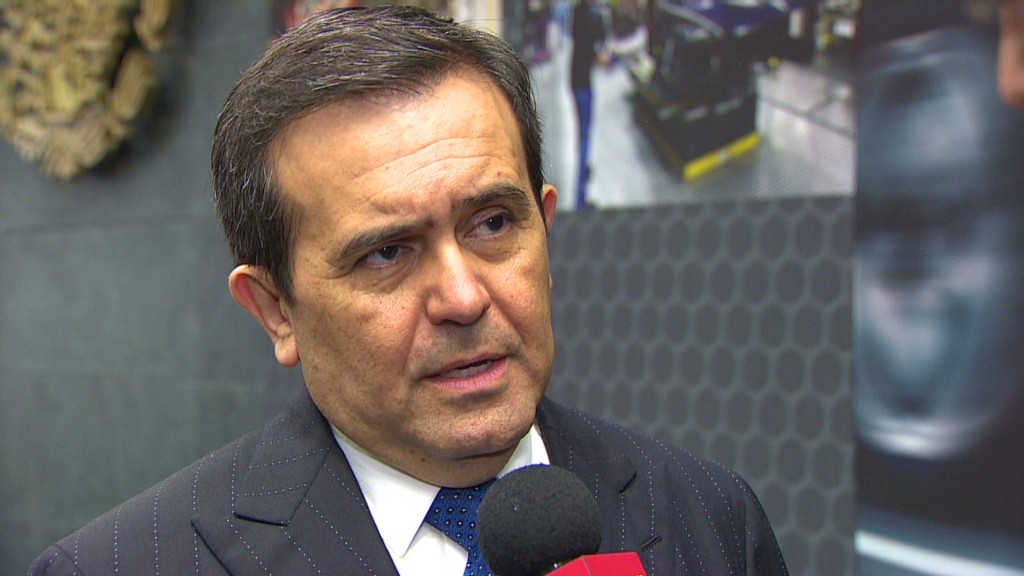 On a Friday afternoon, the highway leading to the Juarez factory district was filled with traffic. Shoppers browsed Chrysler, GM (GM), Ford (F) and Toyota (TM) dealerships for the latest models and fast-food restaurants lined the road.
Los Arcos, a high-end seafood restaurant, was packed.
But scars from the recent past remain. Several buildings downtown are shuttered and marred by graffiti. Americans who, before the violence, came to Juarez for bargain shopping have not returned.
However, the State Department recently amended its travel warning for the city. While it still urges visitors to exercise appropriate precaution, it's no longer telling people not to come.
Juarez is overcoming some incredible challenges to attract industry back. Its next challenge: to keep attracting investment capital and to shake off its label of "murder capital."