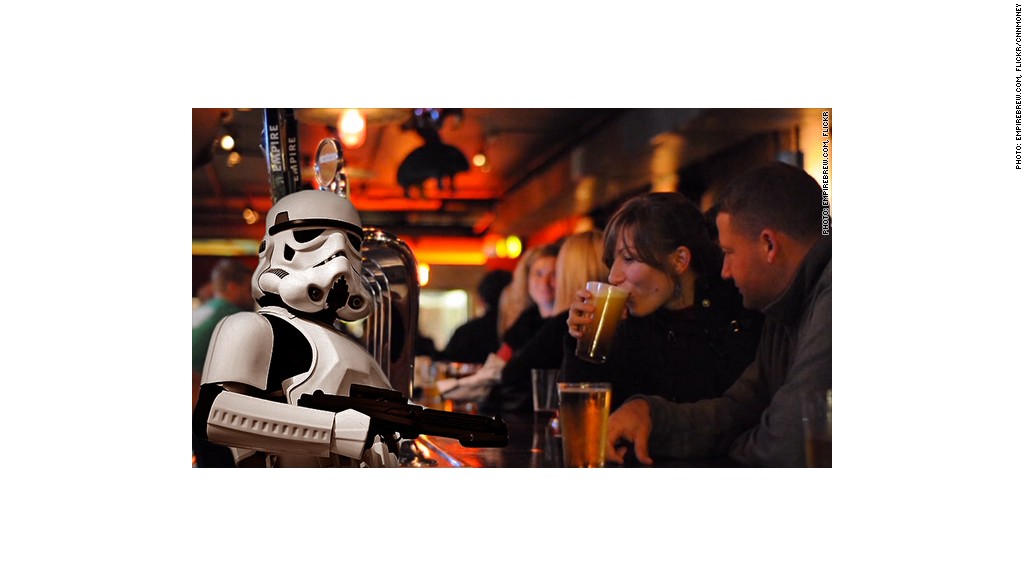 A small upstate New York brewery may soon feel the full force of the "Star Wars" legal department.
Lucasfilm is attempting to block a trademark on one of Empire Brewery Co.'s, signature beers, "Strikes Bock."
The bock beer's title when combined with the bar's namesake makes for a pun on the 1980 "Star Wars" sequel (or fifth film in the series, depending on who you ask) "Empire Strikes Back."
"We named it 'Strikes Bock' because we thought it was a clever pun," said Monica Palmer, Empire's director of marketing. "We weren't trying to infringe on anything. We were just trying to make a nice beer with a funny name."
Lucasfilm filed its "notice of opposition" against Empire Brewery, a brewpub located in Syracuse New York when it tried to trademark the beer recently. Strikes Bock by Empire -- as the brewpub calls it -- has actually been around for seven years.
Related: Woman says Disney stole my 'Frozen' life
"Applicant's Empire Strikes Bock mark is virtually identical in sound, appearance, and connotation to Lucasfilm's The Empire Strikes Back mark," Lucasfilm stated in its legal filing with the brewpub.
The company says in the filing that the name could confuse people into thinking it is related to the "Star Wars" franchise, one of the most profitable brands in this galaxy or any far, far away.
The six films in the series alone have totaled $4.5 billion at the global box office (with a highly anticipated seventh on the way), which is not to mention the film's merchandising, TV shows, and marketing. Lucasfilm was bought in 2012 by Disney for $4 billion.
However, regardless of the opposition, the folks at Empire Brewery Co. are still big fans of the films.
"Our GM is a huge 'Star Wars' fan," Palmer said. "He might be a Stormtrooper for Halloween this year."
Lucasfilm did not return e-mails for comment regarding this story.