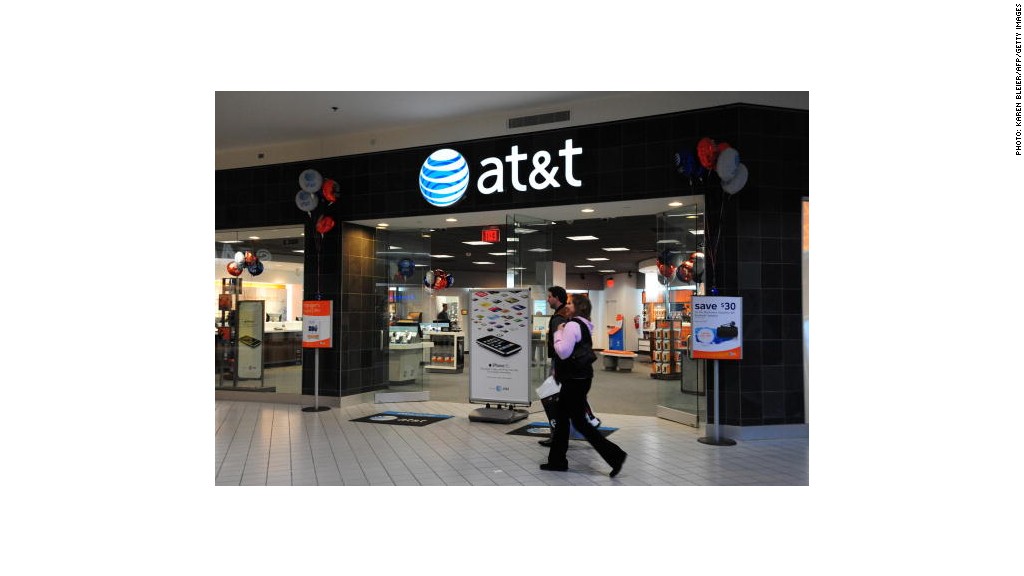 AT&T is back in the government's crosshairs.
The Federal Trade Commission announced a lawsuit Tuesday alleging that AT&T (T) misled mobile customers with "unlimited" data plans, deliberately slowing their connection speeds in a practice known as throttling.
The FTC said AT&T "failed to adequately disclose" the fact that when unlimited customers reached a certain data limit in a billing cycle, it reduced their connection speeds by as much as 90%. As a result, the complaint alleged, many common smartphone applications -- like web browsing, GPS navigation and streaming video -- became "difficult or nearly impossible to use."
Related: Top 10 companies lobbying Washington
The commission said AT&T received thousands of complaints about the program, and that the throttling affected at least 3.5 million unique customers.
"AT&T promised its customers 'unlimited' data, and in many instances, it has failed to deliver on that promise," FTC chairwoman Edith Ramirez said.
AT&T called the allegations "baseless" and said it has been "completely transparent with customers since the very beginning." The company pointed to a 2011 press release announcing the throttling policy, and said it had notified the roughly 3% of its customers who were affected via text message.
"It's baffling as to why the FTC would choose to take this action against a company that, like all major wireless providers, manages its network resources to provide the best possible service to all customers," AT&T said.
Related: Which carrier has the best deal for the iPhone 6?
Earlier this year, regulators at the Federal Communications Commission criticized a plan by Verizon (VZ) to throttle the connections of unlimited-data customers. In response, Verizon abandoned the plan.
Tuesday's lawsuit comes just weeks after AT&T agreed to pay $105 million for "cramming" unauthorized charges on the monthly bills of its wireless customers. The charges -- typically $9.99 per month -- came from third-party services for things like trivia, horoscopes and love tips. AT&T was accused of keeping at least 35% of the fees, as well as obscuring the charges on bills and preventing customers from securing full refunds.