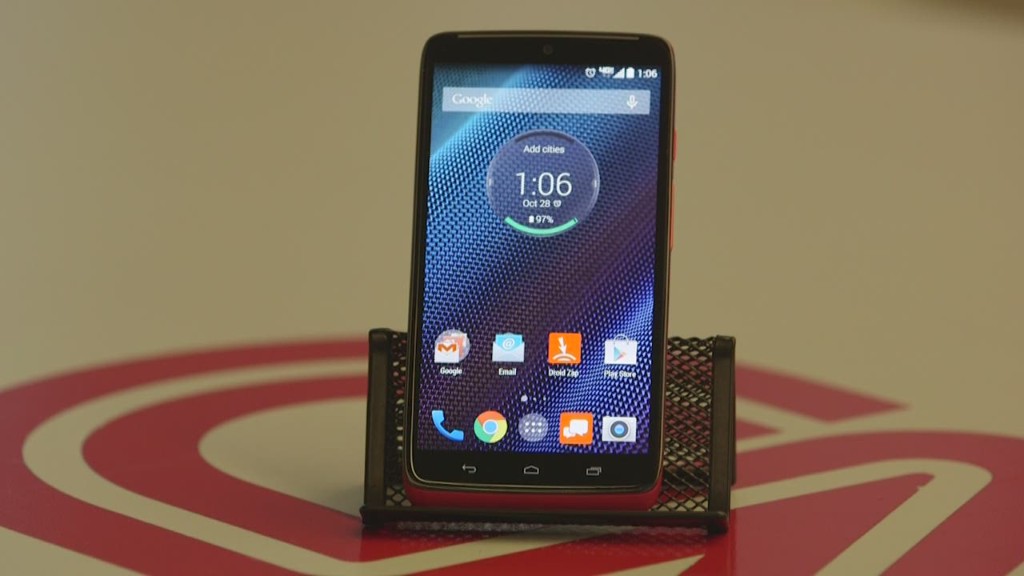 Verizon's latest Droid smartphone is totally nuts.
But it's not a gimmicky phone. The Droid Turbo is tricked out in ways you might actually appreciate.
Gigantic battery. The Droid Turbo, made by Motorola, has just about the biggest battery ever put into a smartphone. It's more than twice the size of the iPhone 6 battery and even more than a third bigger than the giant iPhone 6 plus and Samsung Galaxy S5.
Verizon (VZ) claims the Droid Turbo gets an astonishing 48 hours of battery life. (Though, like any battery, charge longevity depends on how much you tax it. We're guessing it lasts a long time but not actually two days.)
And it comes built with a rapid ("Turbo") charger that promises to give you eight hours of battery life after just 15 minutes of charging.
Of course, there's a downside to packing an enormous battery: The Droid Turbo is more than a third heavier (by an ounce and half) than the iPhone 6 and almost two-thirds (a sixth of an inch) thicker.
Insane screen. The 5.2-inch screen packs 565 pixels per inch. That's 31% more than the similarly sized Galaxy S5 and 41% sharper than the bigger iPhone 6 Plus.
Motorola says the screen is "Quad HD," or four-times the screen resolution of a typical HDTV.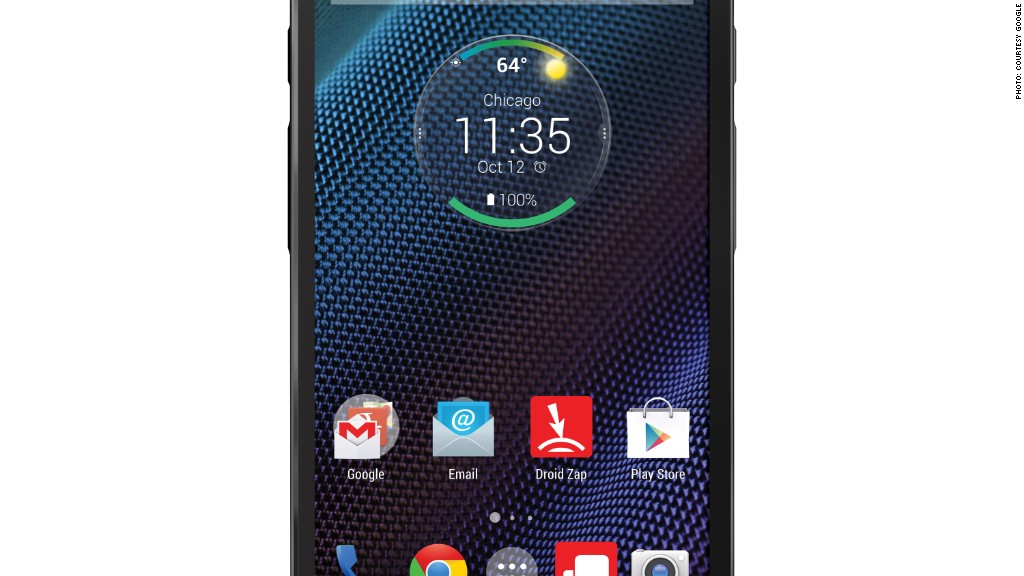 Huge storage capacity. The Droid Turbo starts at 32 GB of storage for $199 (with a two-year contract). For $249, you get 64 GB of storage. That's a pretty good deal, considering most phones start at 16 GB, which fills up quickly with photos, music and videos.
Lightning-fast processor. The new Droid is just about the fastest phone you can buy. It has Qualcomm's latest Snapdragon processor, which has been built to dazzle when you're playing games and watching videos.
Enormous camera. At 21 megapixels, the Droid Turbo sports one of the biggest smartphone cameras out there. Now, a lot more than megapixels goes into the quality of a camera, including light sensors and software.
Motorola hasn't exactly been known for its camera quality, so only testing will tell how it matches up to its rivals.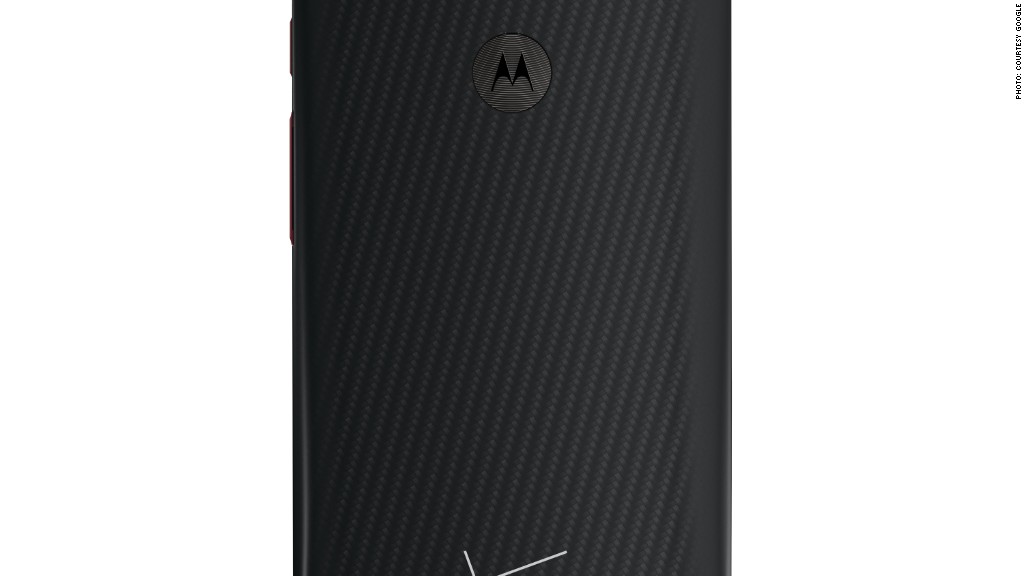 Other stuff. The Droid Turbo is packed with lots of other nice features. It is capable of wireless charging, it responds to hand motions, and it can be awoken by your voice without touching the phone.
It also comes with some nice perks. Verizon will let you trade in any smartphone (no matter what its value) and get $100 off the price of the Droid Turbo. Customers who buy the Droid Turbo also get free phone insurance: If you crack your screen, Verizon will replace it (only once -- but that's still a pretty sweet deal).
The phone feels great in your hand, particularly the Kevlar-like "ballistic nylon" option. It's built well, but the phone's plastic shell doesn't quite match the more industrial feel of Motorola's very similar Moto X. The Moto X's frame is made of aluminum, and it has the advantage of extreme customization (want a phone made with a wooden back and gold buttons? No problem).
So is this the Droid you've been looking for?
The truth is, you don't need all these added bells and whistles in a phone. But for $199 with a two-year contract, getting all those added benefits are worth considering.
The Droid Turbo goes on sale Thursday, exclusively on Verizon's network.