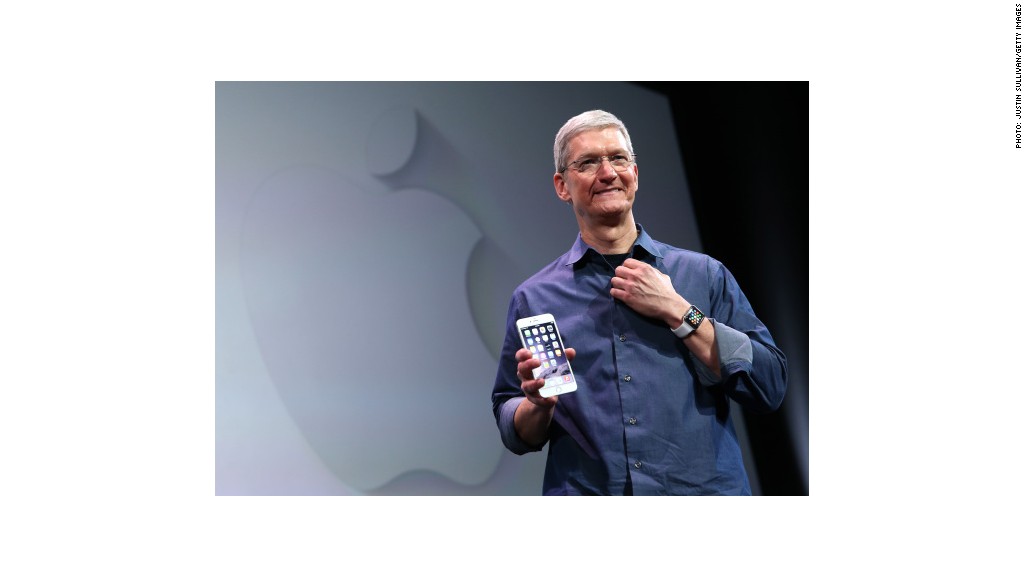 Consumers sure love their Apple products.
More than 1 million credit cards were activated to work with Apple Pay in the 72 hours following its debut, Tim Cook said Monday during an interview at a Wall Street Journal tech conference in Laguna Beach, Calif.
"And we've got the whole rest of the world," the Apple CEO said. "We're only in the U.S. right now ... but the early ramp looks fantastic. It's sort of that 'ahh' moment. You use the phone and that's all you have to do."
During the interview, Cook said Apple Pay is already the industry leader in contactless payments -- but that's isn't the case. There are already 100 million mobile users on Alipay (think of it as the PayPal to China's ecommerce website Alibaba (BABA)).
Cook's statements come amid news that CVS and Rite Aid have both stopped accepting Apple Pay. One of the reasons? They want to keep collecting data on shoppers.
Cook drew a clear line on Apple's privacy policies.
Related: Google: Tim Cook is wrong about us
"We believe that your data is yours," said Cook. "We're not about collecting every detail about you and knowing what time you go to bed and where you spend your money, what things you searched on, none of that. We don't read your email, your iMessages. If somebody tries to get your FaceTime records, we can't supply it."
Cook acknowledged, however, some pushback from law enforcement agencies on recent iOS 8 updates (which have added further measures to encrypt data).
"I look at that and say: If law enforcement wants something, they should go to the user and get it. It's not for me to do that," Cook said.
Related: Is Apple the perfect stock?
Cook also revealed some details about the Apple Watch, including his expectation that frequent use will require the devices to be charged daily. The new watches are slated to come out early next year.