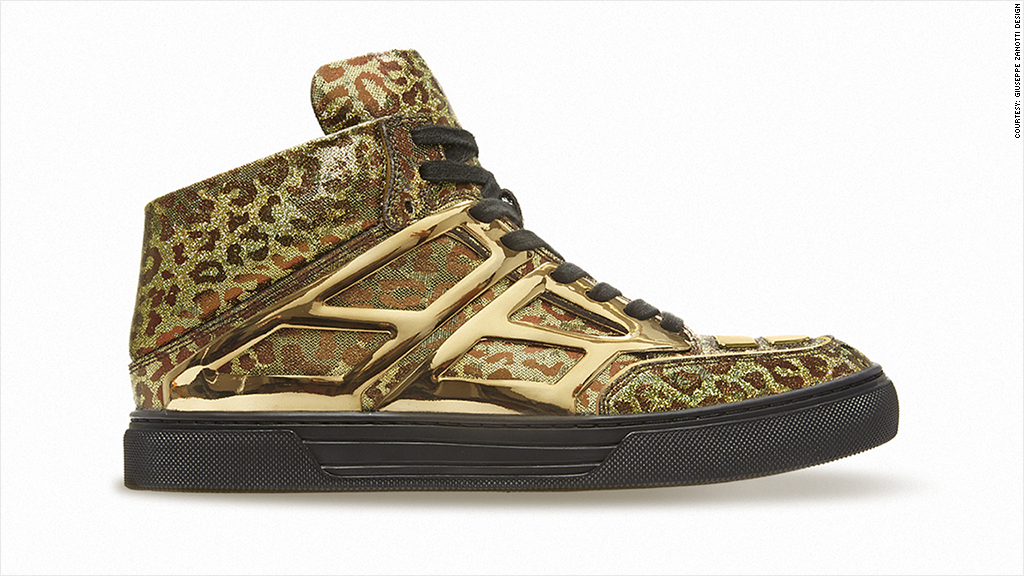 They can be colorful, shiny, blinged out and even fuzzy. And they're showing up on men's feet around the world.
Luxury spending is slumping this year, but one area continues to have a strong foothold: shoes. And while designer shoes tend to conjure up images of red-bottomed stilettos and pointy leather heels, much of the current demand is for men's sneakers in flashy styles.
Shoe designer Giuseppe Zanotti, who launched his first sneaker in 2012, said the demand for high-end kicks surprised him.
"When I started designing sneakers, I would have never imagined they would have been such a successful endeavor. I honestly think that nobody expected this boom," he said.
His line includes a high-top sneaker with snake skin print, gold-plated straps and side zippers. Another pair is a silver printed 3D calfskin high-top sneaker with black plates.
Zanotti's sneakers range from $500-$1,500, and he credits Kayne West as the first person to wear one of his styles. "That was proof I was going in the right direction." His men's sneaker sales increased 127% this year compared to last year.
Related: Why these sunglasses cost $150
Men have been a bright spot for retailers in the shaky economic recovery -- especially young men.
"They are increasingly becoming more affluent ... they have more disposable income and they're interested in attire," said Will McKitterick, an analyst at IBISWorld. He added that men's athletic shoes accounted for 29% of the total shoe market in 2014, just shy of the 31% women's non-athletic shoe sales made up. (Women's athletic shoe sales came in at 12%.)
It used to be men only strove to look good Monday-Friday from 9-5, but now they want to look stylish all the time, said Milton Pedraza, CEO of the Luxury Institute. "Men have finally caught up with women in fashion, style and desire to look good and express themselves."
Related: Rude sales people can boost luxury sales
New-York based designer Alejandro Ingelmo started designing men's sneakers for himself, and said it took a while for them to go mainstream. Now, his sneakers, which have an average price point of $500, are 60% of his business.
"We aren't talking about just a couple of guys. This is what's happening in men's fashion," he said. His customers come from different backgrounds, some work corporate jobs and want to maintain a polished looked outside the office, while others are looking for a way to express themselves.
Sneakers, even luxury ones, are often a cheaper way to make a statement than other designer duds.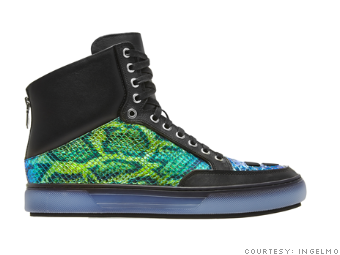 And some of the loud new styles cater to men looking to really make a fashion statement.
It's about the best way to stand out in a crowd, said retail analyst Jeff Green. "Shoes have become more of an accessory, not a necessity."
He likened sneakers to a new tie. "This is why people are getting a whole bunch of them ... It's the coolest way to make a statement," Green said.
Zanotti said the men's shoe market has evolved a lot since he entered it. "It was very formal, black and a little boring from my perspective. The sneaker boom literally shook up fashion laws and etiquette," he said. "I like when I see men matching sneakers with different outfits -- from a jumpsuit to a pair of jeans to a formal tuxedo."
How to buy luxury clothes without losing your shirt
And while some of his shoes have gold leopard and neon snakeskin patterns, Ingelmo said he knows he has to walk a fine line when it comes to men's designs.
"You still want to follow some formality. You can be very creative, but you still have to follow a certain type of structure to stay within the bounds that men are used to."