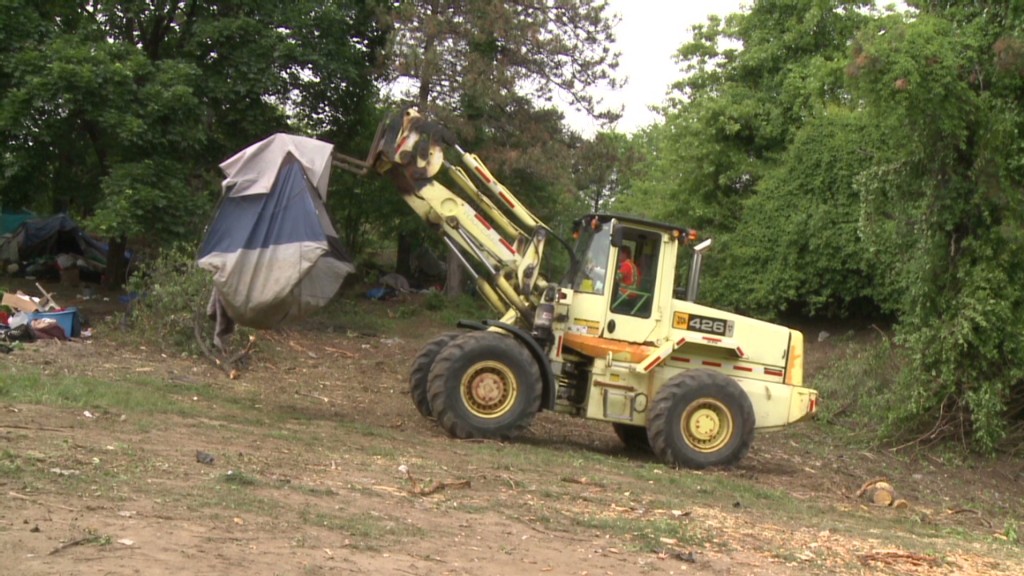 The nation's homeless population, and especially the number of families without shelter, continues to decline, according to a new report.
North Dakota led the trend among states with a 40% drop. Homelessness had spiked in North Dakota as the state grew dramatically amid an oil boom. The amount of housing did not keep up with the demand, driving up rent and squeezing low earners out of their homes.
Even with the improvement this year, homelessness in North Dakota is still about double what it was in 2007.
Nationwide, the annual federal government census found about 578,000 homeless individuals, down about 2% from last year's figure.
The number of families without a roof over their heads has dropped by 53% since 2010, the report noted. About one in four homeless people is a child.
The survey showed a significant decline in homelessness among veterans as well as a decrease in chronic homelessness. The Housing and Urban Development department has said it wants to eliminate homelessness for those populations by 2015.
Most of the individuals included in the survey -- about 70% -- are in shelters or other temporary housing, HUD said.
Fifteen states saw an increase in the number of homeless, led by Nevada, which climbed 25%.
The census involves taking a snapshot of homelessness on a particular day -- in this case, in January. State and local agencies survey their area for homeless individuals and report the numbers. The study tracks both those who are in temporary housing and those without shelter.
Some advocates say the methodology is skewed. Census-takers do not visit places where families seek shelter, such as motels, and use a narrow definition of homeless, the National Association for the Education of Homeless Children and Youth said in a statement.
CNNMoney reporters accompanied census-takers this year in Camden, New Jersey. See how they do the count.