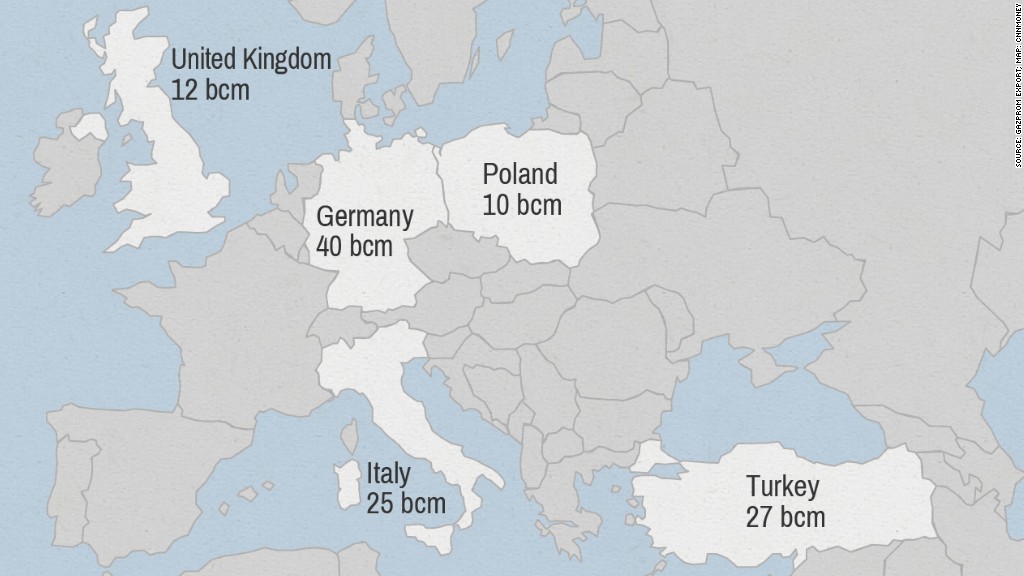 Russia and Ukraine's new energy deal ensures gas will flow freely to Europe just in time for winter.
The two countries signed a deal late Thursday worth about $4.6 billion that will see Russia deliver gas to Ukraine from now until the end of March 2015.
The temporary deal is critical for European businesses and households since Europe relies on Russia for more than 30% of its gas, and half of that is pumped through Ukraine.
In the past, when Ukraine and Russia had a gas dispute and Russia cut back on supplies, parts of Europe suffered shortages as Ukrainians siphoned off European-bound gas for their own uses.
Germany, Turkey, Poland, France and Italy are particularly dependent on Russian gas. Russian gas imports account for about 44% of Germany's annual consumption.
This summer, Russia cut off gas supplies to Ukraine as the two countries fought over prices and unpaid bills.
Related: Oil trades at $80, but Russia is budgeting for $100
"This breakthrough will not only make sure that Ukraine will have sufficient heating in the dead of the winter. It is also a contribution to the de-escalation between Russia and Ukraine," said Günther Oettinger, a key official in the European Commission who helped broker the latest gas deal.
Relations between Russia and Ukraine are still tense ever since Russia annexed Crimea earlier this year. The situation has improved as the two sides have held many talks, but Russia is still being accused of working to destabilize parts of eastern Ukraine.
Under the new gas agreement, Ukraine will settle some large debts with Russia for unpaid gas. It also agreed to make advance monthly payments for its winter fuel.
Russia shouldn't have to worry about non-payment since the International Monetary Fund agreed to lend Ukraine up to $18 billion to help its government stave off economic collapse and pay for imports.