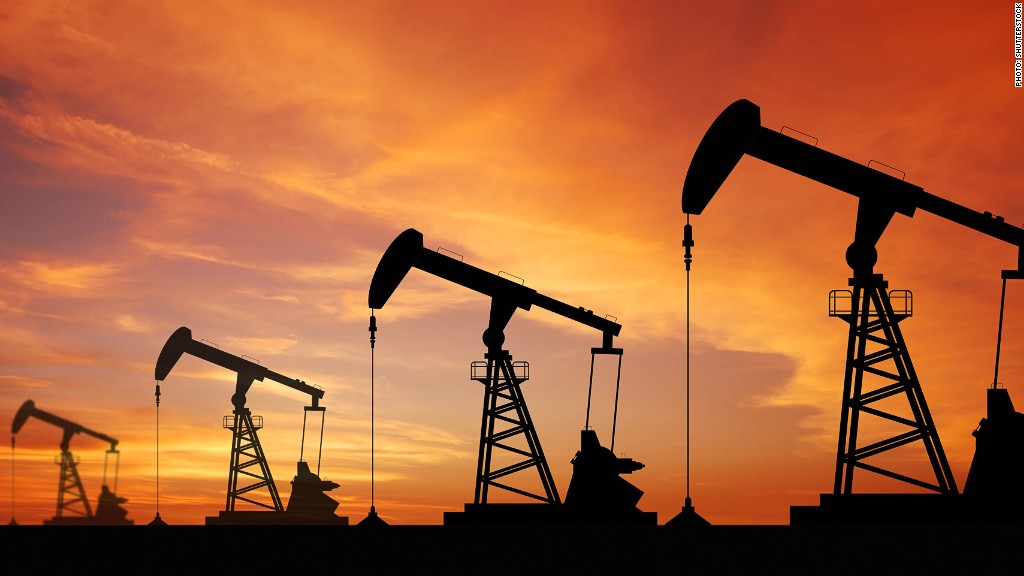 The plunge in oil prices has provided reason to rejoice for road trippers.
But it's another story for investors in energy stocks.
As the overall stock market is charting record highs, the S&P 500 energy sector is languishing -- down 3% this year. It's the only group in the red in 2014.
The silver lining is that some of the stocks are now cheap and many of them also give out fat dividends, creating a buying opportunity.
Here are five energy stocks that Morningstar believes are worth kicking the tires of given the industry's recent weakness.
1. Chevron
Annual dividend: $4.28
2014 performance: -5%
Chevron (CVX) is the second-largest U.S. energy company behind ExxonMobil (XOM) and Morningstar believes that its dividends are likely to get fatter despite the recent plunge in oil prices.
"They were able to continue paying and even raise their dividends through the last big downturn in oil prices during the Great Recession," Josh Peters, director of equity income strategy at Morningstar, said in a recent report.
Related: $3 gas is here and expected to stay for a while
Chevron has ramped up production through a slew of development projects around the world, including in Australia, Bangladesh and the deepwater of the Gulf of Mexico. The company is also boosting shale production in the Permian Basin in Texas and New Mexico.
Chevron is a "very well-run company with a good production-growth story that will start here in a year or two and extend maybe five years or longer," said Peters.
Last week, Chevron reported a jump in third-quarter profits as its oil refining business helped offset the cooler price environment. Despite that earnings beat, Chevron's shares are down 5% this year and 12% from their 2014 highs.
2. Royal Dutch Shell
Annual dividend: 94 cents
2014 performance: -1%
Think of Royal Dutch Shell (RDSA) as a fixer-upper: It's got potential but needs work and new management could take the company there.
"You've got a restructuring story going on here after quite an extended period of poor management," Peters said.
New management is led by Ben van Beurden, who became CEO at the start of the year. Last week, Shell announced former Bank of America (BAC)and DuPont (DD) exec Charles Holliday as the incoming chairman.
3. Magellan Midstream Partners
Annual dividend: $2.67
2014 performance: +31%
Unlike at many energy companies, the recent plunge in oil prices isn't causing executives at Magellan Midstream Partners (MMP) to lose any sleep.
That's because the company, which owns the longest refined petroleum products pipeline system in the U.S., makes money on the amount of product it transports. Tumbling prices may actually help if $3 gasoline prices causes American businesses and consumers to boost consumption, Peters said.
Shares of Magellan have soared 31% so far this year, making it one of the better performing energy stocks in the S&P 500. However, Magellan fell sharply during the October stock market scare and is sitting 5% below its 52-week highs.
Related: These countries are getting killed by cheap oil
4. Spectra Energy Partners
Annual dividend: $2.27
2014 performance: +20%
The big fear in the energy sector is that if oil prices stay low for years, big producers could dial back their investments. That would be a red flag for oil exploration stocks.
That's why Peters said he prefers companies like Spectra Energy Partners (SEP), which has a network of 3,200 miles of pipelines that are used to transport natural gas to high-demand markets.
Related: Russia's fuzzy oil math
5. AmeriGas Partners
Annual dividend: $3.52
2014 performance: +4.5%
With about two million customers, AmeriGas Partner (APU) is the largest retail propane marketer in the U.S.
It sells propane that Americans use everyday to heat their homes, cook, keep their swimming pools warm and grill.
Peters said AmeriGas' results tend to be swayed more by the weather's effect on heating bills than turbulence in the oil and natural gas markets.