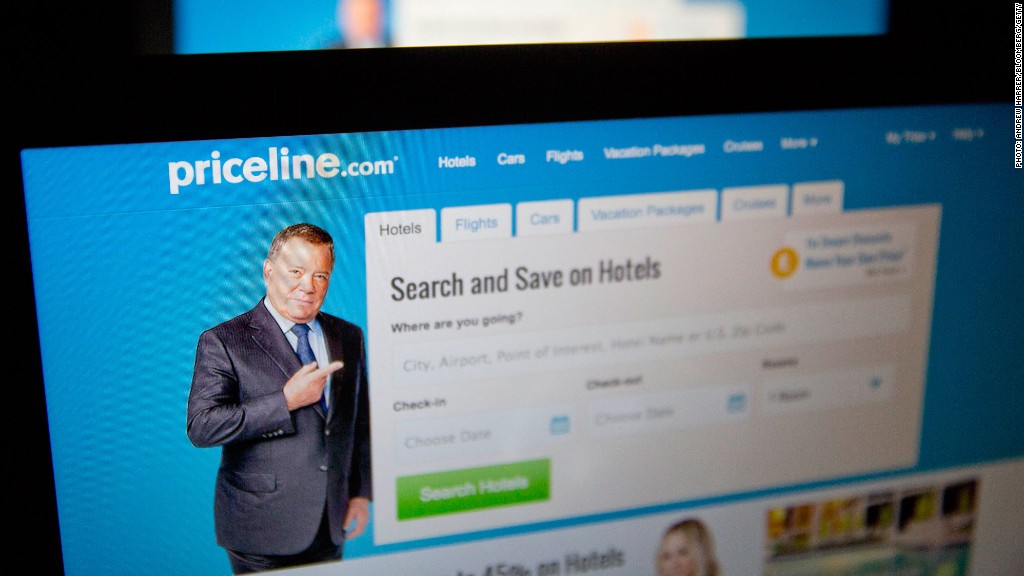 Wall Street is saying Booking.no to Priceline.
Shares of Priceline (PCLN), the online travel giant that also owns Booking.com, Kayak and OpenTable, tumbled more than 8% Tuesday morning. Priceline reported earnings for the third quarter that beat expectations but the company's outlook was much weaker than expected.
The fourth quarter is typically a big one for travel. But the global economy isn't looking as healthy as it was just a few months ago. And Europe is a major mess.
As a multinational company, Priceline needs Europe's economy to turn around.
Three Es: Europe, Ebola and Expedia. Priceline CFO Daniel Finnegan said during an earnings call with analysts that "we are increasingly concerned about economic conditions in general, and in our key European market in particular."
But it's not just Europe. Many travel-related stocks have been on a wild ride in the past month due to Ebola fears.
Priceline CEO Darren Huston didn't completely dismiss Ebola as a threat to his business even though most major airline executives have gone out of their way during recent earnings calls to say that Ebola was not having an impact on flight bookings.
"Ebola is out there. We've had issues in the past like SARS that have been much more impactful," he said, referring to the outbreak of Severe Acute Respiratory Syndrome in Asia in 2003.
"I want to be clear, we're not seeing that kind of impact in our numbers, but I would have it on the list of negative things. It's big enough to be on the list, but probably at the bottom of the list," Huston added.
Related: Ebola's effect on the stock market
Priceline is also dealing with increased competition. Huston said during the call that he did not think competitive factors were an issue and that the company is gaining market share around the world.
But its rival Expedia (EXPE) reported a healthier outlook when it released its third quarter results last week. Investors are betting that Expedia will continue to gain momentum.
Expedia's stock also fell Tuesday along with Priceline. But Expedia is up nearly 20% this year, while Priceline's stock is down 5%.
Investing in growth may hurt short-term results. The two companies are preparing for a battle in China as well. Priceline recently purchased a minority stake in Chinese online travel site Ctrip (CTRP) while Expedia has a majority position in fellow Chinese online travel company eLong (LONG).
The Ctrip purchase is just one of several investments Priceline has made to try and boost its long-term prospects.
Priceline seems to be doing everything it can to prove that there's more to it than William Shatner's Negotiator character.
The company bought online reservation site OpenTable earlier this year for $2.6 billion.
Some questioned whether the price was too much and also wondered if it was a smart move for Priceline to try and go toe-to-toe with Google (GOOGL) -- which owns the Zagat restaurant guide.
Related: Keep track of Priceline and other stocks in CNNMoney's Tech 30
Priceline has also spent heavily on advertising for Booking.com (which up until recently was relatively unknown outside of the U.S.) and Kayak.
So in some respects, Priceline is in a similar boat (or is it plane?) as Amazon (AMZN), Netflix (NFLX) and Facebook (FB).
Those companies were punished after their latest earnings reports because investors were not thrilled to see management sacrificing some short-term profits for longer-term growth.
Priceline is a dot-com survivor. It's understandable that investors are a little anxious. But sometimes they are a little too impetuous, acting like Veruca Salt in "Willy Wonka & the Chocolate Factory" and wanting everything now.
Cantor Fitzgerald analyst Naved Khan thinks the Priceline sell-off is overdone. In a report Tuesday morning, he wrote that the company was wise to not be overpromising anything to investors given the challenges in Europe and big investments it is making domestically. Khan said that Priceline's outlook is "prudent and appropriately conservative."
There's a good chance that he's right. Priceline is a company that has often been underestimated but has defied skeptics since it was pretty much left for dead after the 2000 Internet stock implosion.
Shares may even be a bargain after Tuesday's pummeling. Don't be fooled by the sticker shock price of about $1,100 per share. The stock trades for just 17 times 2015 earnings forecasts.
That's attractive if you believe that the company will get past this current pocket of turbulence and continue to do well over the long haul.