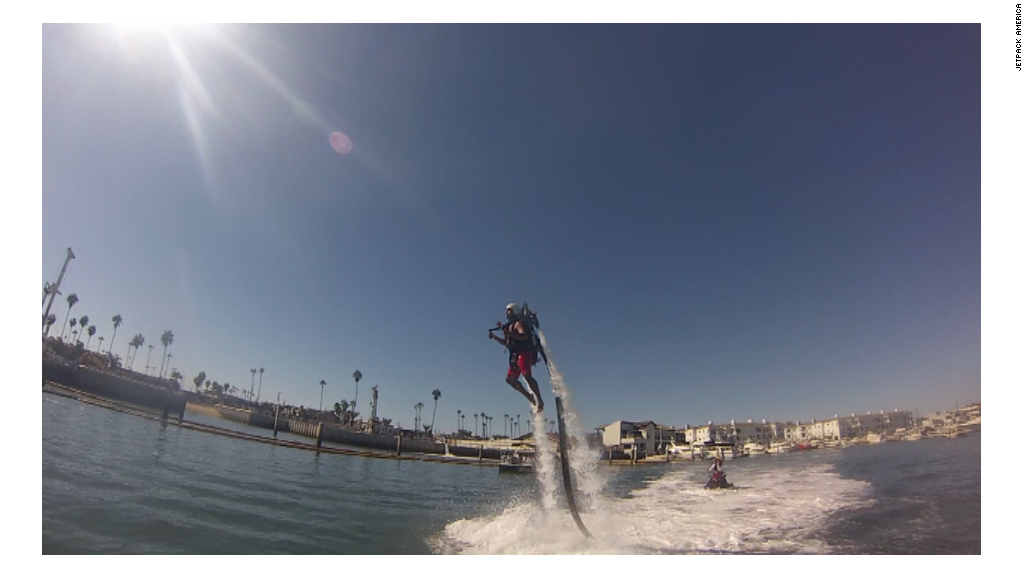 Imagine a toy that gives you the ability to fly 30 feet above the ocean, dive beneath the surface like a dolphin and walk on water. Even James Bond would be jealous.
Jetpacking may sound like something out of a science fiction film, but I experienced firsthand why it's an activity that's quickly gaining popularity among thrill seekers worldwide.
Don't feel bad if you've never heard of jetpack rides. They've been around for just a few years and are only available in a limited number of warm weather locales. But the plunging price tag for jetpacks could expand the water sport's appeal.
How was it? In a word, thrilling. My experience at Jetpack America in Newport Beach, Calif. was a lot of fun despite the somewhat unnerving initial feeling that naturally goes along with strapping on a 30-lb. pack and jumping into the water.
There's definitely a learning curve that goes with this water sport. Think: not as simple as hopping on a jet ski but not as difficult to get the hang of as surfing.
After a few minutes of learning the basics, I managed to take off, fly a few feet above the water and make basic turns. Ten minutes later I was able to soar about 25 feet in the air and dive beneath the surface.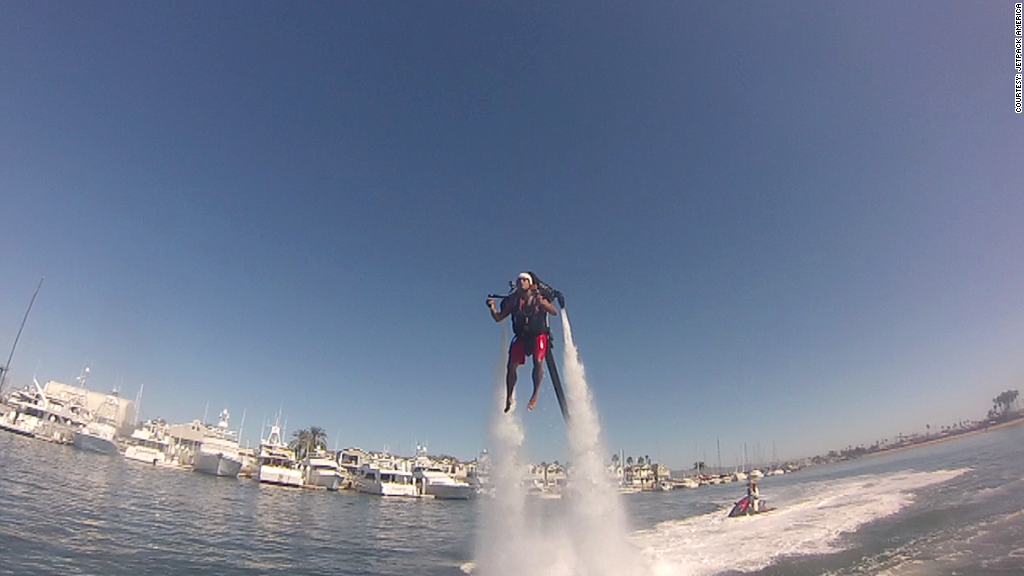 Of course, this wouldn't have been possible without a comprehensive training course that put me at ease.
It was also hugely helpful to have an instructor in my ear at all times calmly telling me what I was doing right -- and wrong. The training and supervision from multiple instructors and requirement to wear a life jacket also made the whole experience feel safer than it may sound at first blush.
Related: Branson still plans to be first space passenger
How does it work? The jetpack is powered by a jet ski or a pod that sucks up huge amounts of water and shoots it to the jetpack through a hose. An instructor or the user then controls the throttle, regulating how much water propels the rider.
"It's truly the newest water sport out there. There really hasn't been anything since the jet ski or parasailing," said Dean O'Malley, president of Jetpack America.
It's not cheap. Flights at Jetpack America range between $99 for a 10-minute flight and $699 for a 60-minute "James Bond Flight Experience" that includes premium video (three GoPro (GPRO) cameras), a T-shirt and a hat.
My 25 minutes of flying time ($169 on Groupon (GRPN)) felt about right because the learning process was tiring.
The lofty price tag stems from the fact that until recently, jetpacks retailed for an eye-popping $100,000. That's not even counting the $10,000 to $20,000 in liability coverage each unit carries.
Related: Floating train could whisk you from DC to NY in an hour
Cheaper prices propel expansion: However, jetpacks manufactured by Shanghai-based X-Jetpacks are now selling for $9,500 plus the additional cost of a jet ski.
"If you look at the numbers, very quickly you can pay off the initial investment and be operating under a strong cash flow positive business," said O'Malley.
The toughest part is finding the perfect location that offers a constant stream of thrill seekers and warm weather.
For obvious reasons, Florida is already a popular place for jetpack operators. Jetpack America has locations in Newport Beach and San Diego, plus it recently expanded to Las Vegas.
Liftoff mode? Thanks to the lower prices, the company is also looking at expanding north to seasonal spots like San Francisco, Seattle and even Vancouver. It provides training and equipment for new entrants to the jetpack market all over the world, including Cabo San Lucas, the Cayman Islands, Singapore and Vietnam.
"We've done so much to expand the awareness and grow the sport but we haven't hit that tipping point where it's truly mainstream, which is frustrating. It's also exciting knowing that there is that next level we will hit at some point," said O'Malley.
Jetpack America leans heavily on Facebook (FB), Instagram and YouTube to drum up interest. The company also sports lofty rankings and lots of positive reviews on sites like Yelp (YELP) and TripAdvisor (TRIP).
Eventually, jetpacking could achieve lift off and gain enough popularity to take a piece of the $646 billion that Americans spend on outdoor recreation each year.
"It's the perfect kind of attraction for the generation that requires a little more stimulus to keep their pulses going," said Jess Ponting, a tourism professor at San Diego State University.