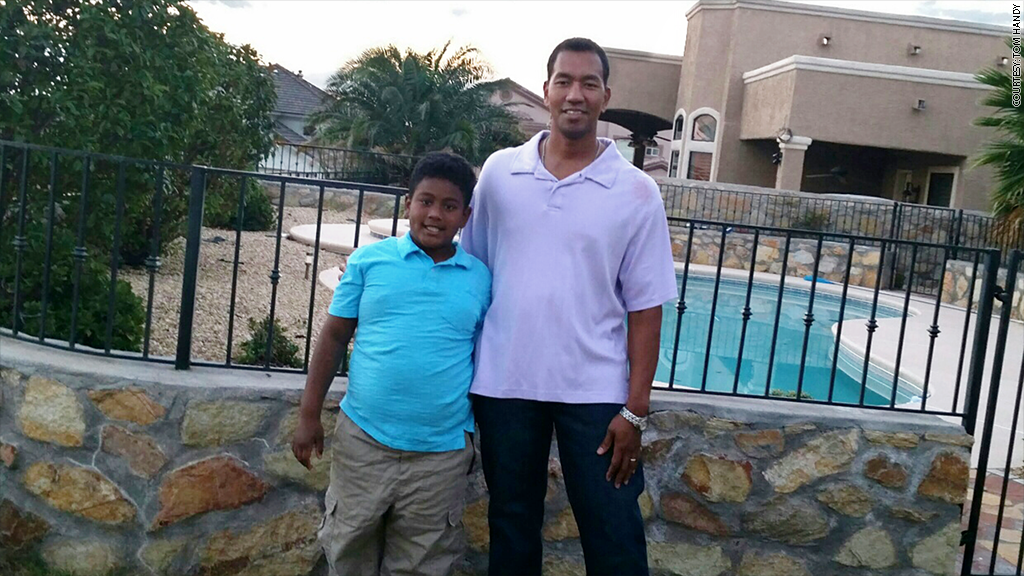 In early 2009, the market was in free fall and investors were gripped with fear. That's when Howard Yuan decided to strike.
The University of Southern California senior took out $30,000 in loans and bought 30,000 beaten down shares of Citigroup (C) for about a dollar each.
When he cashed out two years later, the stock's value had quadrupled. He made close to six figures on the trade and dubs it his best investment ever -- at least so far.
Yuan is one of a handful of "average Joe" investors CNNMoney spoke to who snapped up shares of big American companies on the cheap during the dark days of the financial crisis. Those investments paid off handsomely as the market has roared back to life.
Related: Fed ends 6-year effort to stimulate economy
American Airlines bet: Army Major Tom Handy isn't an investing guru, but he knows a thing or two about the markets.
"I've been investing for maybe 17 years, so I've seen the good and the bad," said Handy, who lives in El Paso, Texas. "I've learned to buy when a stock is out of favor with the market."
In late 2012, he bought 32 shares of American Airlines parent AMR corp for his son at just 80 cents each using some of his son's Christmas money. The airline was going through bankruptcy, but having flown the airline many times out of its Texas hub, Handy wasn't ready to leave it for dead.
"I knew even though they were talking about bankruptcy, the airline wasn't going anywhere," he said. "It was too cheap not to buy any [shares]."
Handy's wager worked. Soon after he invested, American Airlines announced that it was merging with U.S. Airways to create the largest air carrier in North America. And in an unusual step for a company emerging from bankruptcy, American's former shareholders got a small percentage of shares in the new entity.
Handy's return on investment: over 250%.
"I think I'm going to hold it for a while," he said.
Related: How I taught my kids to invest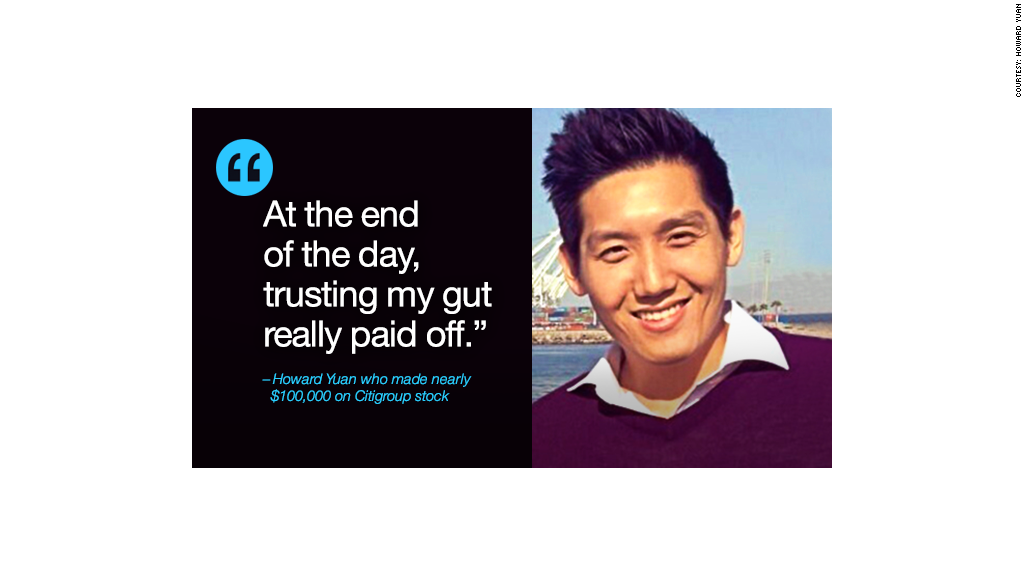 Ford stock pays off: For some, a bet on a certain stock is a bet on the economy itself. That's what John Daniel, a tax attorney who lives in Orlando, Florida, was thinking when he invested in Ford (F).
A law student at the time without much money, Daniel acquired 50 shares for a mere $2.50 each. He bought Ford as other car companies were taking bailouts and commentators were talking about the death of the American auto industry.
"I wanted to invest in an industry, Detroit, be a good ol' American boy," he said. "Even if it did fail, at least I did something that helped keep the economy here at home sputtering a bit."
Not that there's anything wrong with making a little money in the process. With Ford now at $14 per share, Daniel has netted a return of over 450%.
Raw instinct on Citigroup: When Yuan made his move on Citigroup, he had done his homework. He had virtually no investing experience, but he learned financial analysis and valuation in school. He went to his parents and asked them to cosign a $15,000 student loan, and then petitioned them for a second loan for the same amount.
"At first they thought I was crazy and didn't take me seriously until I showed them all the research I had been doing," he said. "The proposition was, if this doesn't work out, my career is about to start, I'd pay them back regardless."
Ultimately, however, all the due diligence in the world didn't matter.
"Having the right research, knowing that it was a calculated risk helped," he said of his strategy. "But at the end of the day, trusting my gut really paid off, pulling the trigger and not looking back."
It's frankly the kind of approach that famed investor Warren Buffett is known for. "Try to be fearful when others are greedy and greedy only when others are fearful," Buffett suggests, which is exactly what these investors did.
Related: How much should a young worker save for retirement?
Deciding when to invest again: All there investors claimed that they're looking for another big growth opportunity, even though they admitted the kinds of deals they got don't come around too often.
For Handy, that means tracking products that his son likes.
"If I think it's something he's interested in, I see it popping up in stores and he's talking about it, then I think it might be the next big thing for kids," he said.
Yuan, for his part, is mostly saving up for a house now. Netflix (NFLX) was on his radar at $60, but he regrettably never acted on it. The online entertainment company now trades at over $380 per share.
"At the time I hadn't done enough research," he said.