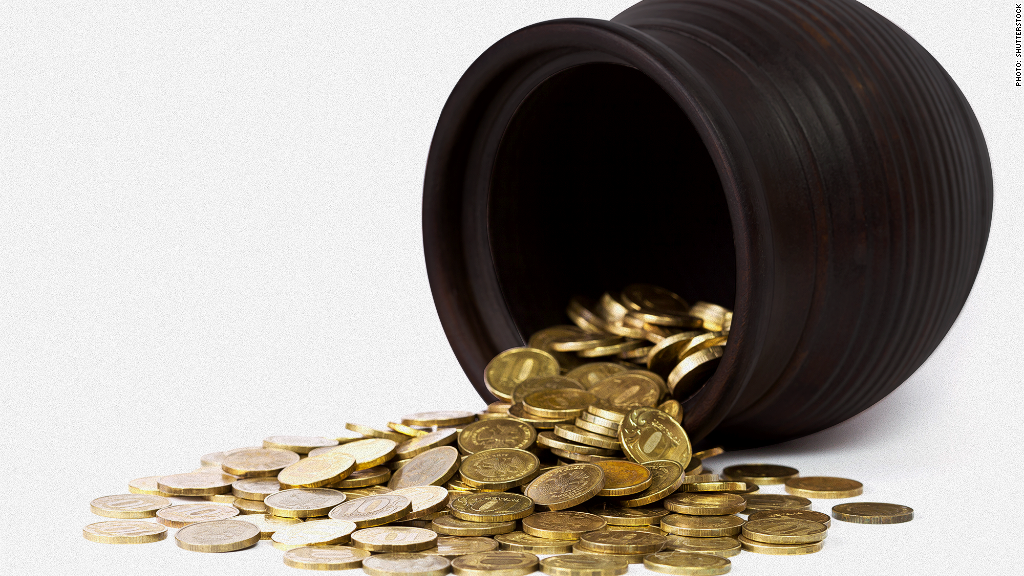 That pot of gold at the end of the rainbow just got a lot less valuable.
Gold and silver prices have been in meltdown mode in recent weeks. Gold spent much of 2014 trading around $1,250 an ounce. Now it trades below $1,145 -- its lowest level in over four years.
Why are gold and silver going out of fashion with investors? It's simple: The "end-of-the-world trade" is no longer popular.
Investors buy gold when they're scared. Right now the U.S. economy continues to chug along, Ebola fears have faded, tensions with Russia have eased and Western countries are containing ISIS.
All of that has been great news for U.S. stocks, which have zoomed back to record highs, and for surging U.S. dollar.
CNNMoney's Fear & Greed Index back in neutral
But a stronger greenback hurts gold and silver because they are priced in dollars. A sharp decline in currencies like the euro makes gold more expensive for global investors.
"The main driver has been the strength of the U.S. dollar," said George Gero, precious metals strategist at RBC Capital Markets.
Related: The best stock investment I ever made
No Fed help for metals: Gold is down about 17% since it peaked in mid-March at $1,380 an ounce. But it's been on an especially steep decline lately with prices sinking 9% since Oct. 21.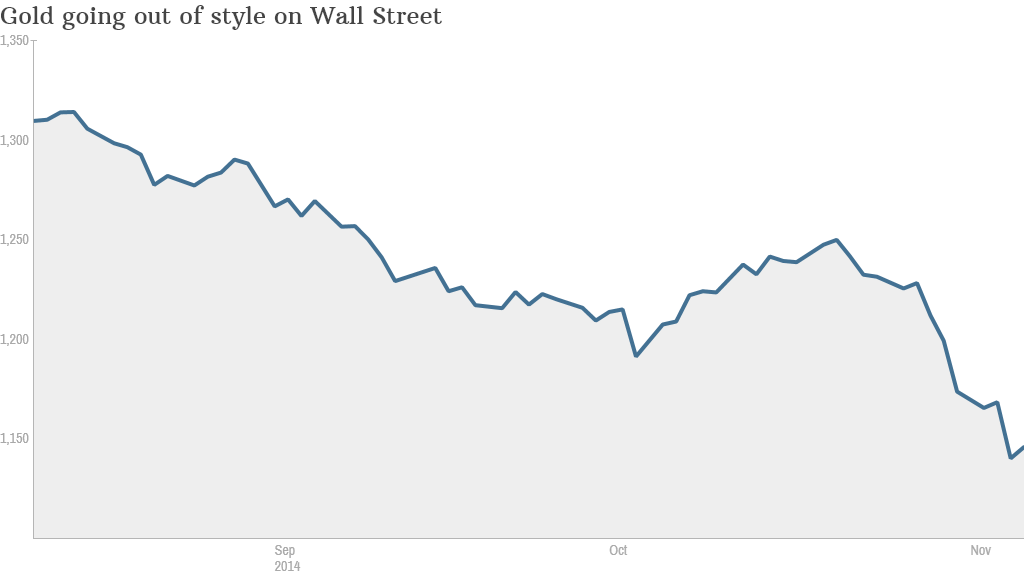 Silver has had an even worse few months, plummeting 30% from its mid-July peak of around $21.44 a troy ounce.
In addition to investors getting less fearful, gold and silver have been hurt by the Federal Reserve's decision to pull back on its stimulus measures. Fearing the Fed's emergency actions would create hyperinflation, some investors bought gold as a hedge.
But that argument has lost some clout. Inflation remains very low, and the Fed has clearly indicated it intends to raise interest rates in 2015, which should also help keep inflation under control.
"The Bank of Japan and European Central Bank are only in the first two innings" of monetary stimulus, while the "Fed is pulling back," said Sameer Samana, senior international strategist at Wells Fargo Advisors.
Related: Stocks love when midterm elections are over
Gold: next stop $1,000? Gero thinks investors might hop back into gold if it falls to around $1,100, while silver could attract buyers at about $15.
"With so much negativity overhanging in the gold price, I think we may start to bottom out a little bit," he said.
Others aren't so optimistic.
"We do believe there is more room for further declines in both gold and silver," said Mu Li, senior precious metals analyst at CPM Group.
She sees a "strong likelihood" that gold falls to $1,100 and possibly even $1,000.