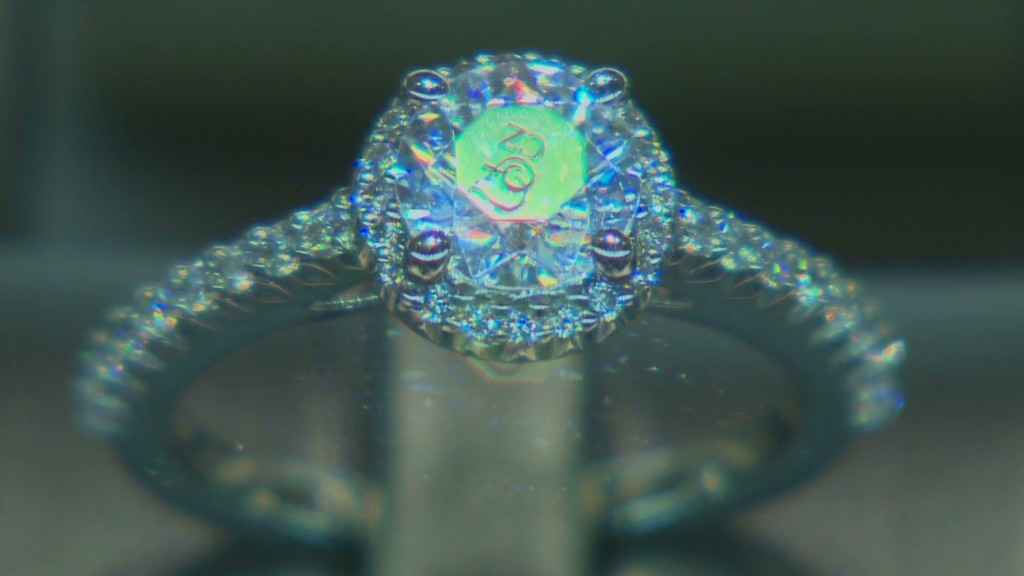 Maybe a diamond isn't every girl's best friend.
More brides to be are choosing non-traditional engagement rings over the standard white diamond solitaire that has adorned women's left hands for so long.
Jewelers across the country are reporting an increase in couples looking for alternatives like colored diamonds, gemstones and bands to symbolize their commitment.
New York-based jewelry designer Anna Sheffield said the shift has been a main driver to her business's success. "People want something that is unique and specific to them," she said.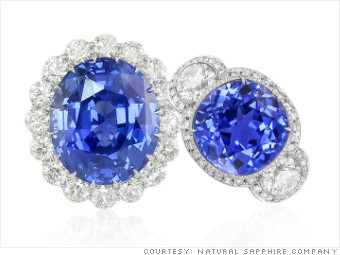 Unlike most trends that are fueled by young shoppers, Amanda Gizzi from Jewelers of America, said older women are leading the charge. "They know more of who they are and want something that doesn't fit the norm and what all their girlfriends have." Rings without an elevated diamond are also more comfortable and fit in better with an active lifestyle, she added.
China drives global diamond jewelery sales to $79 billion
The price tag is also a big factor. "The guy paying for it is more excited that it costs less," said Michael Arnstein, president of the Natural Sapphire Company, which sells nearly 200 sapphire engagement rings a month. A round-shape 1.20 carat sapphire with 0.16 carats of diamonds on an 18-karat white gold ban sells for $3,500 on the company's website. "It's well agreed in the trade that a sapphire engagement ring will cost about half of what a comparable diamond would cost," he said.
Diamond prices could remain high, especially as the number of diamond mines declines. Higher prices could further ignite the trend of substitutions as the star of engagement rings.
People have also been more drawn to other precious stones to avoid conflict diamonds. Arnstein said there is no gemological way to prove where a diamond came from based on its characteristics. "With the sapphire, it's totally possible to determine where it came from based on the inclusions."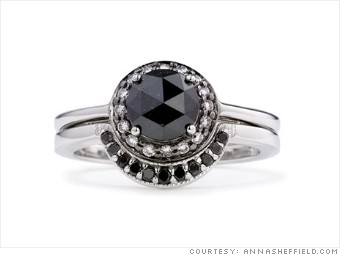 Tiffany stock is better than diamonds
He added that non-diamond engagement rings have become more socially acceptable thanks to major celebrities like Kate Middleton and Penelope Cruz rocking the blue gemstone. "Women tend to think, 'if it's good enough for the future Queen of England, I can do it too.'" He said sapphires, which can come in many different colors, are viewed as less flashy and convey a more conservative style.
Colored diamonds have also become more common on engagement rings, specifically champagne and black diamonds, according to Sheffield. She's also seen strong demand for rubies, emeralds and sapphires.
Leigh Plessner from jewelry store Catbird said the company first started selling engagement rings unintentionally. "We had small delicate rings in the store and noticed people were looking at them for engagement rings." The store doesn't sell traditional solitaires, but diamonds do make up a large part of their offering in non-traditional settings. "We aren't actively rebelling against a beautiful solitaire, we just offer a wider range that speaks to us."
But there's a reason diamonds became the engagement ring norm: they're durable and classic.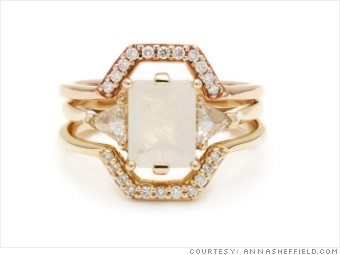 Related: See a 75 carat yellow diamond ring
Jim Rosenheim, CEO of Tiny Jewel Box in Washington, D.C., said when couples come in inquiring about non-diamond rings, he tries to educate them on their options. Sapphires are second in durability to the diamond, but other options aren't as tough.
"Most colored stones don't have the durability that will allow them to be worn in the manner engagement rings are without sustaining significant wear and damage over a long period of time."
He also warns customers that their engagement ring is not the place to make a fashion statement. "You don't want to look at your ring in a year or two and think, 'what was I thinking?'"