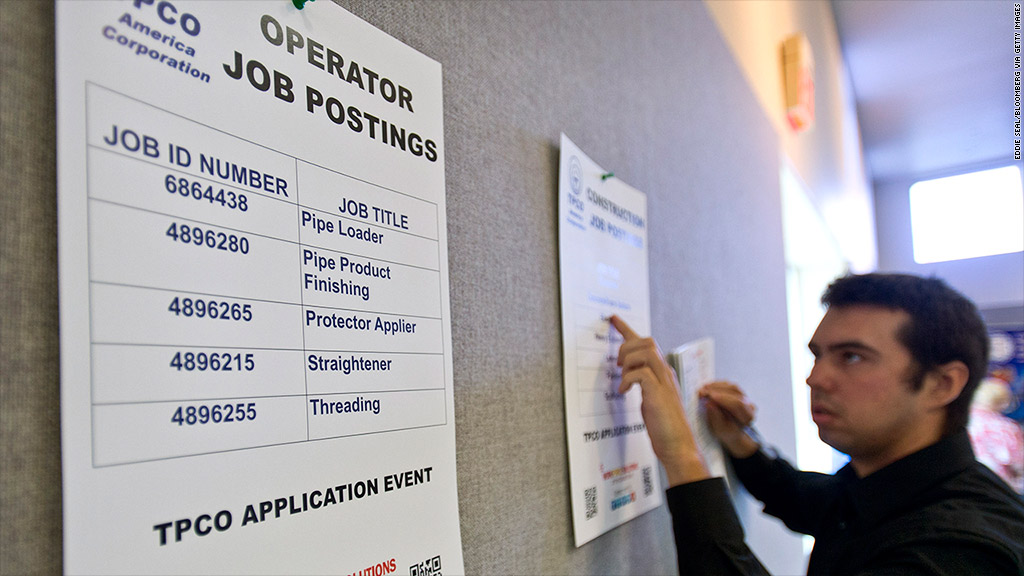 Employers added 214,000 jobs in October, continuing a trend of strong job growth this year that is on track to be the best for America since 1999.
The unemployment rate fell to 5.8%, according the government report released Friday. The rate fell below 6% in September for the first time in six years.
Economists are growing more optimistic about hiring. The consensus forecast from economists surveyed by CNNMoney was for a jobs gain of 233,000 jobs and an unemployment rate of 5.9%. While October's hiring fell short of expectations, experts still say it's positive.
"Anytime you're over the 200,000 mark, things are going well," says Rich Thompson, Chief Human Resources Officer at Adecco Group North America. "It's still good. It's consistently solid."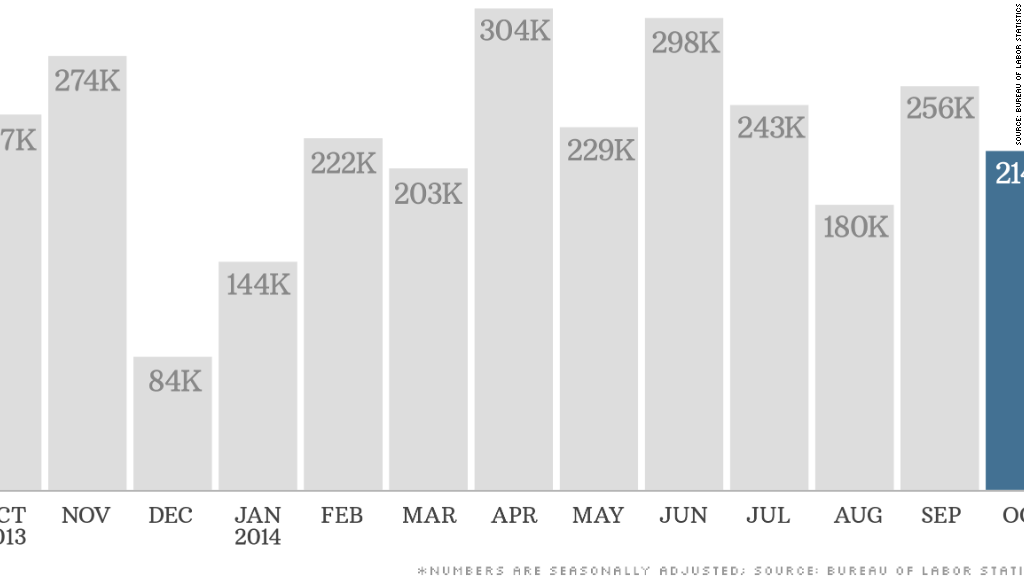 On average, the economy has been adding well over 200,000 jobs a month this year, a positive sign. There have been nearly 2.3 million jobs added so far this year.
"It also helped that October's gain was widespread, with nearly every industrial sector contributing to the job gains," says Paul Ashworth, chief economist at Capital Economics. Food services and health care had the biggest hiring sprees.
Wages still stuck: Americans, however, have not been as upbeat about the economy. Though unemployment has fallen from 7.2% a year ago, the economy remains their top concern and played into the midterm voting.
That's mainly because wages have remained stagnant. Average hourly earnings remained steady last month at $24.57. Wages are a key factor in how much money people have to spend, which drives economic growth.
While wages are up 2% over the past year, that's just slightly ahead of inflation, which means most U.S. workers don't feel any better off.
To put it another way, median family income in the U.S. has fallen back to 1995 levels.
Related: Why voters hate the Obama economy
Long-term unemployed: Another lingering problem for the economy are workers who haven't been able to find a good job for months, if not years. The number of long-term unemployed workers dropped 28% in October from a year ago, but it is still double its pre-recession level.
Another seven million Americans cannot find the work they need. The number of people working part-time jobs who really want full-time employment remained high in October and is one the reasons the Federal Reserve is hesitant to change interest rates.
Federal Reserve Chair Janet Yellen and other officials are closely monitoring the monthly jobs report. They are waiting for hiring and wages to become healthy enough before raising interest rates.
Although the jobs report is positive, employment and earnings both need to pick up, economists say.
"It's good. It's still not good enough," says Diane Swonk, chief economist at Mesirow Financial in Chicago. "Until we see wages accelerate, the majority of Americans are still going to feel left behind in the recovery."