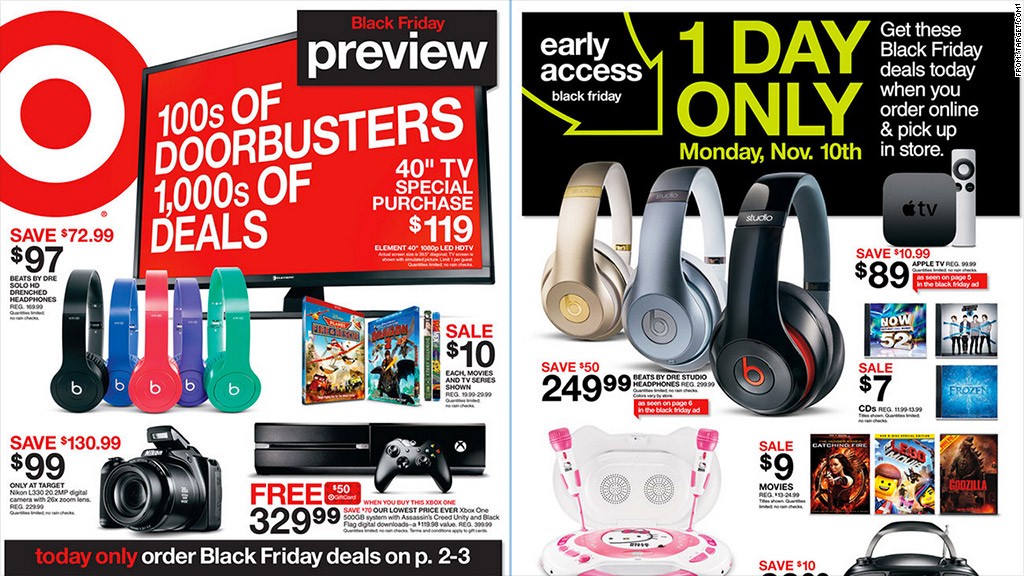 Target really wants your business this holiday season.
So much so that it's offering free money -- in the form of discounted gift cards.
Target will offer 10% off of its gift cards on Black Friday. Store-brand gift cards help bring shoppers back, and often encourage them to spend more than they would otherwise.
Target (TGT) also unveiled a host of holiday season deals geared to get people into its physical stores. Some discounts, including $50 off of Beats headphones and $10 off an Apple TV, only apply if customers order online and pick up their items at a store.
And the store's mobile app will offer 50% off a different toy each day throughout the holiday season.
The retailer is hoping the promotions will help it bounce back after a massive data breach that compromised millions of customer accounts last holiday season. The hack hurt in-store foot traffic throughout 2014.
Related: The ultimate guide to shopping on Thanksgiving
Target stores will open at 6 p.m. on Thanksgiving Day, but for shoppers who just can't wait, there will be online-only deals all day. It will offer freebies like gift cards and video games with the purchase of hot products like the iPad Air 2, Xbox One and Sony PlayStation 4.
Online shopping growth is expected to far outpace in-store growth this year. The National Retail Federation projects that in-store sales will climb by 4.1%, while online sales will jump between 8% and 11%.