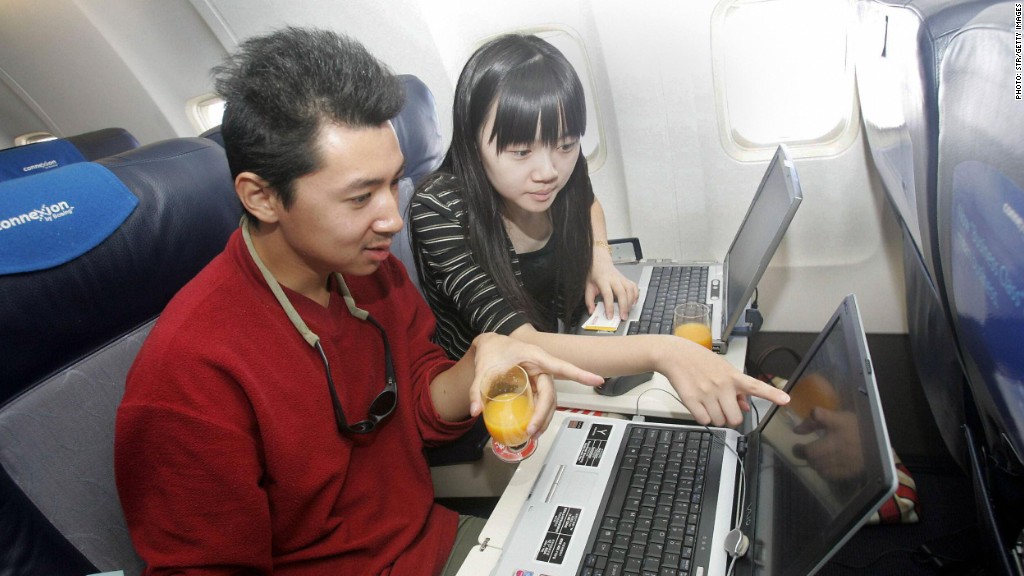 AT&T says it is no longer working to improve the mostly terrible Wi-Fi service on airplanes.
AT&T (T) has abandoned plans for an air-to-ground 4G network that it announced in April. At the time, AT&T promised the network would "transform airborne connectivity," and said it would launch in late 2015.
"After a thorough review of our investment portfolio, the company decided to no longer pursue entry into the in-flight connectivity industry," said Emily Edmonds, an AT&T spokeswoman.
Instead, AT&T said it it focusing its spending on big acquisitions, including DirecTV (DTV) and Mexican carrier Iusacell, which it agreed to purchase for $2.5 billion on Friday
Shares of Gogo (GOGO) shot up more than 8% on Monday's news. The in-flight Wi-Fi giant's stock price tanked on the day AT&T announced it would be encroaching on its territory, and Gogo's shares are still down 27% this year.
Gogo Inflight Internet uses slow 3G speeds that are basically unusable for anything more than email. Gogo's prices have also gone up in recent years, angering customers.
Related: Obama puts foot down on Internet fast lanes
The FCC has advocated for a better in-flight Internet experience by freeing up wireless spectrum for plane Wi-Fi. But that process has stalled due to various regulatory processes.
AT&T had been partnering with Honeywell's (HON) aerospace division to build the network. News of AT&T walking away was first reported by blog Runway Girl.