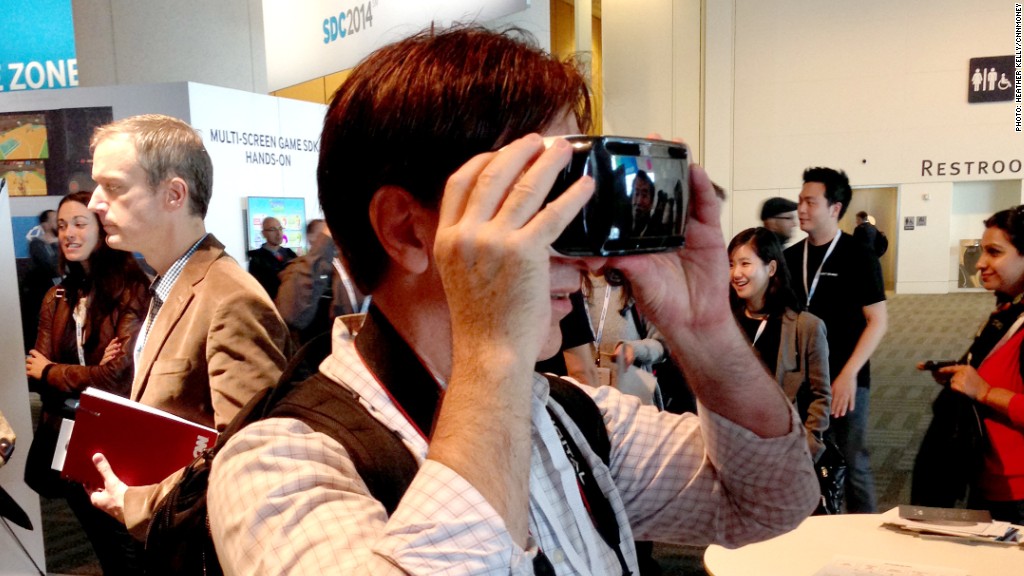 Samsung is betting that people will want access to virtual reality outside their homes -- at work, during parties, in the park.
You can now pre-register to buy the first commercial versions of the Gear VR Innovator Edition, Samsung's virtual reality headset that runs off of a Samsung smartphone. The device will ship in December, the company announced Wednesday at its developer conference.
It also previewed a new 360-degree, 3D camera called Project Beyond that streams live video to the headset, plopping the wearer down live into remote locations. It can also be used to record locations to watch later.
Samsung (SSNLF) first previewed the Gear VR in September. It's a collaboration with VR headset maker Oculus, which was purchased by Facebook (FB) for $2 billion earlier this year. What makes Samsung's version so unique is that it's actually powered by a smartphone, making it one of the first attempts to cut the cords that tether VR to computers.
Related: This could be the future of virtual reality
The unit opens op and the phone snaps inside. Gear VR pulls its power from the phone's battery, turns the display into 3D, and uses its WiFi and cellular connections. When you're done battling dragons or pretending you're at the Grand Canyon, you can take your phone back out and use it like normal.
Why would you want to use a mobile virtual reality headset? Samsung threw out a few ideas. Games are the biggest category, but an architect might want to give clients an immersive look at a potential property or it could be used as an educational tool.
Project Beyond opens up a number of additional possibilities like virtual tourism. For now, the shiny black camera is still very much a beta product. Demo units were only showing pre-recorded scenes, not streaming live. The company is still experimenting with the idea, working out kinks and getting feedback from developers. There is no planned release date or price for the camera.
For now, the Gear VR only works with the Samsung Galaxy Note 4, which has a 5.7-inch display. But Nick DeCarlo, Samsung's VP of virtual reality, said even more Samsung phones would double as virtual reality tools in the future.
"Each successive generation of smartphone would come with a new, even better virtual reality experience, and we can't wait."