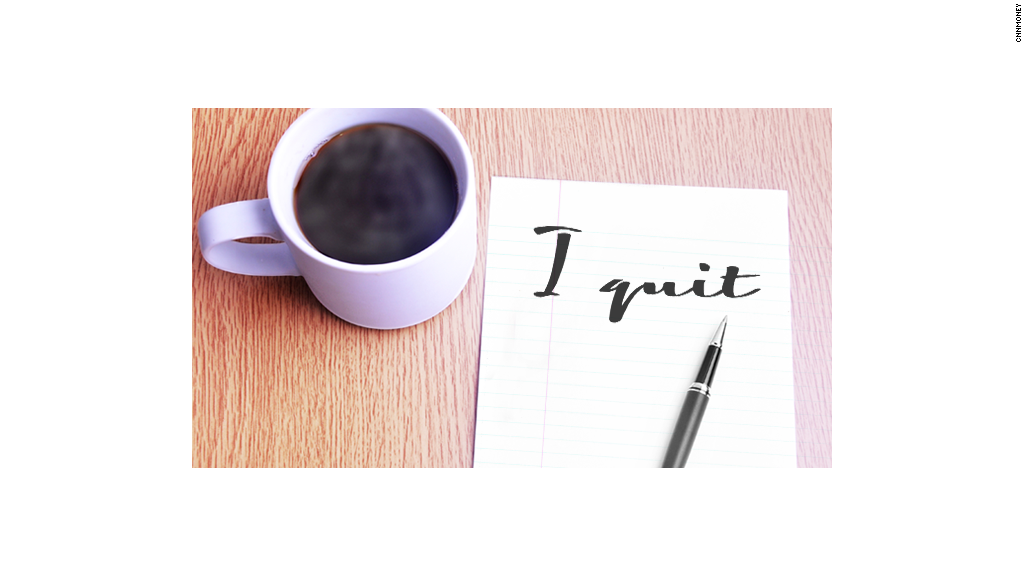 Americans are quitting their jobs at the fastest pace since early 2008.
And that's very good news for the economy.
That's because the saying "quitters never win" doesn't apply to the job market.
People typically quit their jobs when they're more confident in finding a new job or already have a offer in hand. The new role usually comes with a higher wage and better prospects.
Related: Why I quit Wall Street to open a restaurant
So an increase in the number of Americans voluntarily quitting can be a sign wages may be improving at last.
Average earnings have remained stubbornly low despite improved hiring by employers and a sharp decline in unemployment in recent years. The U.S. is on track for its best year of job gains since 1999.
Related: 3 reasons you're likely to get a raise in 2015
About 2.8 million people quit their jobs in September, according to a Labor Department report Thursday.
That's up nearly 10% from August and works out to 2% of U.S. workers who have jobs leaving them because they want to. The quit rate hasn't been that high since April of 2008 -- several months before the financial crisis.
Related: U.S. has added 2.3 million jobs so far in 2014
The number of people leaving their jobs voluntarily also dwarfs the 1.6 million who were forced to quit their jobs due to layoffs or terminations. The rate of those being fired has stayed very steady for the last two years.
The report also showed 4.7 million job openings in September, near the 13-year high the economy reached in August.