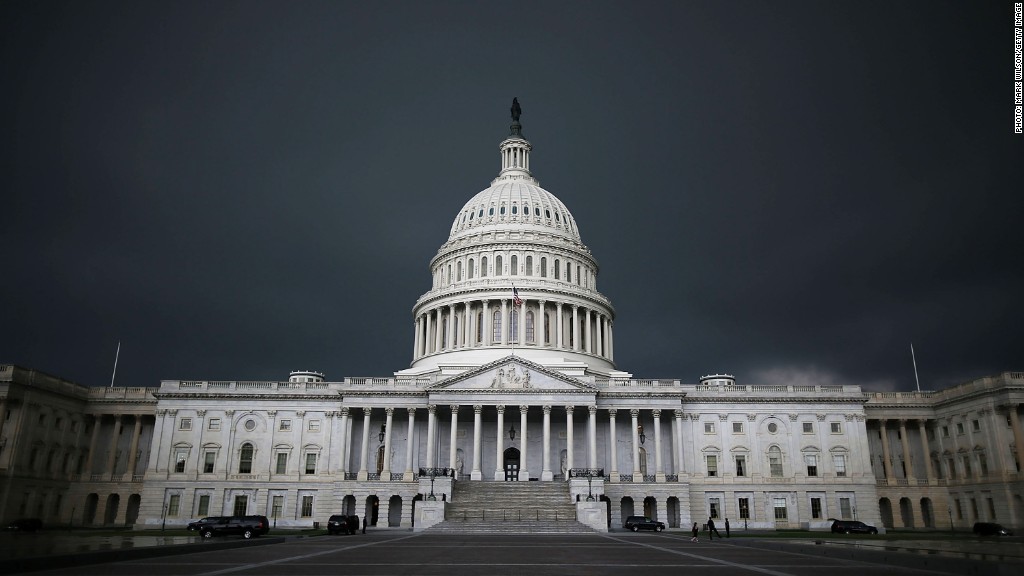 Following the money in politics is often telling.
American lawmakers have tens of millions of dollars invested in companies that actively lobby Congress, according to a new database.
MapLight, a nonpartisan research group focused on how money influences politics, has compiled a list of stocks owned by members of Congress using disclosure forms from 2013.
It turns out that some of the most popular stocks in Congress are companies that spend the heaviest on lobbying.
"The same industries that are influencing Congress by giving money and campaigning are also represented in the stocks held by members of Congress," said Daniel Newman, president and co-founder of MapLight.
General Electric (GE) was the most widely-held stock on Capitol Hill last year. Sixty-nine members of the House and Senate owned shares of the diversified manufacturer.
Here's the top 10 list:
General Electric
(GE)
Microsoft
(MSFT)
Procter & Gamble
(PG)
Wells Fargo
(WFC)
Apple
(AAPL)

IBM

(IBM)

AT&T

(T)
Verizon
(VZ)
JPMorgan Chase
(JPM)
Exxon Mobil
(XOM)
It's difficult to say exactly how much these investments are worth.
By law, members of Congress are only required to disclose a minimum value and a maximum value for their holdings, though some voluntarily write in an exact amount.
For example, the 69 lawmakers who own shares of GE disclosed positions worth somewhere between $2.3 million and $5.8 million.
In addition to being the most widely owned stock by lawmakers, GE has done the most direct lobbying of Congress over the past five years.
Related: Top 10 companies lobbying Washington
Big corporate lobbyists: Since 2009, GE has spent $134 million trying to influence legislation, according to a report by the Center for Responsive Politics.
"GE is the top held stock and one of the most powerful lobbying forces in the country," said Miriam Marks, data director at MapLight. "It's spent huge sums of money to lobby Congress."
AT&T is another example of a company that does a lot of lobbying and is also a popular investment among lawmakers.
A total of 47 members of Congress owned shares of AT&T worth between $1.4 million and $3.7 million. AT&T has spent $91.2 million on lobbying over the past five years.
All told, lawmakers have between $350 million and $1 billion directly invested in hundreds of stocks.
Related: Crazy corporate tax loopholes? 'Inversions' are small potatoes
To be sure, the most popular stocks in Congress are also among the most widely held by the general public. They are blue-chips that many average Americans own in their retirement accounts or via index funds that track market indexes like the S&P 500.
What's more, MapLight says 246 members of Congress do not have any individual stock holdings at all, though they may have money in the stock market through diversified investment funds.
But lawmakers who stand to benefit financially from legislation they are working on have a duty to disclose it, even if it's only a perception, said Newman.
"It's true that many of these stocks are very widely held, but there needs to be a higher standard for elected officials," he said.