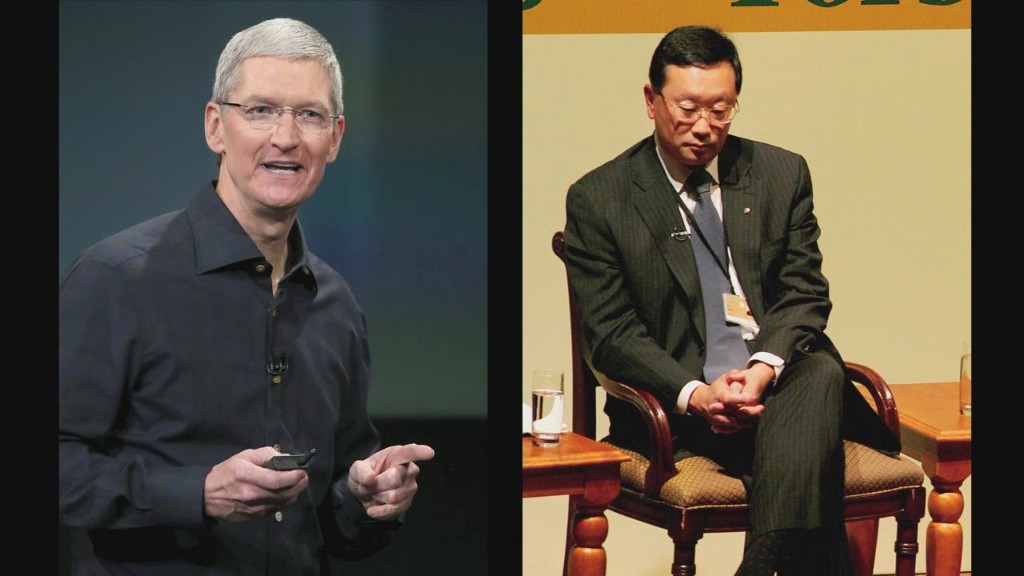 Understatement alert! Apple CEO Tim Cook has had a pretty good year.
Consumers are more excited about Apple (AAPL) products than they have been in years thanks to the iPhone 6 and 6 Plus as well as Apple Pay and the upcoming Apple Watch.
The stock is up more than 40% in 2014. Shares are at an all-time high.
As if that's not impressive enough, Apple is the most valuable company in the world. It's worth nearly $670 billion -- $250 billion more than Microsoft (MSFT), which is the second most valuable company on the planet.
Cook has finally silenced the critics who felt he was not fit to fill the shoes of Steve Jobs.
Related: See the iPhone 6 in 60 seconds
For all those reasons, you could argue that Cook is CEO of the Year. (Yes, it may only be mid-November. But it's not too early for the obligatory Best of the Year lists!)
But wait ... there's another smartphone company that's enjoyed a strong 2014. BlackBerry!
Shares of BlackBerry (BBRY) are up nearly 60% this year. The stock is the second-best performer in CNNMoney's Tech 30 index, trailing only video game developer Electronic Arts (EA).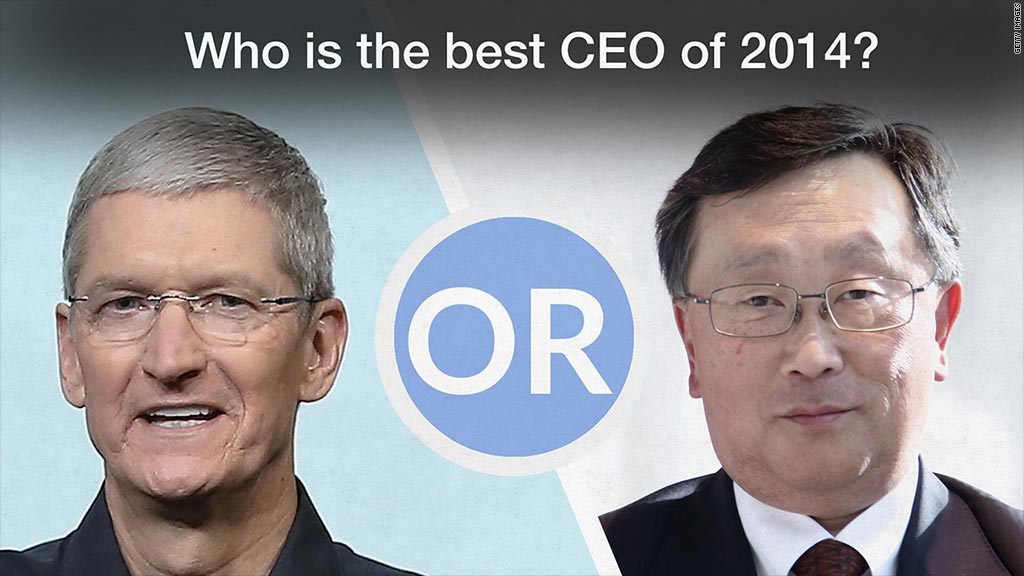 CEO rival: John Chen has been CEO of BlackBerry and the pride of Canada for a little more than a year now.
He's engineered an amazing turnaround at the company. Few investors are worried anymore that it could run out of cash.
Chen has focused more on software initiatives and is also trying to cash in on the so-called Internet of Things craze, connected homes and cars, with its QNX software.
Related: iPhone vs. Android: Which is better?
He has also recognized that many consumers no longer use BlackBerry phones. Sorry, Kim Kardashian.
BlackBerry even bought a company that lets people manage separate business and personal smartphone accounts on the same device ... and they work with iPhones and Androids as well as BlackBerries.
BlackBerry also got a bunch of good press about its high security standards -- at Apple's expense -- following the hacking of several celebrities' iCloud accounts and subsequent posting of nude photos online.
Related: How to keep your naked photos out of hackers' hands
So maybe Chen deserves to be CEO of the year over Cook?
What do you think? It's a tough call. They are both deserving. So I asked followers on StockTwits and Twitter what they thought.
"That's an easy one. Chen for sure!" wrote RobC. And he's definitely rooting for the home team. His bio says he's from Ontario.
Another trader gave it to Chen over Cook but thought that Tesla (TSLA) CEO Elon Musk should get co-CEO honors.
"Chen for the turnaround of the year, Musk for just being a freaking genius," said Have_A_NYSE_Day.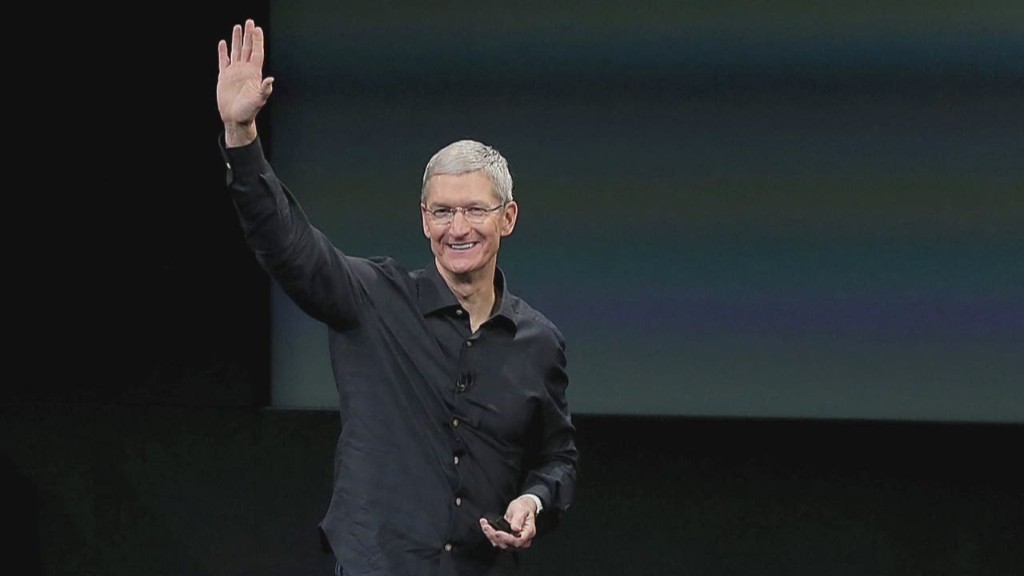 But several other traders felt Cook should get the nod.
"Cook for sure with all the pressure he had on him, he delivered big time, chen did great but expectations were low," said scottzman.
"Cook is by far the best CEO out there. One glance at the market cap of $AAPL confirms," added WolfSnap.
"TC as he leads by example and by his humility. Strong character, business acumen and is not above making himself accountable," said noidea.
Other top CEOs: But these aren't the only two CEOs that investors felt should be singled out for praise either.
Several followers wrote in other candidates, such as Musk, Microsoft's Satya Nadella, Yahoo's (YHOO) Marissa Mayer, Facebook's (FB) Mark Zuckerberg and Disney's (DIS) Bob Iger.
Cook gets my vote though. Chen has done a phenomenal job, but the turnaround is still ongoing. To me, Apple at an all-time high is more impressive than BlackBerry at a 52-week high.
Reader Comment of the Week! BlackBerry announced a mobile security partnership with Samsung, a rival that's tied to the Google (GOOGL) Android hip, this week.
It's another example of Chen being astute enough to realize that BlackBerry can't pretend other platforms don't exist. One big BlackBerry fan compared this to another unlikely pairing. It's a reference to a sports movie. So it naturally was a no-brainer to make it my RCOTW!
"Today's news of @BlackBerry & Samsung reminds me of when Rocky Balboa & Apollo Creed became friends," said TheMadPigeon.
Hilarious. To continue this analogy, Is Microsoft Clubber Lang and Apple Ivan Drago? For your sake, I hope that (spoiler alert for anyone who hasn't seen Rocky IV) BlackBerry doesn't suffer the same fate as The Master of Disaster. Sniff sniff.
Also, why are you such a mad pigeon? Is it because you are not allowed to drive the bus? Or stay up late? Oh. That's a different pigeon. (Please follow me, Mo Willems! It will make my week!)