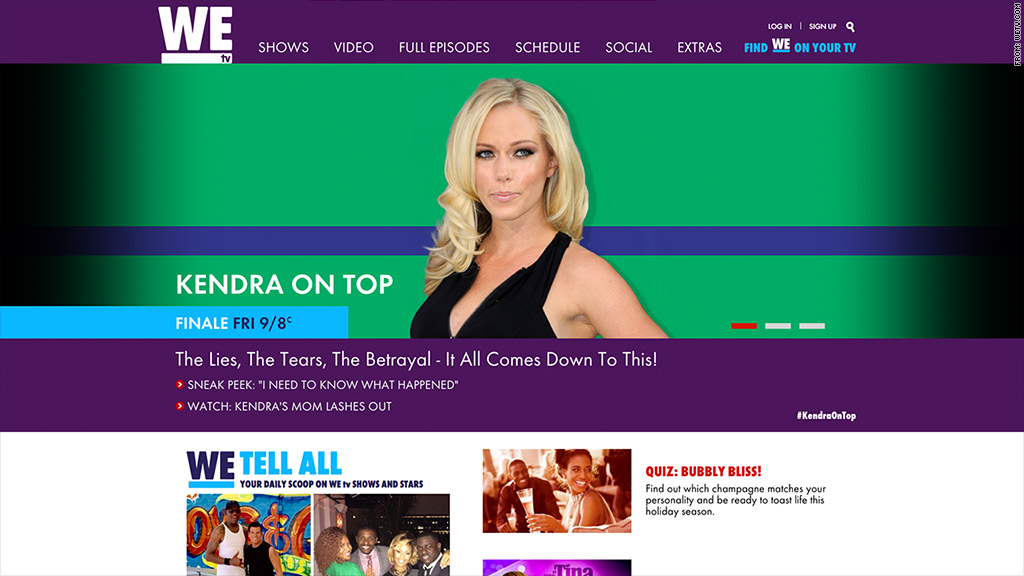 As more and more viewers embrace delayed viewing, one cable channel has come up with a fun way to encourage live viewership: offer prizes.
WE tv -- a relatively small cable channel for women owned by AMC Networks -- is launching an initiative called "Watch W/in," inserting a special code into telecasts that viewers can redeem in order to win prizes.
Here's the catch: the code has to be redeemed within three days of the live telecast.
Why three days? That's because advertisers currently only pay for views that occur within three days of a show's live telecast.
If you watch a show on your digital video recorder four days after it aired, and you choose not to fast-forward through the ads, the advertiser basically gets to reach you for free. This kind of way-delayed-viewing is becoming more commonplace.
So WE tv -- and other channels -- have good reason to encourage live viewing and only-slightly-delayed viewing.
"We know many viewers today want to time-shift their favorite shows and watch on their own timetables," Marc Juris, WE tv's President, said in a statement. "But promoting urgent viewing within three days is meaningful for the network and our advertisers."
Related: TV contracts keep sports programming steady for next decade
WE has a lot of company as it tries out this idea.
A number of networks have run commercials urging viewers to watch certain shows live, lest they miss a cliff-hanger or a great plot revelation.
ABC is doing it this week: promos for the winter finale of "How to Get Away with Murder" push live over delayed viewing. At the end of last Thursday's episode came a warning about this Thursday's episode: "watch it live or risk the biggest spoiler of the season!"
This also explains why networks continue to try live events, like the Discovery channel's stunts with the tight-rope walker Nik Wallenda.
After its success with last year's live Broadway show "The Sound of Music Live," NBC has been promoting its upcoming "Peter Pan Live!" as a big, must-see TV event.
Overall, the best programming to attract live audiences continues to be sports.
Leagues like the NFL not only consistently bring in big ratings, but also an audience who have to watch as it happens.