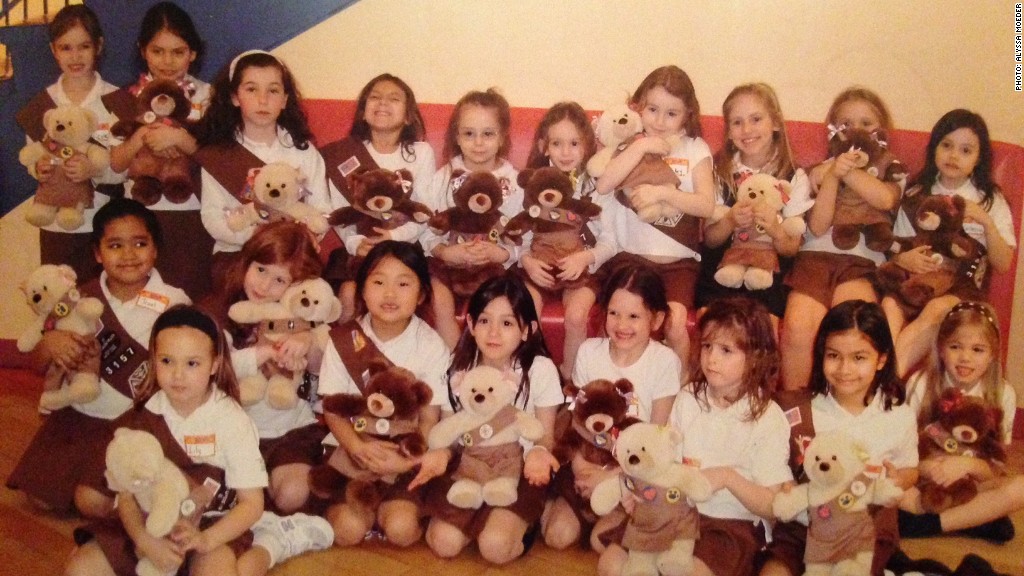 It's getting late on a Friday evening and 14 people are hunched over laptops eating pizza while talking IPOs and small cap stocks.
It might be a typical scene for Wall Street, but we're on the Upper East Side and we're at a meeting for Girl Scout Troop 3157.
"So..." prompts Alyssa Moeder, a private wealth adviser at Merrill Lynch by day and the troop's leader at their monthly meetings, "when you buy a stock, you want to buy..."
"Low!" shout all 14 of the Girl Scouts in unison. The 14-year-olds, clad in a mix of plaid skirts, cable knit and shades of blue nail polish, attend the elite all-girl private school Chapin on East 84th Street in Manhattan, where tuition cost $39,300 this year.
"And when you sell, you want to sell..."
"High!" they resound. It's a different sort of Girl Scout Promise.
Girl Scouts have always been about teaching leadership survival skills, and these Manhattan millennials are no different -- only they're learning skills to lead and survive in the wilds of the Upper East Side.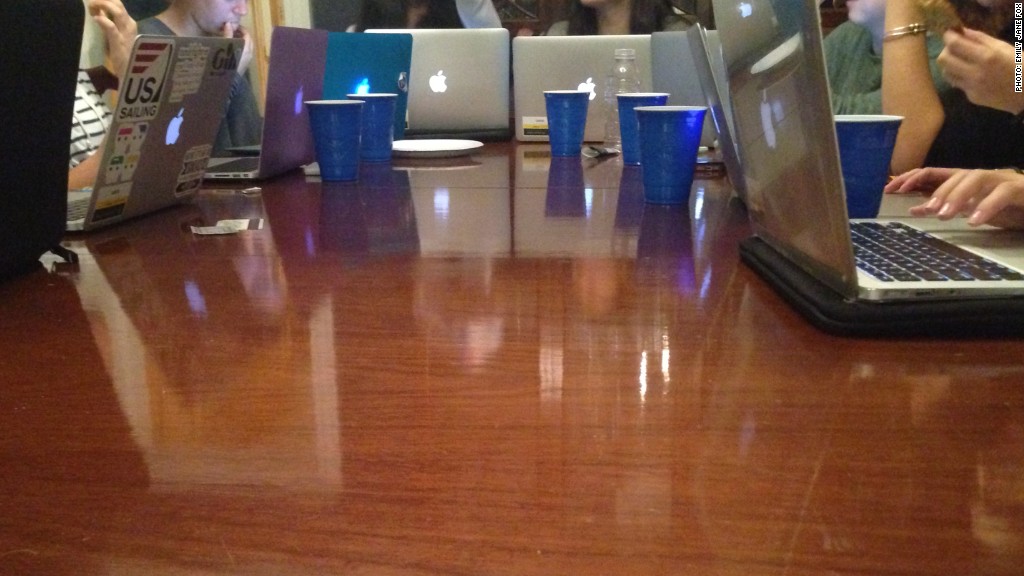 Moeder, whose daughter is in the Chapin troop, is explaining stock market basics to them as they make mock stock portfolios online that they'll track throughout the year.
Upon hearing that they'll each get to "invest" a make-believe $10,000 for the game, one girl raises her hand for some clarity: "Wait, we really get $10,000, or is it fake money?"
It's safe to say that these aren't your mother's Girl Scouts, but they're part of a surge of private schoolers flocking toward those traditions.
Related: 10 areas with the highest private school enrollment
Back in 2006, Moeder, a second-generation Girl Scout who grew up in Queens, and her co-leader Missy Rice, wanted to start a troop their daughters could join as kindergarteners. But they were rebuffed, saying the girls already have enough extracurricular opportunities.
"I pushed back, because I knew that they weren't getting what Girl Scouts taught me, -- leadership, confidence, learning to take risks," Moeder said. She sent an email to other Chapin parents to see if they would be interested, and within 24 hours, they had filled up all 24 spots and had a waiting list.
Over the next eight years, parents and schools created 72 private school troops in New York serving 1,193 girls.
"There was this impression at first that Girl Scouting was cheesy. When I grew up, it was crocheting and knitting," said Barbara Murphy-Warrington, CEO of Girl Scouts of Greater New York. "The parents were profoundly surprised that it was so current."
The troop leaders, private school parents themselves, are able to tailor activities to what they think their girls want to, and should be, doing. Volunteering and donating money play a huge role, but leaders mix things up to keep the girls' attention.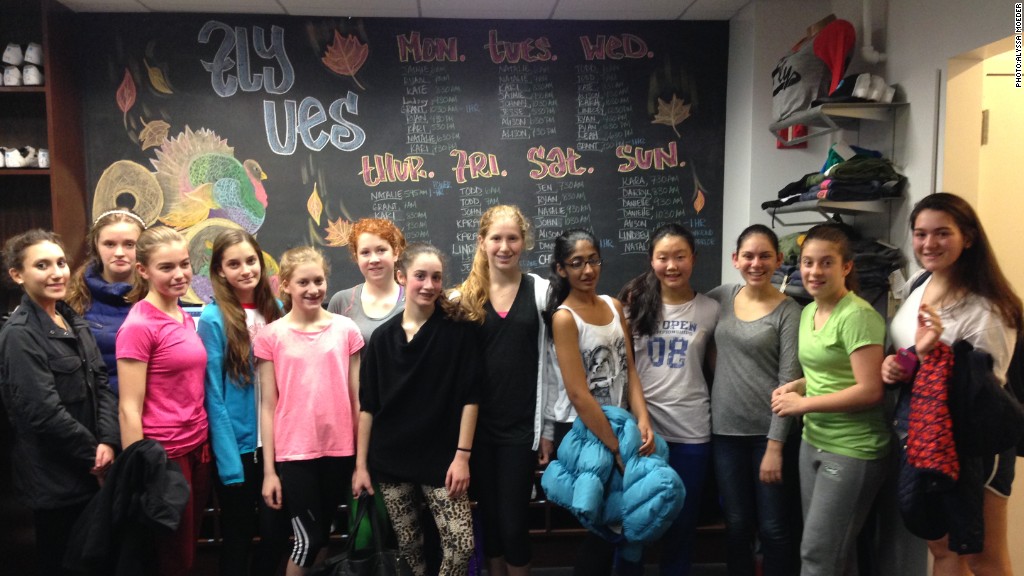 Last year, Moeder and Rice's troop went to the boutique spinning studio Flywheel, met with a dermatologist to learn the importance of skincare and a manners coach to instruct them on how to give toasts. They went over how to budget, culminating in proposals for monthly allowances from parents. One Scout claimed that her parents now put $80 a month on her debit card as a result.
Related: Get your butt kicked like the 1%
And, of course, there are cookies.
"As these troops grow, we've seen our cookie revenue increase in a corresponding way because they have great networks," said Murphy-Warrington.
Rice's daughter handed out fliers to neighbors in her apartment with the number of boxes they'd bought the year before, offering an incentive if they increased their order. Moeder's daughter learned that if she pitted her mom's colleagues at Merrill against one another, they'd buy more. (One guy ended up buying 100 boxes, which he donated, after he was told a coworker bought more than he did).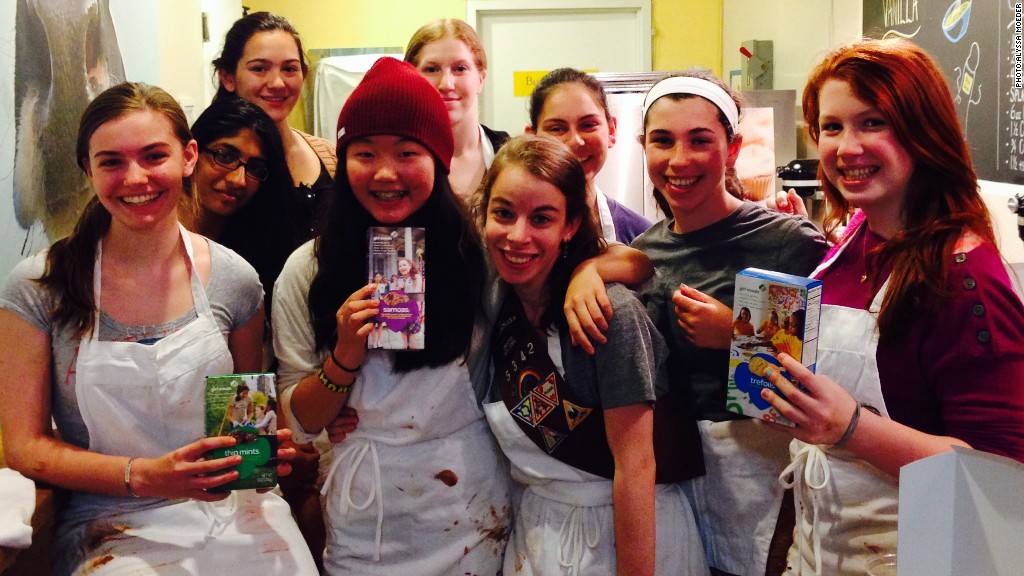 Troop 3157 is a top selling troop, and they give much of the money they make from their staggering cookie sales to charity or to other troops across the city who need financial assistance, Murphy-Warrington said.
"These are girls who have a wealth of opportunities, and rather than use the money for themselves, they're giving it to other girls," she said.