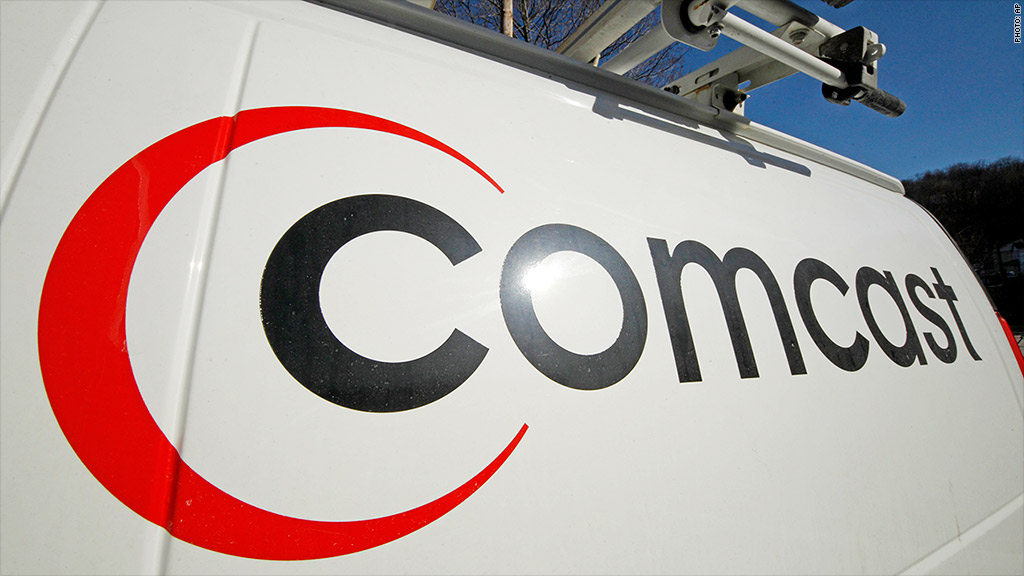 These are the two numbers that explain all the headlines these days about Comcast, DirecTV and other big media distributors: 700,000 and 150,000.
700,000 is roughly the number of households that signed up for broadband Internet in the third quarter of the year.
150,000 is the number of households that had been subscribed to some form of TV bundle, but dropped it in that three-month span.
There are still lots of homes that pay for TV but not broadband -- but that number is shrinking.
Quarter by quarter, broadband is becoming the most important product, the one that households must have.
The third quarter figures come from Leichtman Research Group, which measures the industry's performance through the quarterly earnings of the top 13 distributors in the United States. Those 13 account for 94% of the whole marketplace.
Challenges for the traditional cable business are evident in Leichtman's data. Until last year, the TV subscriber losses at cable companies like Comcast (CCV) were more than made up for by subscriber gains at satellite companies like DirecTV (DTV) and telcos like Verizon (VZ).
This is known as "share-shifting."
But in the third quarter of 2013, a small amount of "cord-cutting" showed up in the data, with an industry-wide loss of 25,000 TV subscribers.
In the third quarter of this year, the TV declines accelerated, with 150,000 cutting the TV cord (while still keeping the broadband connection in many cases).
Related: A new king of cable TV package: Sony's Vue
Those 13 top distributors have a total of 95.3 million TV subscribers, so a collective loss of 150,000 is very small. And the third quarter tends to be the weakest of the year for cable companies -- Leichtman expects an uptick in the fourth quarter.
Still, the decline is significant, and it partly explains the renewed emphasis on customer service improvements (see Comcast), on TV Everywhere services (so cable becomes more convenient), and on smaller, less-expensive bundles of TV (starter packages, with the hope that households will upgrade later).
Distributors -- working in concert with cable channel owners like Time Warner (TWX), the parent of CNN and this website -- are fighting to hold onto TV subscribers however they can.
Meanwhile, many of the same distributors are eagerly signing up new broadband households.
The top 13 providers now have a collective 86.6 million broadband subscribers.
Remember, these are household numbers, not individuals -- there are about 115 million households in the U.S. And that means there's a lot more room for growth.
Indeed, "broadband additions in 3Q 2014 amounted to 135% of those in 3Q 2013," Leichtman said in a report issued Tuesday.
This growth partly explains why media giants like HBO and CBS are pursuing new online subscription services, and why companies like Sony (SNE) are looking to sell new versions of cable TV bundles via the Internet.
Television viewing remains extraordinarily high, but it's happening in new ways -- mainly Internet-enabled ways. That's what is causing all manner of companies, big and small, to scramble.