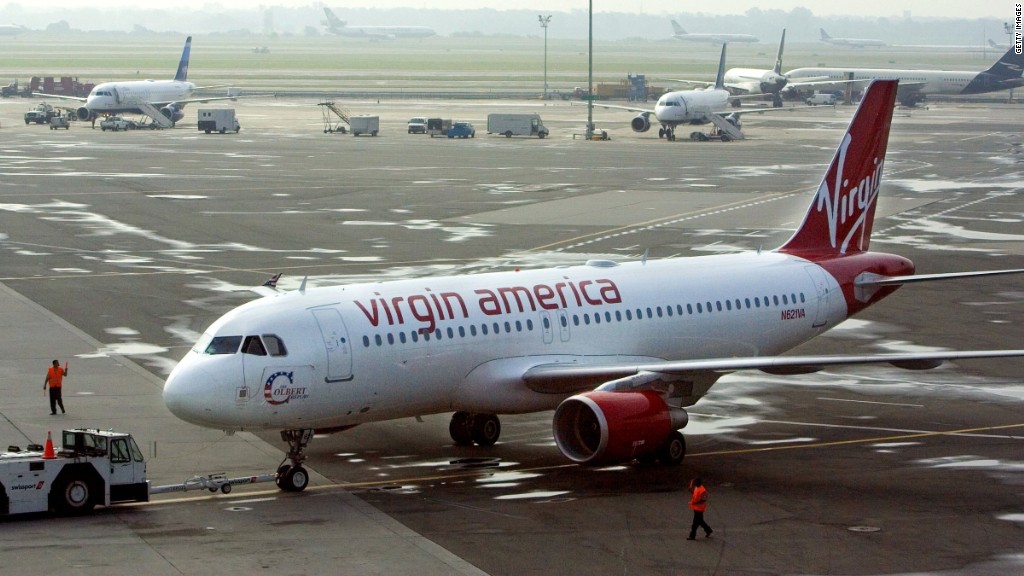 Virgin America is shaping up to be the GoPro of airline stocks.
Heck, the only way to make it a bigger hit on Wall Street is if the airline announced it was putting GoPro Hero4 cameras on its wings to film takeoffs and landings.
Shares of Virgin America (VA) are now up about 50% since their initial public offering Friday. The stock rallied more than 13% Tuesday for no particular reason. It did hit a rough patch of air on Wednesday though and was down 10% in volatile trading.
Still, the company has two things going for it: the fact that it's an airline stock and that there's a scarcity factor common with IPOs.
Related: Southwest Air is best stock of 2014
Wheel in the sky keeps on turnin'. Airlines have been one of the best-performing sectors this year thanks to lower fuel prices and strong demand for business and leisure travel.
Southwest (LUV) is actually the top stock in the S&P 500 this year It's more than doubled. Shares of Delta (DAL), JetBlue (JBLU), United Continental (UAL), American Airlines (AAL), Alaska Air (ALK)and Spirit (SAVE)are up between 50% and 80% in 2014.
So it shouldn't be that surprising that Virgin America is riding those tailwinds.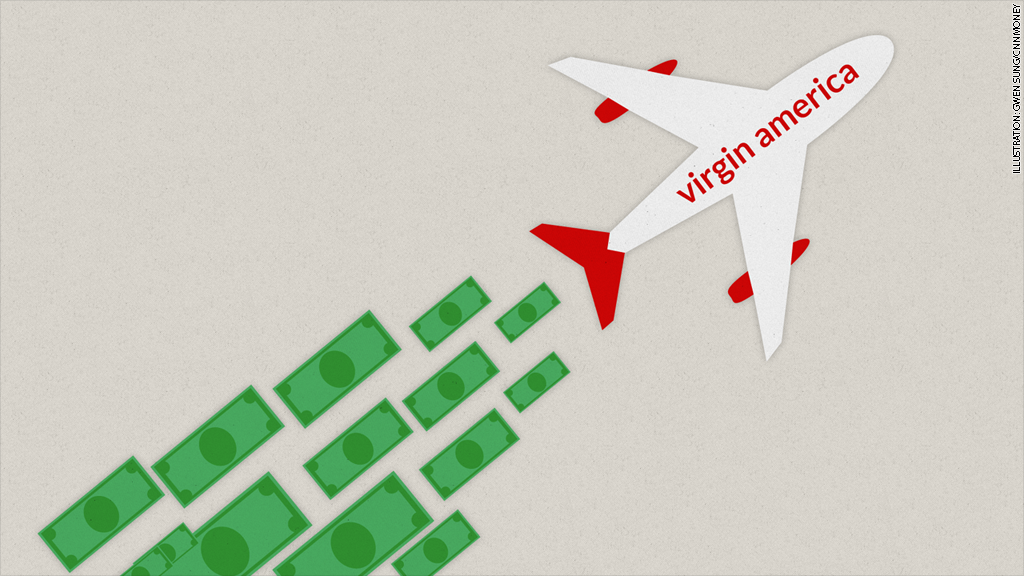 The company is also reporting decent, if not spectacular, growth. Revenues were up 2.4% in the first nine months of this year compared to the first three quarters of 2013. And Virgin is profitable after reporting losses in 2011 and 2012.
Despite the recent tragedy with a Virgin Galactic spaceship, the company's ties to Sir Richard Branson, the brainchild behind the Virgin-branded empire that also includes Virgin Money (which recently went public in the U.K.) probably doesn't hurt either.
Branson's VX Holdings owns nearly 25% of Virgin America stock, and he is closely associated with the airline's marketing. Virgin America is clearly targeting young and hip customers. It admitted as much in its filing for its stock with the SEC,
"Consistent with our business model and our brand, we use edgy and fun marketing messages to engage our key demographic. We are early adopters of technology including social networks, generating significant engagement from our advocates on Facebook, Twitter and other social media websites," the company said.
Related: Virgin America's big liftoff
Darling of the momentum crowd. That quote features all the catchy buzzwords you'd expect from a tech stock IPO.
And that may be another reason why the stock has done so well. Investors are viewing it more like a sexy, momentum play such as recent IPOs GoPro (GPRO), driverless technology firm Mobileye (MBLY), tech security company CyberArk (CYBR) or Chinese e-commerce giant Alibaba (BABA).
"The IPO boom this year is not surprising. When there is clear value and growth, then you see a lot of momentum," said Atul Lele, chief investment officer of Deltec International Group. He said his firm looked at Virgin America and Alibaba before their IPOs but declined to say whether or not they bought a stake in either of them,
Virgin America has another important thing in common with several of this year's hot IPOs. It didn't offer that much stock to the public.
The airline only sold 13.2 million shares Friday. GoPro sold 17.8 million in its offering while CyberArk sold just 5.4 million shares.
We all know what happens to the price of things when you have a lot of people trying to buy a small amount of something. High demand + low supply = boom.
But Lele warned investors to do their homework. Not all new companies are worth buying.
"For every Alibaba, there's a Candy Crush," he said, referring to mobile game company King Digital (KING), which has plunged nearly 30% from its offering price.
It's hard to imagine Virgin America flopping like that as long as airlines remain top stocks on Wall Street. But even GoPro has fallen from its peak. Eventually, the novelty of an IPO begins to wear off.