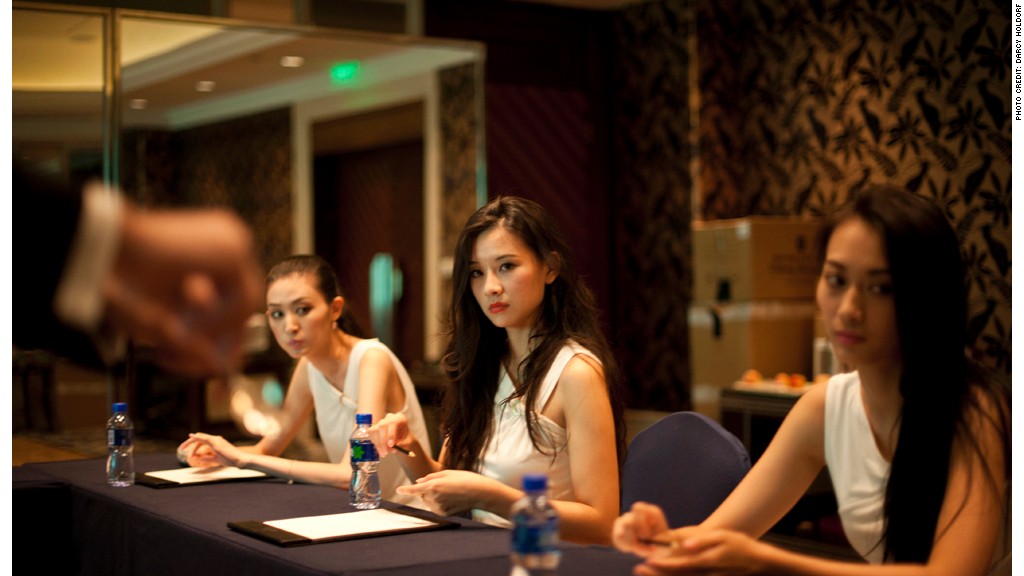 For the wealthy Chinese, it's no longer enough to look the part. They're now paying big bucks to learn how to act the part too.
Increased global travel, business expansions and mounting interest in Western education has led China's middle and upper classes to seek out etiquette professionals to expand their lifestyle repertoire.
"It used to be China's rich were all about buying luxury brands to show their status, but now the focus is on consuming knowledge as a way to differentiate," said James Hebbert, managing director of Seatton, a British culture and etiquette company in China.
Related: Jack Ma: Being rich is a 'great pain'
He travels across the country teaching clients how to shake hands correctly, how to tie a tie, use cutlery, make eye contact and dress for any occasion. "People, especially in Chinese culture, want to avoid losing face when conducting business or on holiday in the west."
China is No.2 when it comes to the most millionaires in the world, according to the Boston Consulting Group, with millionaire households rising to 2.4 million in 2013 from 1.5 million in 2012.
And as wealth levels grow, so do the needs and desires of the rich. "You see this with developing countries -- they go through a 'bling phase,' but then they move onto a more elevated level of discernment."
At finishing school Institute Sarita, founder Sara Jane Ho appeals to China's wealthiest. She is headquartered in Beijing and teaches a hostess class for older married women and a debutante class.
"My students were the ones who were buying Hermes bags 10 years ago. Now they are holding themselves to higher standards and have deeper desires."
The hostess class runs 12 days and costs $16,345. The women learn "high-end social etiquette" such as how to throw a dinner party, socializing tips, the rules of official and diplomatic protocol and proper hotel and restaurant manners. There's also a session on how to pronounce luxury brands.
Related: Meet Hong Kong's bagel banker
The 10-day debutante class is open to unmarried females ages 16 and up and focuses on dating etiquette, international introductions, how to hold a conversation and dressing tips.
Ho, who is a native of Hong Kong but went to boarding school and college in the U.S., said her experience is a major selling point. "Our students are leaders in their social and business circles and it's hard for them to find a teacher they respect. Our teachers live the life that our students are living and understand their needs."
Wealthy Chinese parents are increasingly sending their kids west for their education, either for boarding school or college, and they're doing whatever it takes to increase kids' admissions prospects.
Ho's hostess class also focuses on parenting techniques, and under her advice a group of parents recently flew to Belgium to pick out ponies for their 10-year-olds in hopes they become accomplished equestrian riders. "Children need that edge to get into a good boarding school or top university."
Related: Macau trumps Vegas with $270 minimum bet
London-based luxury lifestyle school Debretts works to get its foreign students ready for life outside of China. Debretts's classes for school-aged children focus on developing a personal brand, dining etiquette, social networking skills, interview techniques and conversation skills. The classes rely heavily on role playing and group work.
"Studying abroad can bring a heavy academic and cultural shock. We are teaching the students how to interact in any global environment," said Joanne Milner, CEO of Debretts.
Debretts launched training programs in Hong Kong and Shanghai this year, and many foreign students choose to attend the school in London. In July, its inaugural London program attracted 14 Chinese students.
The school's personal branding and dining etiquette courses each cost $735, and the interview techniques program is $850.
Related: China's booming $1.5 billion pet care market
"Some of what we do is very simple like eye contact and handshakes that aren't always something that comes naturally to young Chinese students. A lot of what we focus on is how to promote yourself, add to a discussion and ask questions," said Milner.
When it comes to expanding people's etiquette arsenal, Hebbert said it's not about teaching right versus wrong. "It's more about teaching and appreciating a different culture."