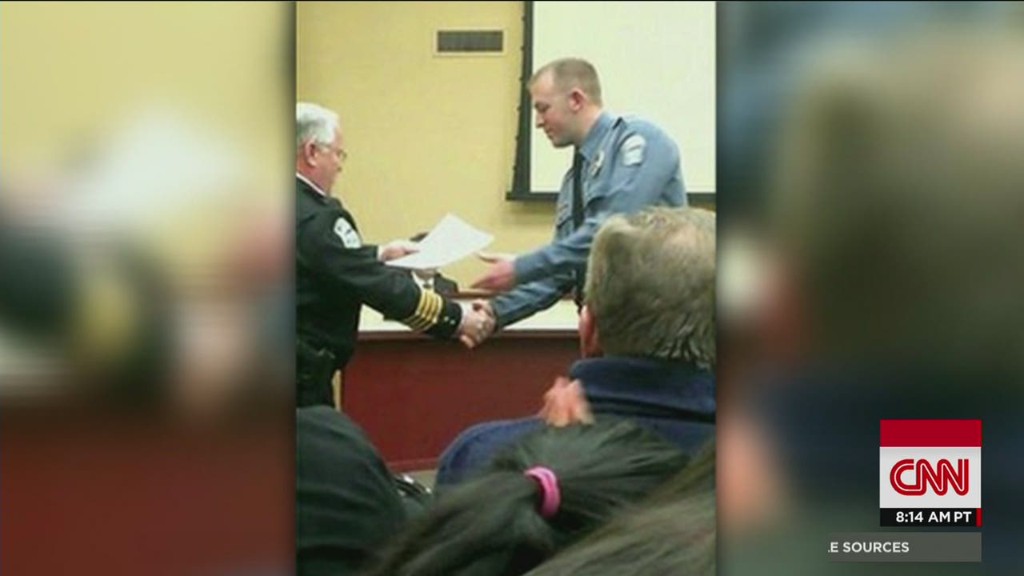 Practically every journalist covering the death of Michael Brown would like to interview Darren Wilson, the police officer who shot and killed Brown.
In the pursuit of that interview, several high-profile television anchors have secretly met with Wilson, according to sources at several TV networks. All of the meetings were off the record, meaning the anchors could not describe what was said.
These meetings are a normal part of the TV guest booking process, but they're significant in this case because Wilson has not been seen in public since Brown's death in Ferguson, Missouri on August 9.
Among the anchors who have met with Wilson are Matt Lauer of NBC, George Stephanopoulos of ABC, Scott Pelley of CBS, and Anderson Cooper and Don Lemon of CNN.
It is unclear if Wilson, through his representatives, has agreed to be interviewed by any of the journalists.
Shortly after I named the anchors on my CNN media program "Reliable Sources" on Sunday morning, something happened that I was not expecting: Cooper and Lemon confirmed on Twitter that the meetings had taken place.
"For the record, I met briefly with Darren Wilson a few days ago to see if he wanted to do an interview with me. That's standard procedure," Cooper wrote on Twitter.
Cooper apparently decided to tweet about it because some viewers who saw my "Reliable Sources" segment thought the meetings were inappropriate and said so on Twitter. Some commenters even suggested -- conspiratorially -- that the meetings revealed bias on the part of the anchors.
Cooper pointed out that he'd repeatedly interviewed Brown's family members and their attorneys.
"I'd also like to interview the grand jury," Cooper wrote. "There is no conspiracy here. Reporters want to interview people and sometimes you have to meet them first."
He added that Wilson had chosen "not to do an interview with me."
Separately, Lemon wrote on Twitter that his meeting with Wilson was "not out of the ordinary," and that "We've interviewed the Brown family, Dorian Johnson and all witnesses. Of course we'd want to interview Wilson."
None of the other anchors have commented. Representatives for NBC, ABC and CBS declined to comment.
Two of my network sources -- who spoke on condition of anonymity -- said that the CBS newsmagazine "60 Minutes" has been in especially hot pursuit of an interview with Wilson.
The police officer's representatives decided to arrange meetings with people from "60 Minutes" and people from several other networks.
None of the sources would say where or when the meetings took place.
In the meetings, according to the sources, the anchors did most of the talking. The purpose was the same with Wilson as with any high-profile interview subject: to establish trust and comfort.
Cooper, on Twitter, drew a comparison to another man in the news that many journalists wanted to interview earlier this year: disgraced Los Angeles Clippers team owner Donald Sterling.
"Prior to interviewing Donald Sterling, for example, I also met with him to ask him to do an interview. That's how you ask for an interview," Cooper wrote.
It's worth keeping in mind that Wilson could choose not to be interviewed by anyone.
"Inside Edition" chief correspondent Jim Moret, my guest on "Reliable Sources," said "the perception of the network, the perception of the venue and the perception of the interviewer all come into play" when subjects are thinking about breaking their silence.