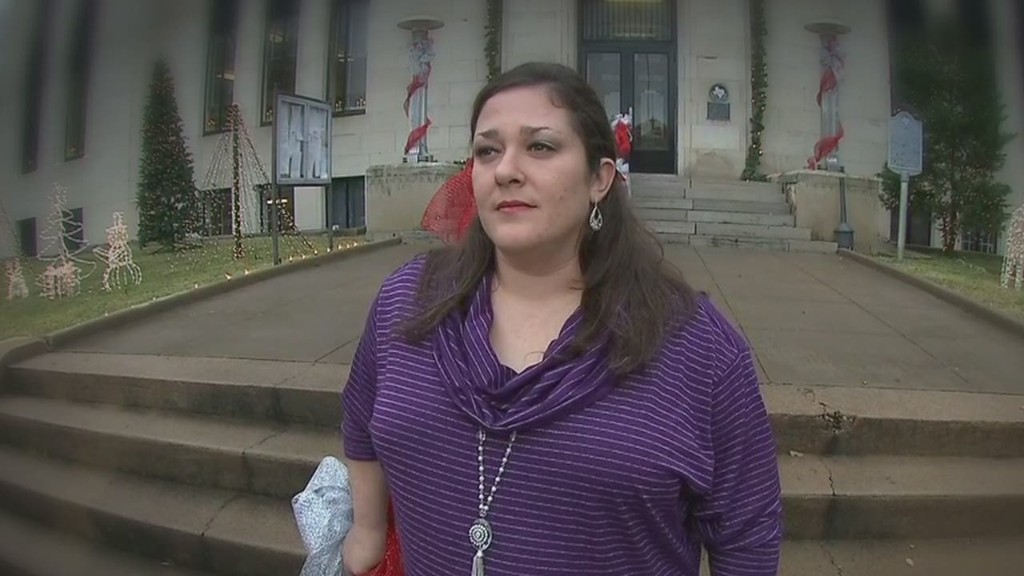 A driver convicted of homicide in the death of her boyfriend has been exonerated after General Motors admitted its car may have caused their accident.
A Texas judge on Monday set aside Candice Anderson's guilty plea stemming from the 2004 crash.
"My whole body was shaking," Anderson told CNNMoney after the court hearing. "It was such a relief ... the weight lifted off my shoulders. It was a great feeling."
The judge sharply criticized GM (GM) for not speaking up sooner.
"While Ms. Anderson pled guilty to a crime for which she was not at fault, GM had evidence that would have demonstrated her actual innocence and identified the true culprit and cause of the accident -- General Motors," wrote Judge Teresa Drum in her decision.
Anderson's lawyer, Robert Hilliard, said that Anderson presented the court with a letter from GM conceding that the flaw "may have caused or contributed to the frontal airbag non-deployment" in the crash that killed Mikale Erickson.
"It's the first time they acknowledged they're directly responsible for [an individual's] death," Hilliard told CNNMoney after the ruling.
Watch CNNMoney's earlier video on Anderson's ordeal
Erickson's name has been widely associated with a list of 13 deaths GM linked to the flaw, but the company has not publicly confirmed the names on that list.
GM said Monday that it was cooperating with the case and believed it was "appropriate for the court to determine the legal status of Ms. Anderson."
Around midday on Nov. 15, 2004, Anderson was behind the wheel of her 2004 Saturn Ion when it swerved off an east Texas country road and struck a tree.
Nearly 10 years later, GM launched a safety recall for 2.6 million cars like Anderson's because the ignition switch can be bumped to an "off" position while the car is driving, disabling safety features like the airbag and anti-lock brakes.
Anderson's airbags did not deploy when her car crashed -- something GM described "unusual" at the time. She suffered severe injuries -- a lacerated liver, several broken ribs, and head trauma.
She pleaded guilty in 2007 to a felony charge of criminal negligent homicide, served five years of probation, performed 260 hours of community service and paid $2,500 in fines.
Rhonda Erickson, Mikale's mother, said questions about the crash had been "nagging at me all these years."
"I think maybe we can all get some closure from here, too," Erickson said.
Erickson and Anderson visited Mikale's gravesite Monday following the hearing.
Video: What GM's CEO has said about Anderson's case
General Motors is under investigation for how it handled the recall and why it took so long before it alerted the public.
The National Highway Traffic Safety Administration, Congress and state attorneys general are all reviewing the matter, and there is a criminal probe underway as well.
Separately, Ken Feinberg, the attorney handling victim claims related to the flaw said Monday his office has linked the recalled cars to 35 deaths and 44 injuries. He has thus far received nearly 2,200 claims, but about half are missing paperwork or otherwise incomplete.
Both Anderson and Erickson's family have accepted settlements from GM through Feinberg's office, which involves agreeing to not sue GM.