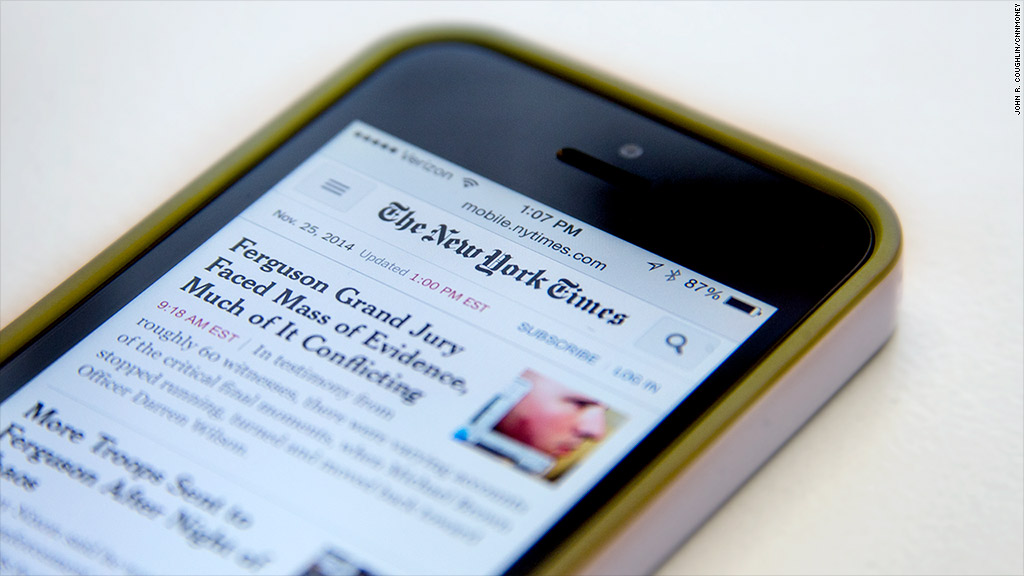 The 163-year-old New York Times now has an editor for innovation and strategy.
That's the title ex-NPR executive Kinsey Wilson will soon have at The Times, in the latest sign of the storied newspaper's focus on digital growth.
Wilson will start the job in February. He will report directly to The Times' executive editor Dean Baquet and will act as the digital newsroom's primary liaison to the business side of the company.
"A pioneer in digital journalism, Kinsey is joining us at a crucial time as we accelerate our transformation into a news organization that delivers great journalism on all platforms," Baquet said in a statement.
When Baquet became the top editor of The Times last spring, replacing Jill Abramson, observers praised his print journalism background but noted that he brought little digital expertise to the job.
Since then, Baquet has named a deputy executive editor for digital -- Ian Fisher -- to oversee day-to-day online production. And now he'll have Wilson as innovation editor, as well.
Abramson, before being fired, was also pursuing a digital leader for the newsroom. Reports had Baquet and Abramson clashing over Abramson's plans to hire Guardian US editor in chief Janine Gibson as co-managing editor in charge of digital journalism.
Related: Why did the New York Times really sack its editor?
That plan did not go forward.
The hiring of Wilson, who oversaw NPR's global news-gathering and digital operations until last month, comes at a transitional time for The Times.
The company continues to seek ways to reduce costs -- last month it announced a plan to eliminate about 100 positions by offering lucrative buyouts to some of its 1,330 newsroom staffers.
At the same time, it's investing in digital products and trying new things.
In April the Times introduced a slimmed-down NYT Now app for $8 a month.
A few months later, a cooking app was released, giving foodies the chance to get recipes from the paper's new cooking site, NYT Cooking.
"The Times has much to be proud of in its digital story, not least is its launch of what is probably the world's most successful news-based digital pay model," CEO Mark Thompson said on the company's third quarter earnings call last month.
"But I have concluded that the full achievement of our ambitions requires further organizational change and, in particular, further injections of specialist digital expertise." He mentioned changes to newsroom leadership and the departure of business-side digital chief Denise Warren.
To replace Warren, Thompson is seeking a chief marketing officer and a chief digital officer for the business side of the company.
Those executives, once appointed, will collaborate with Wilson on the newsroom side.